High Tea at Moorabool
$45.00 AUD
High Tea at Moorabool
Next Event: Friday 15th November at 11am
$45
Come along for High Tea in the ambience of Moorabool's unique 'Reference Library'.
A delicious array of sweet & savory treats, plus a choice of traditional teas consumed from the finest Antique Porcelain…. which you can purchase & take home, if you wish!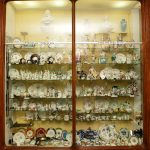 Enjoy the ambience of our unique Reference Library, surrounded by over 1,000 books on ceramics, and over 2,000 beautiful pieces of pottery & porcelain.
John & Paul Rosenberg will be on hand, chatting about the collection and some of the particular unique & beautiful pieces presently on show in the Gallery.
PLUS:
You can bring along a piece for identification! (over 100 years old if possible – we don't come into the 20th century much…)
A special bonus is a $50 gift voucher. Use this in Moorabool to find a special something to take home1.
Next event:

Friday 15th November at 11am
Book now, places limited!
(use 'PayPal' below, or call through a payment to reserve your place.)
1- use within 2 months, at Moorabool Antiques, not to be used with any other offer, on item/s $200 and over, may be used on several items in one transaction.
In stock
Shortlist