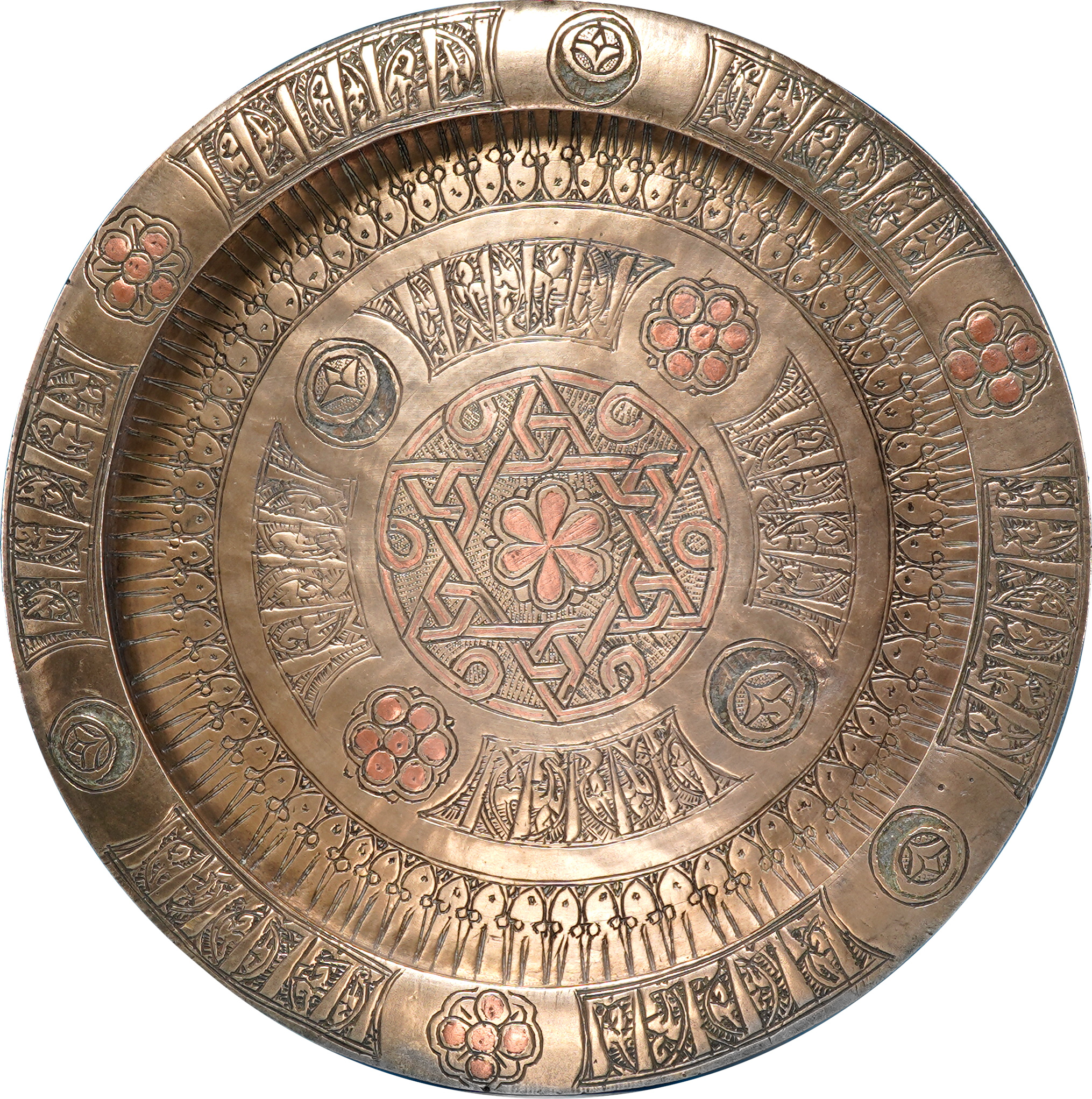 Islamic bronze dish with inscriptions, Seljuk Khorasan, 13th century AD
$1,950.00 AUD
Seljuk bronze bowl, the very thick cast & beaten form with wide flat base, short straight sides that angle in to a sharp shoulder with wide flat rim, the whole engraved with panels of script spaced by roundels containing flowerheads inlaid in copper, alternating with crescent moons in silver inlay cupping plant buds, the base with similar within a wide lambrequin border, the center with a star motif surrounding an inlaid copper flowerhead.
Khorasan,
modern day Northern Iran/ Turkmenistan / Uzbekistan / Tajikistan / Afghanistan
13th century AD
This form of small bronze basin with angular sides is well documented from the Seljuk period, and occurs with the same edge motif & inscriptions but with different central designs.
The Seljuk were a Turkic dynasty of Central Asian nomadic origins who took over Baghdad in 1055 AD, and at one point stretched across Iran, Iraq and much of Anatolia. THis constricted by the end of the 11th century, when the so-called Great Seljuks- maintained control over just Iran.

They are responsible for the 'Golden Age' of Islamic Art, a time of innovation and experimentation. One such development was the inlaying of bronze or brass objects with precious metals such as copper, silver & gold. This spread far & wide through the Middle-East, and in the 20th century, Damascus in Syria was known for such products, giving it the title 'Damascus Ware'.

This bowl is in fact the ancestor of the fabulous 'Damascus Ware' products of the Ottoman and later periods, and which are still being made today.
| | |
| --- | --- |
| Condition | |
| Size | 20cm wide |
| References | |
In stock
Compare list