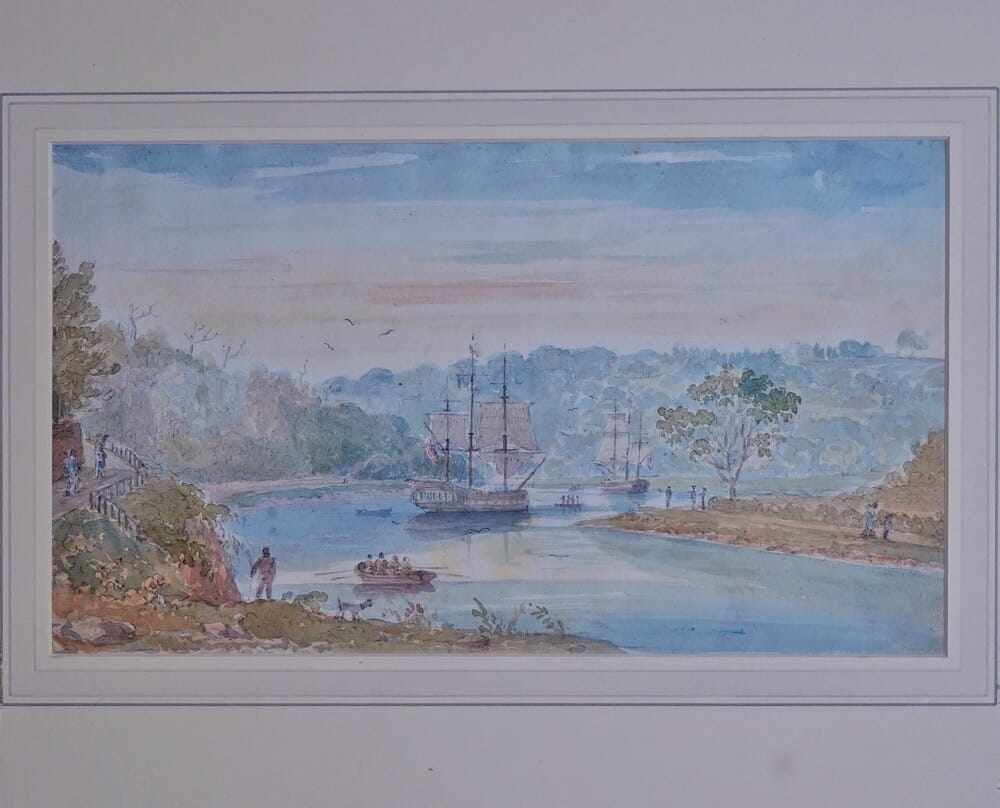 This interesting unsigned watercolour was an exciting recent purchase from a local estate. Exciting, because my imagination ran wild… I could see:
Colonial period ships.
Rather dark people standing up in a 'canoe'…
The tree so prominently featured looks just like a large Eucalypt specimen, as depicted by early colonial artists.
On the left are a whole row of large, dead trees, birds circling above.
The lack of any town or development, with large ships close to shore.
A Georgian building typical of early Colonial Australia….
Was this an exciting discovery, an early view of the Hawkesbury River, or Tasmania, or somewhere in Sydney Harbour perhaps?
Closer examination was clearly needed. Once deframed, the backing was prised off to reveal the reverse, and a very interesting inscription and date:
"St Vincent's Peak – from Nightingale Valley, 1823"
So what is 'Nightingale Valley' ? -and where is 'St Vincent's Peak' ? a quick trip to Google, and all was revealed….
An 1813 scene on a page from Turner's sketchbooks in the Tate bears a very similar inscription: "The Avon Gorge near Bristol; St Vincent's Rocks from Nightingale Valley". Turner also did studies of the same ship types, being towed by the same row-boats, in 1798.
The view is not Australian, but British. St Vincents Rocks are an outcrop in the high ridge the river Avon cuts through on its way to the sea at Bristol. In this image, the ships are being slowly towed upstream by row-boats towards the docks of Bristol, which lies just beyond the horseshoe-bend and then the Gorge ('Nightingale Valley') through which the river flows to the left. The road cut into the headland to the left is the 'Portway', no doubt allowing passage for the horse teams that could be used to tow the sailing ships up the river if needed.
I believe it could be looking upriver towards Bristol, around the position of present-day Shirehampton Park on the left, the first major bend in the river for ships coming in from the sea at the point where the Avon cuts into the high ground. St Vincent's Rocks would be just to the left of the view, not far from where Isambard Kingdom Brunel designed the remarkable Clifton Suspension Bridge which dominates the gorge today, having opened in 1864.
The large Palladian style Country House visible on the ridgeline can be pinpointed on a map today, and is Leigh Court, a gem of Georgian architecture built in 1814, and today a popular wedding venue.
Certainly a long way from the gumtrees of Sydney Harbour…..