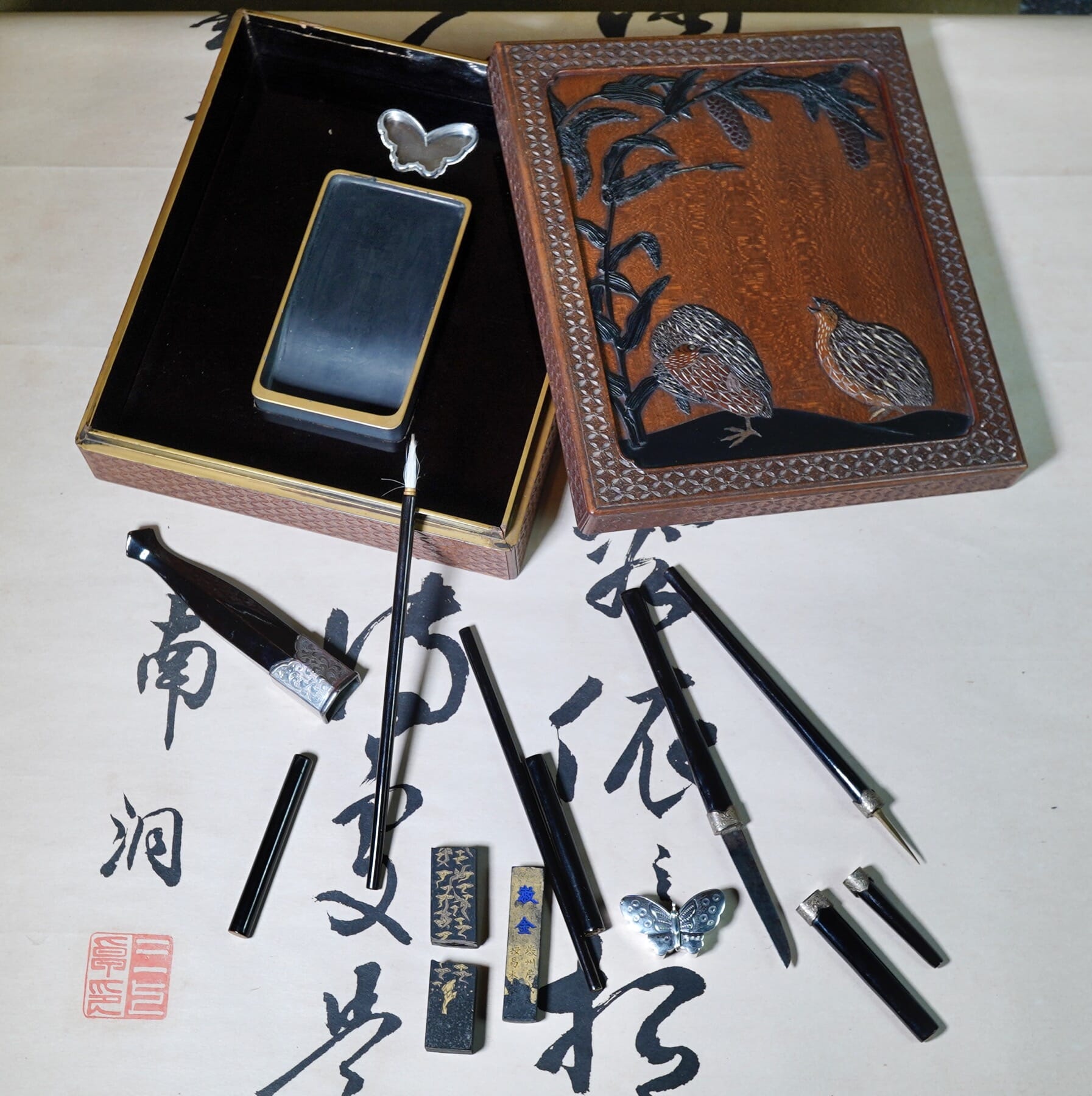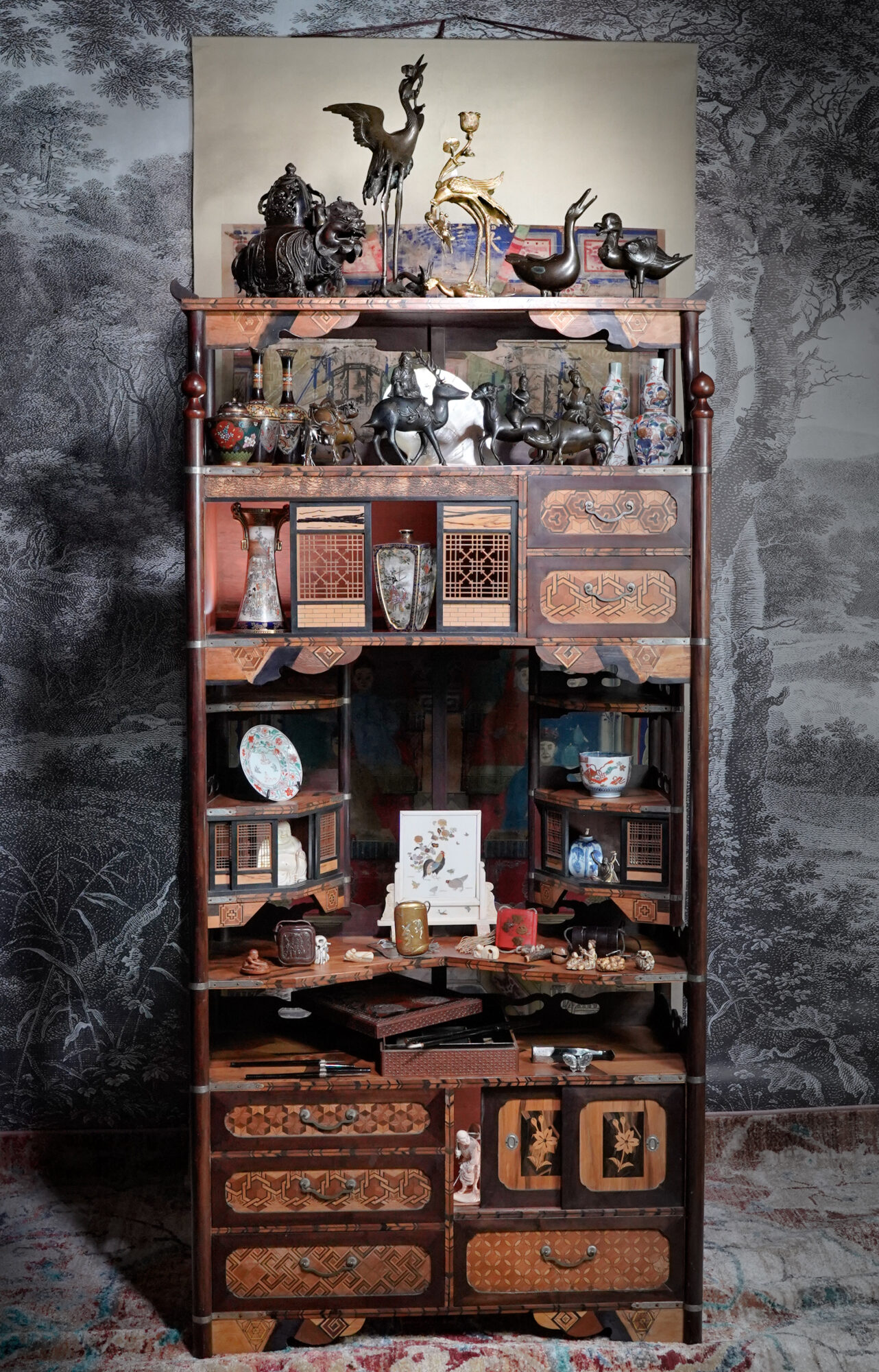 This stunning cabinet is known as a Shodana, and is seen here being used as intended – it's a 'curio cabinet', to store your precious objects in.
What makes this example so interesting is the architectural element – the central portion contains two three-shelf corner partitions, the lower one having four sliding screen doors – miniature versions of the Japanese house doors – and the entire segment hinges outward, to leave the interior space clear. Above is another larger shelf section with four similar sliding doors. The open fretwork on these is amazing for its fineness and accuracy, true miniatures of the full-sized house doors in Meiji Japan. Add to that the rich wood inlay, and this is a truely spectacular piece of Japanese Meiji period craftsmanship.
Suzuribako writing box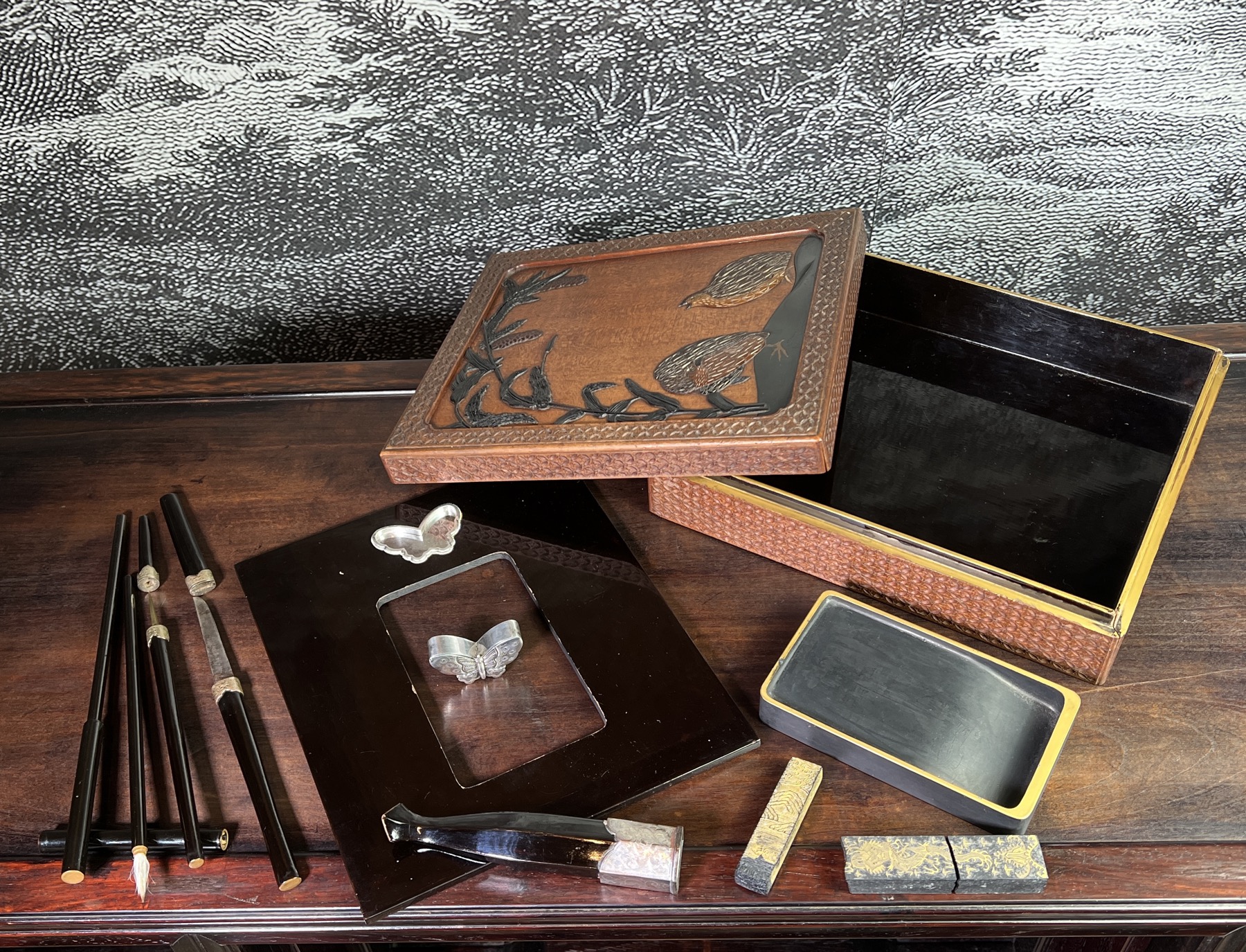 A fine quality Japanese piece fresh to stock is this Japanese Suzuribako writing box. The lid has an intricate panel of quail and a maize plant, modelled in high relief with various woods and bone, the rest of the box adorned with an intricately carved cell pattern, the interior lined in jet black lacquer with gilt foliage to the inside of lid, fitted with a full set of writing instruments, including silver butterfly Suiteki inset within a silver dish, a carved slate ink-stone with gilt rim, two brushes, a bodkin with lacquer sheath & a matching steel blade with inscribed maker's inscription, and two gilt-decorated ink blocks.
Meiji period,
Circa 1870
23.5cm x 20.5cm, 6cm high
blade 6.5cm, in sheaf 19cm
An Inro Treasure
This is an 'Inro', a small box with cord to carry at your waist. Standing just 8cm tall, it was intended to contain 'medicine', via a series of segments that seal tightly together, a small usable compartment in the base of each.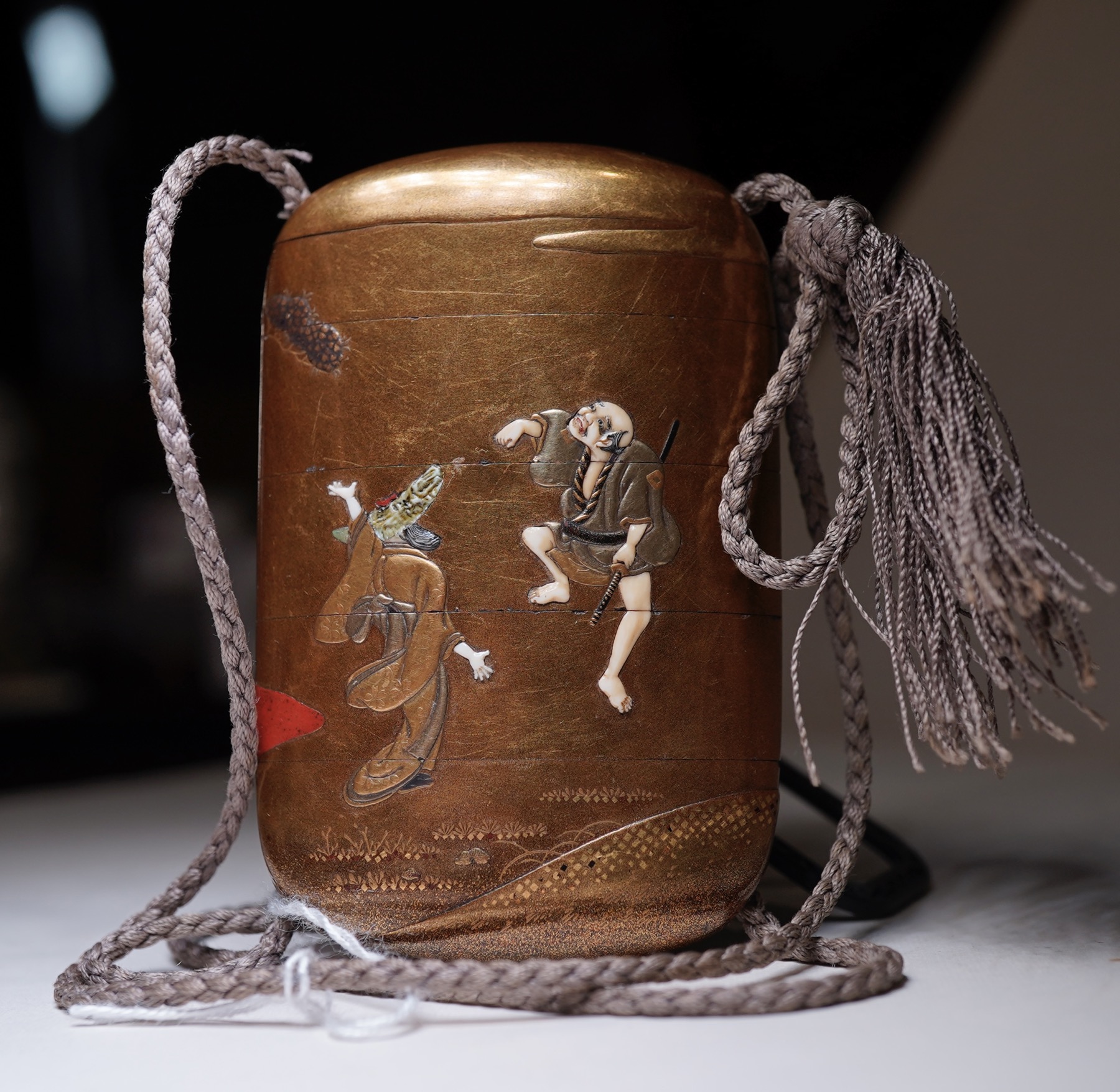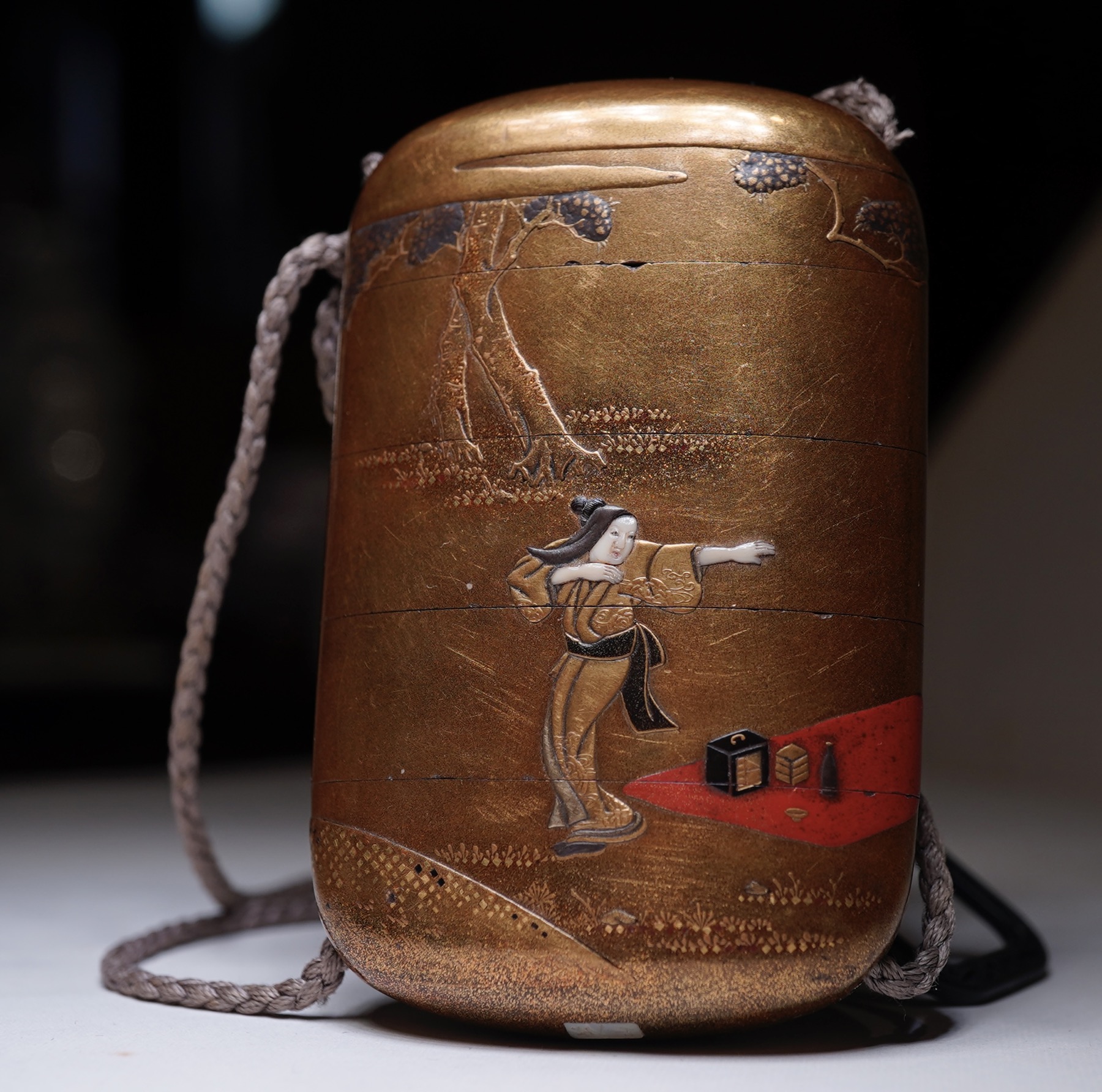 The quality of this piece speaks for itself, with a very finely detailed continuous scene – probably from a popular play – depicting two gracious ladies seeing off a bare-foot bald-headed Samurai, clutching his sword. They were enjoying a quiet picnic in the woods a moment ago, as can be seen by the red rug with picnic box, wine bottle and cup….. and the intruder on the other side, a wizen old Samurai warrior with his sword, is receiving a good telling-off by the startled ladies. No doubt it's illustrating something form a popular play of the period – if anyone knows, please send us a message!

There is a signature to the base of the lowest segment, which is interesting as it bears to parts; first, an inlaid mother-of-pearl plaque with '芝山' , and second, three characters in gold lacquer "松花齋". These signatures reveal the origins of this piece; the lacquer case and landscape is by Shokasai, a well known & respected Edo lacquer artist, while the fine inlaid figures is by the fabled Shibayama artists, made as a joint effort & hence signed by both.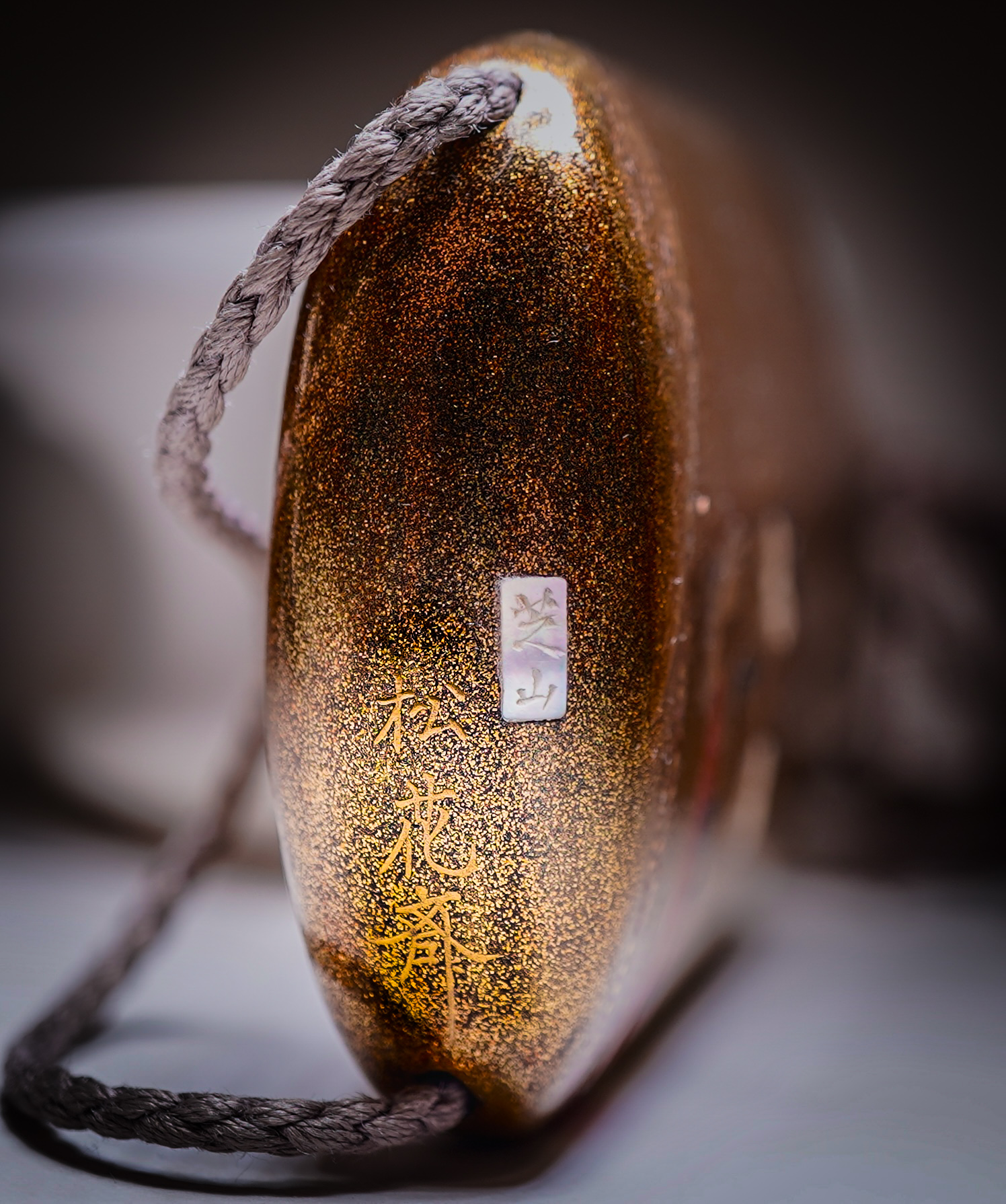 Shibayama: this Japanese family workshop of artisans was founded by Shabayama Dosho, also known as Senzo. He was a farmer from Shibayama who became a famous artist in the 18th century after moving to Edo to practice his trade. He had many descendents, such as his grandson & successor, Shibayama Naoyuki, who continued the workshop's tradition for fine inlaid work into the 19th century. Records are not distinct when it comes to the later Edo period Shibayama artists, as they all used the simple signature "'芝山" , for 'Shibayama'.
Shokasai:
ref. Bonhams NY 19 Sept. 2008, lot 5036 for a comparable example.
Japanese Woodblock Prints
Japanese artists began to print in the 17th century, and technological advances meant that by the 18th century they were able to produce large & colourful images. For the multi-coloured images, a different wood block was carved for each, and carefully lined up consecutively to create the multi-colours image.
They were initially commissions by the wealthy Edo period patrons to illustrate calendars, which they gave as New Year presents. Subjects were often beautiful courtesans, actors, or illustrations of popular opera scenes. Scenic splendour and historical events followed. They were hugely popular in Japan, and specialty shops existed just to sell 'the latest' from the famous artists. Collectors would be inclined to 'collect the series' by a particular artist, storing them away in specialty wooden boxes. In many ways, it was just like the present day Comic Book scene!
The simple lines, and the bright separate zones of flat colour were the result of the techniques used. They were very important factors in the development of Western Art, once collectors discovered them in the later 19th century. In fact, it's well documented that the great 'fathers of Modern Art' such as Gauguin and Van Gogh both collected and were inspired by Japanese Woodblocks, as they set about their quest for a break with the traditions of Western Art.
We have a selection of these vivid prints for sale, some shown below with more to come shortly.
Satsuma
Satsuma is a favorite Japanese decorative item, and is distinct & unique
The Allure of Japan