Australia's Largest Range of Antique Ceramics, plus more!
Moorabool Antiques
Situated in Geelong, Victoria, Australia, Moorabool was founded in 1958 by the late John Rosenberg.
Today it offers a vast range of Genuine Antiques from the Victorian, Georgian & earlier periods, including Pottery & Porcelain, Glass, Silver, Old Sheffield, Artworks, Furniture, Australiana, Antiquities & Natural History.
We have been busily preparing a brand-new experience for you.
It's taken a little longer than anticipated, as we are not compromising this time….
A bespoke website is the result, perfectly tailored for our unique business.
You'll be able to quickly find any items of interest to browse. To make this possible, we've made a series of 'Departments', our stock sorted into logical groups. Think of them as Galleries in our shop.
Inside each you will find further groups of related items. Think of these as 'Cabinets' with themes.
The end result we hope will be like visiting our actual store: Entering the Ceramics Department, you will find the Pottery separate to the Porcelain, and different 'Cabinets' of ceramics grouped by such aspects as their Maker, their Style, and their Age.
The basics are done, we are currently trouble-shooting and testing to ensure the transition to a brand-new system is smooth…. stay tuned for more!
---
Use this drop-down to access the Categories of our stock.
Premium Stock
A few of our 'best-in-class' pieces of stock.
Fresh Stock Blogs
See the Latest Uploads via our Fresh Stock blogs – along with other interesting newsworthy announcements.
---
__NOTE__ the new email subscription is not working at present: email us direct (moorabool@gmail.com) if you would like to subscribe.
Moorabool Antiques is a second-generation Antique Shop, located in Geelong, Victoria, Australia.
We specialise in Antique Ceramics – but also have an extensive stock of Victorian, Georgian & earlier Furniture, Silver, Glass, Artworks, plus Antiquities & Natural History.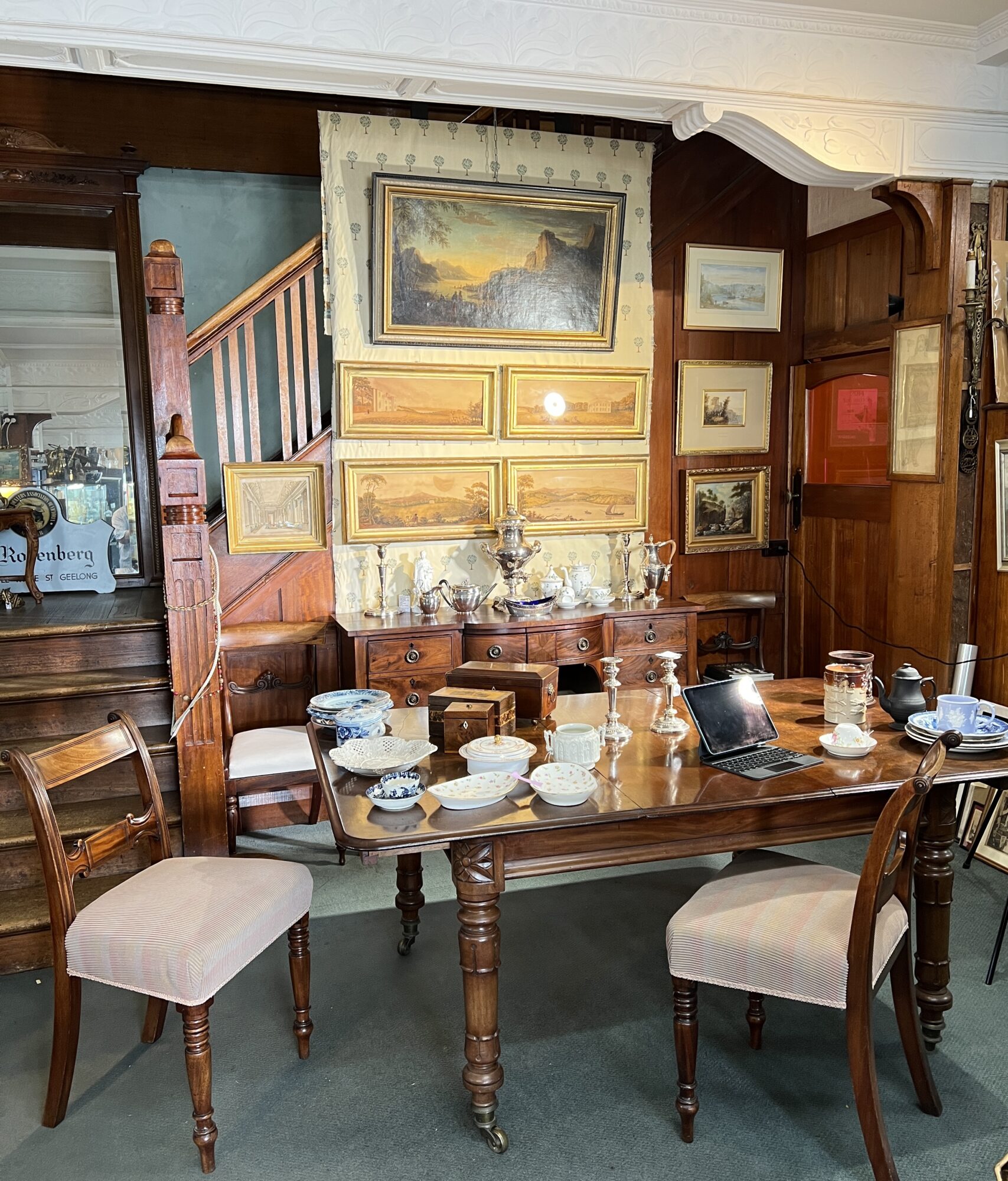 HOURS
Monday – Open by Appointment
Tuesday – Friday 10 am-5pm
Saturday 10am – 1pm
Sunday – Closed –
CLOSED – Saturday 24th June
ph 0352 292 970
email moorabool@gmail.com
A Sample from our Art
A Sample from our Ceramics
A Sample from our Furniture
A Sample from our Silver
A Sample from our 'Vertu'
Our Stock is divided up into these handy Divisions:
Subscribe to our Email List

see our Fresh Stock first!