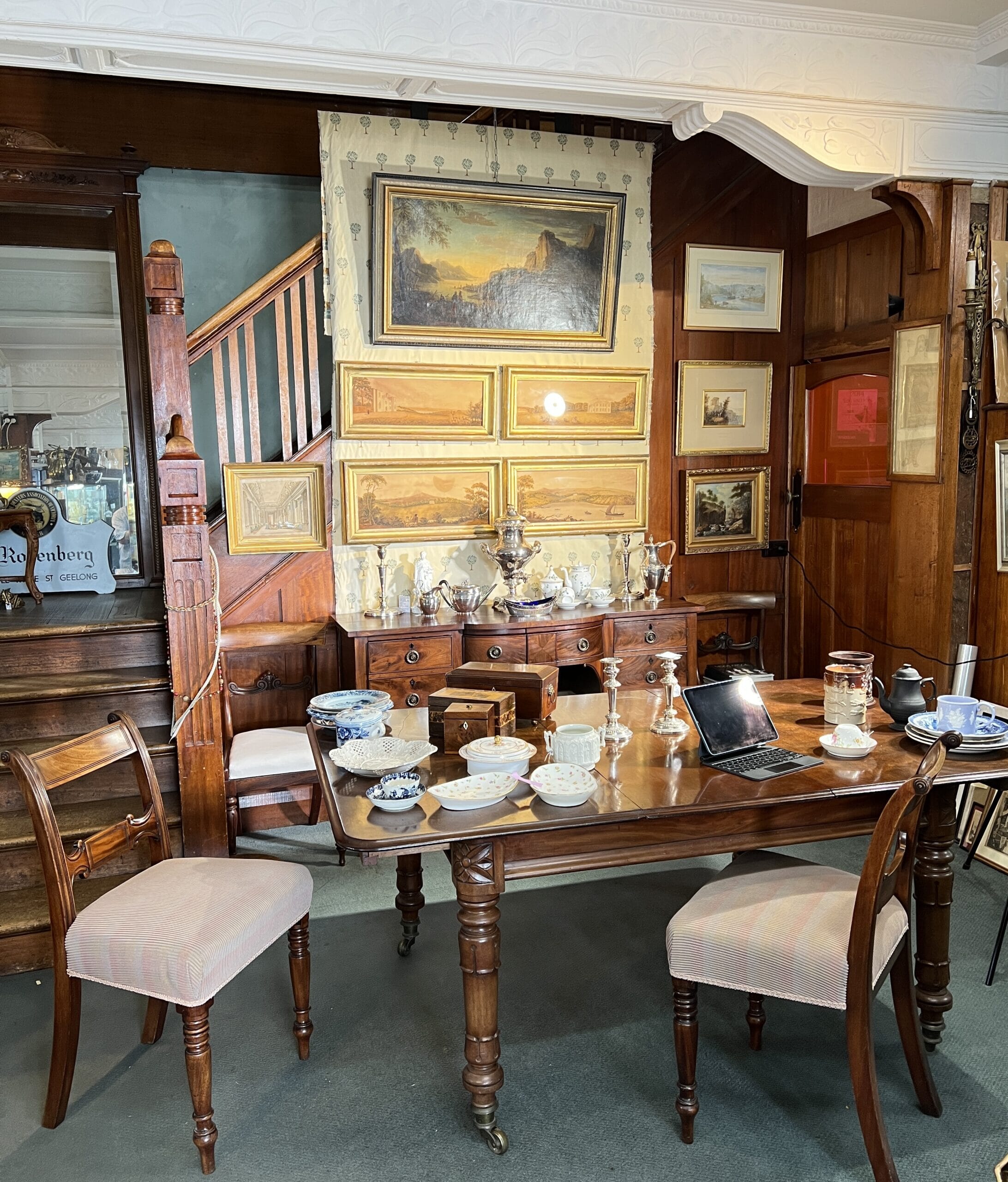 We've had some changes in our shop layout in Geelong, to accommodate some superb 'Fresh Furniture'. As there are a number of Dining type pieces of furniture, we now have a room setting from an elegant 'English Country House' – the perfect setting to showcase a good portion of our stock!
The Regency mahogany table is superb quality, with a cavity inside containing extra leaves – one complete and two half-leaves. It can comfortably seat 10 when fully extended, and yet compacts to a 6-seater of manageable size very simply.
The Hepplewhite sideboard is elegant, and provides some excellent storage including a deep 'cellerette' drawer made to hold wine bottles.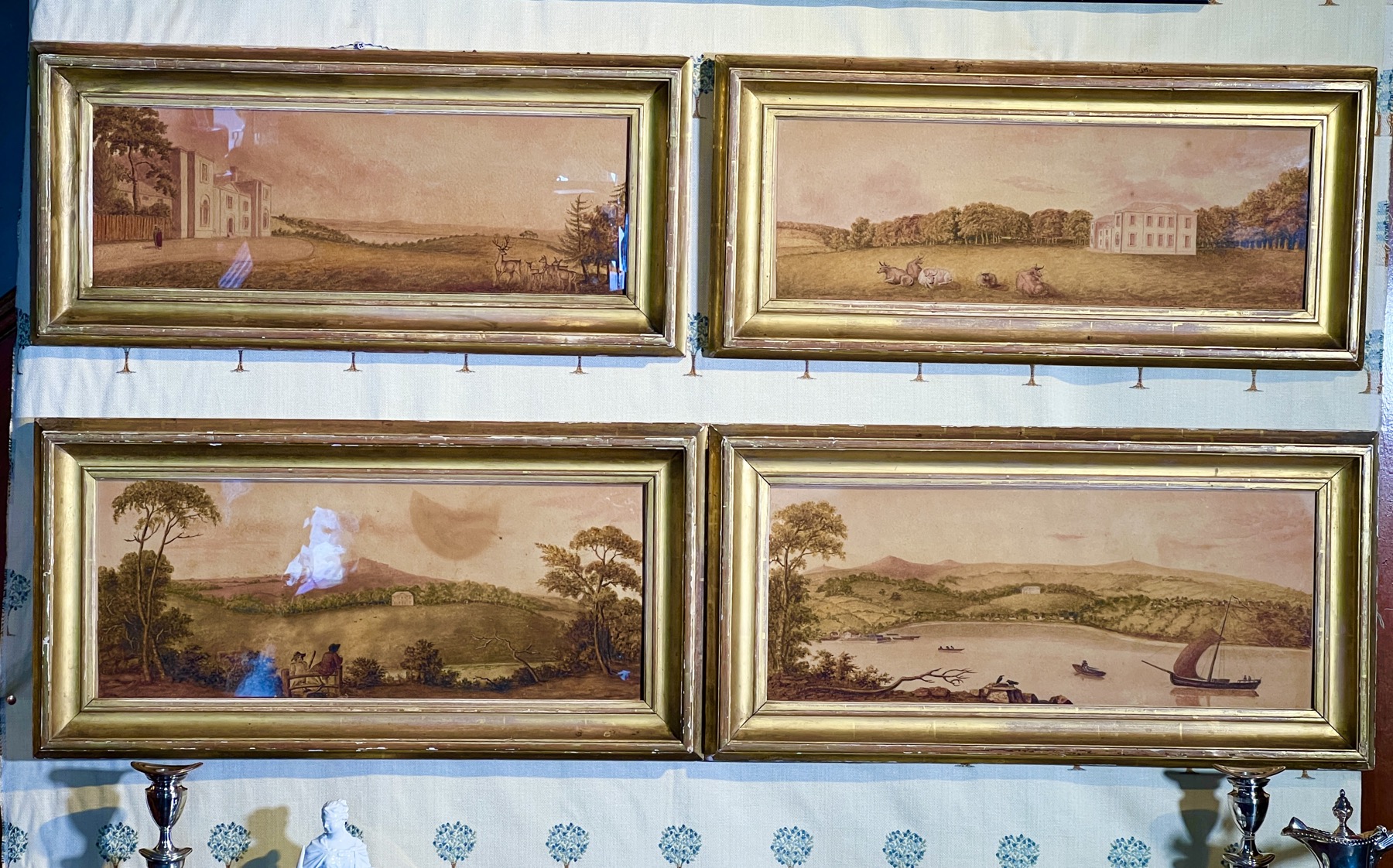 We now have a wall to showcase some art. These interesting landscapes are Georgian, and show four views of the same Georgian house, by a 'talented amateur' who hasn't signed or dated.
First instinct was 'Could this be Tasmanian !?', but closer examination of details show typical English countryside features such as deer and : it's therefore an interesting Palladian-style English Country House of the early 19th century – we'd love to know if anyone recognizes it.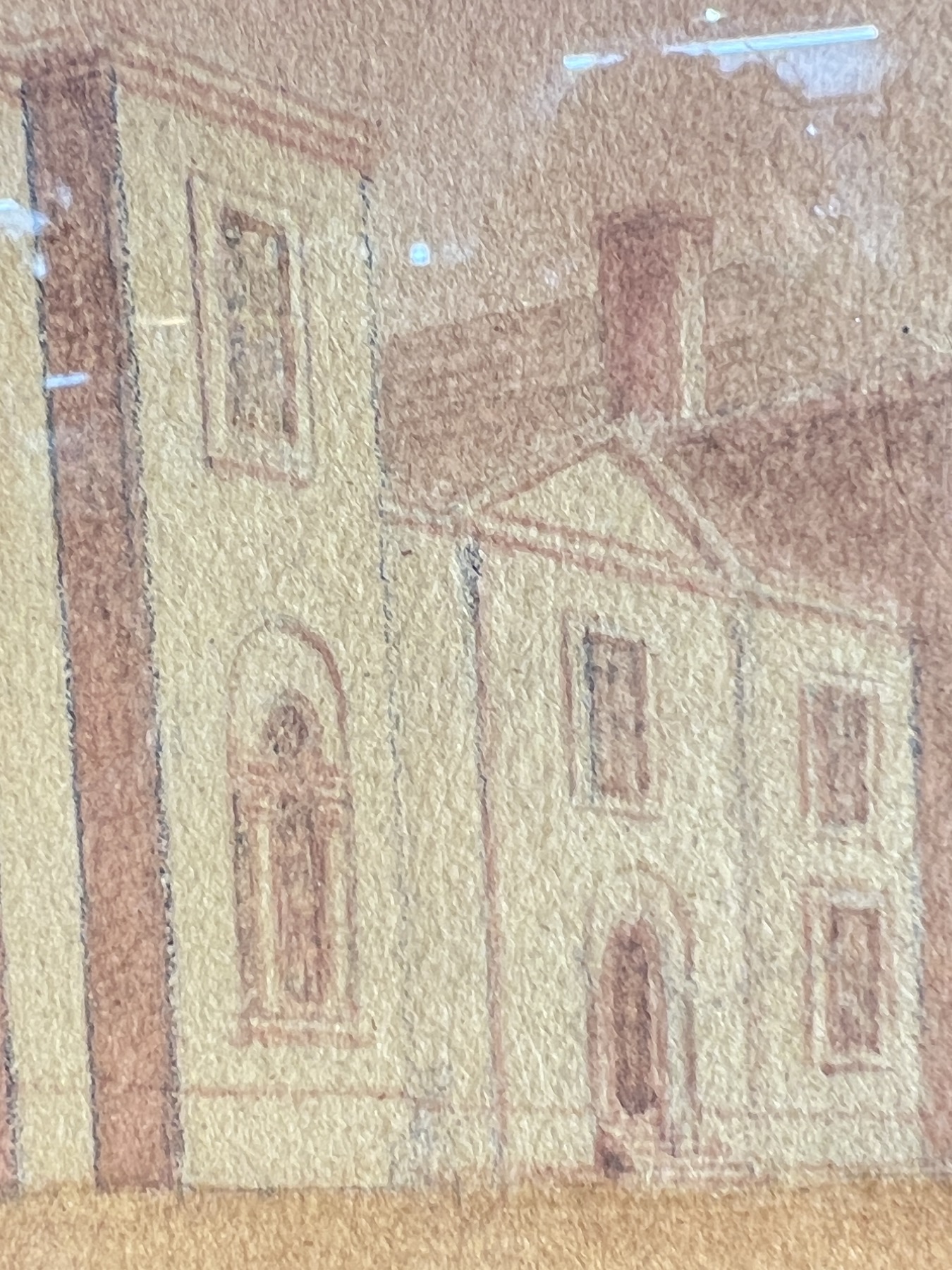 Each of the four views show different facades of the house, and the surrounding countryside: it is therefore possible to produce both a complete diagram of the house layout, and also the topography surrounding it!
---
Saltglaze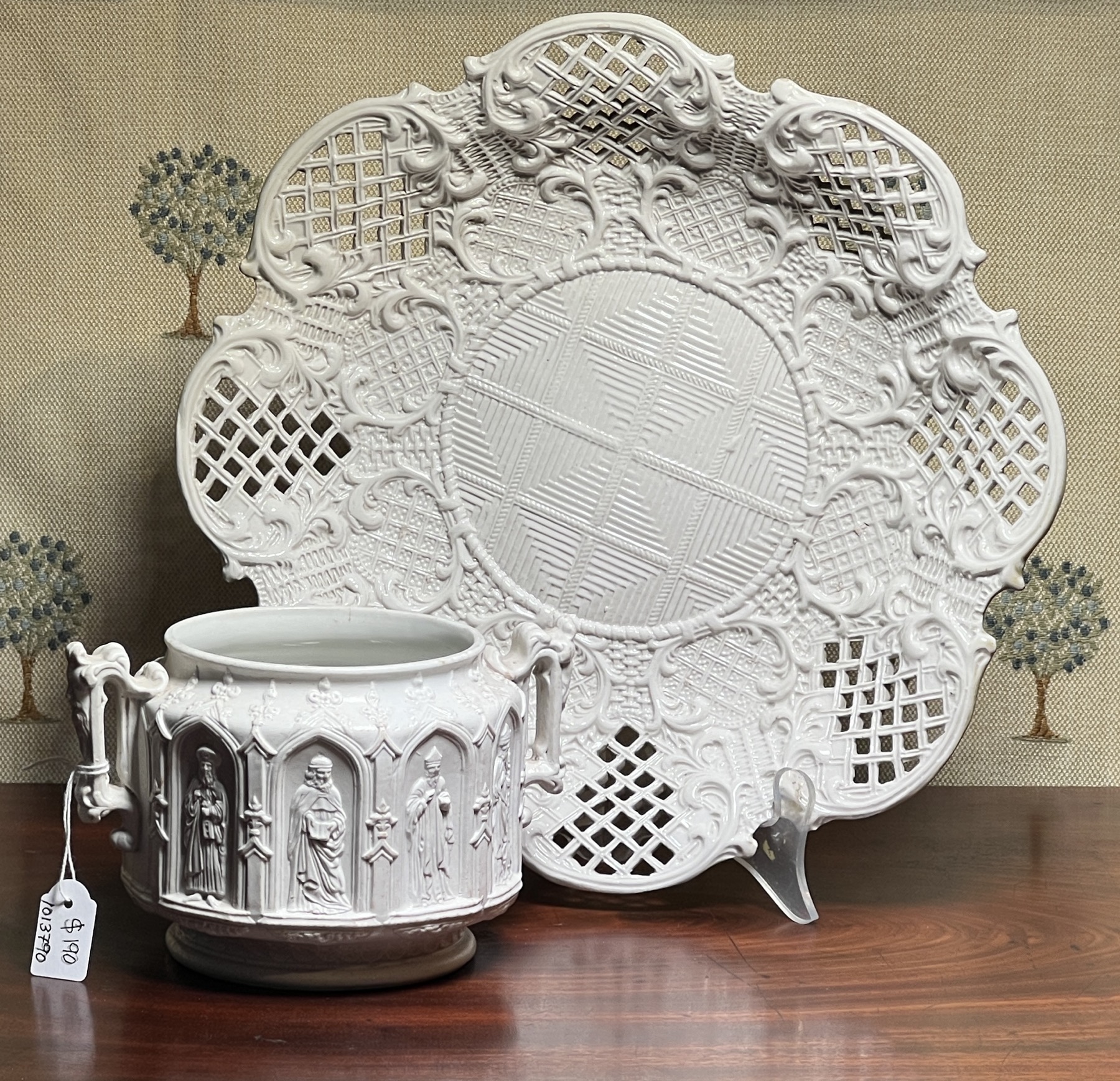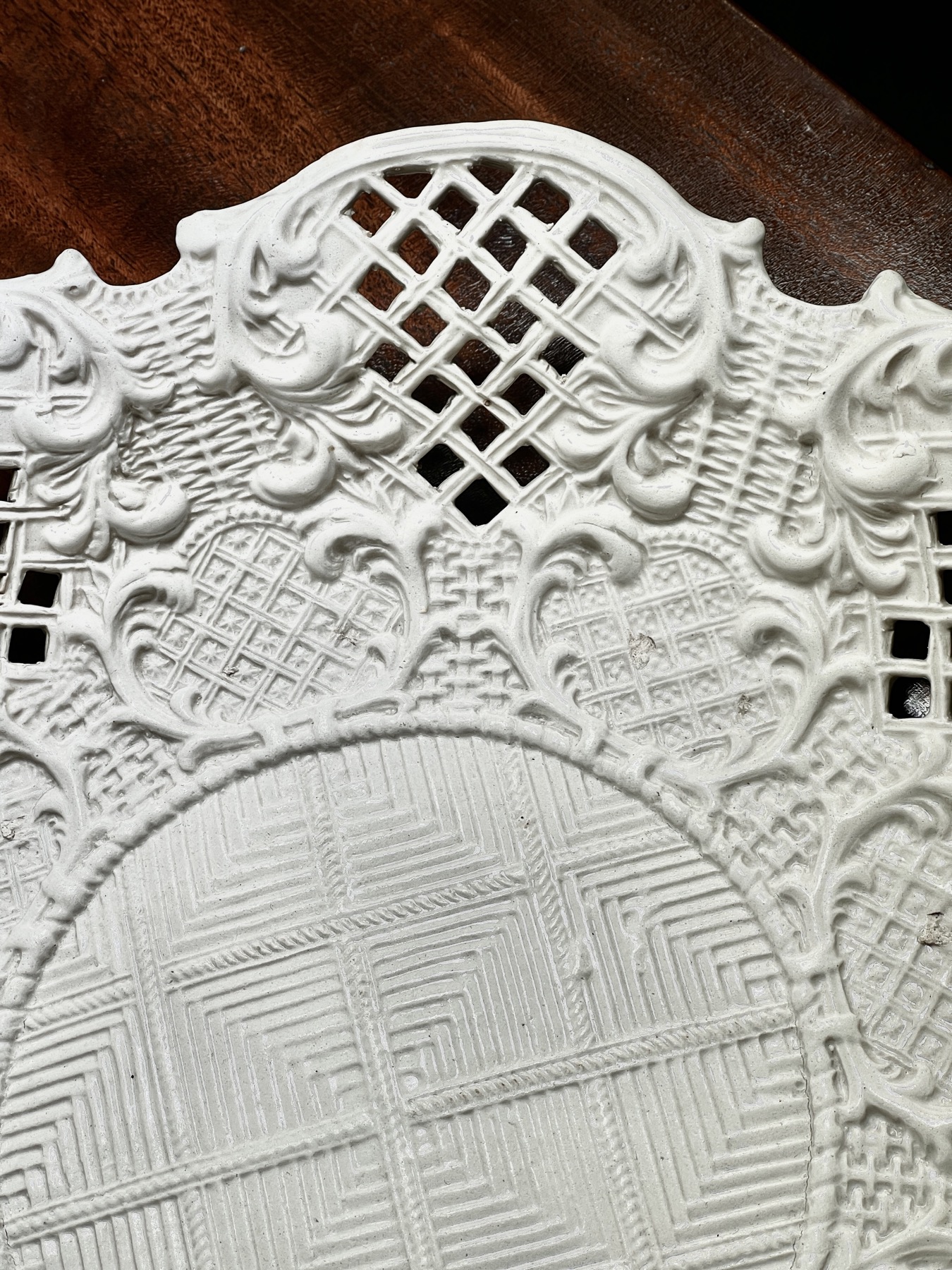 We have a stunning piece of 'Saltglaze' fresh to stock. Made in the Staffordshire potteries in the mid-18th century, 'Saltglaze' is so-named due to the nature of the glaze: salt was introduced into the hot kiln, and as the oxygen had been consumed by the kiln fire, the resulting chemical reaction with the clay surface produced a thin, waterproof surface. As there is no added layer of glaze, the original moulding of the product shows to the finest detail, and the potters used the technique to showcase their finely detailed designs. The dish we have is 'best in class' – crisply moulded and in terrific original condition.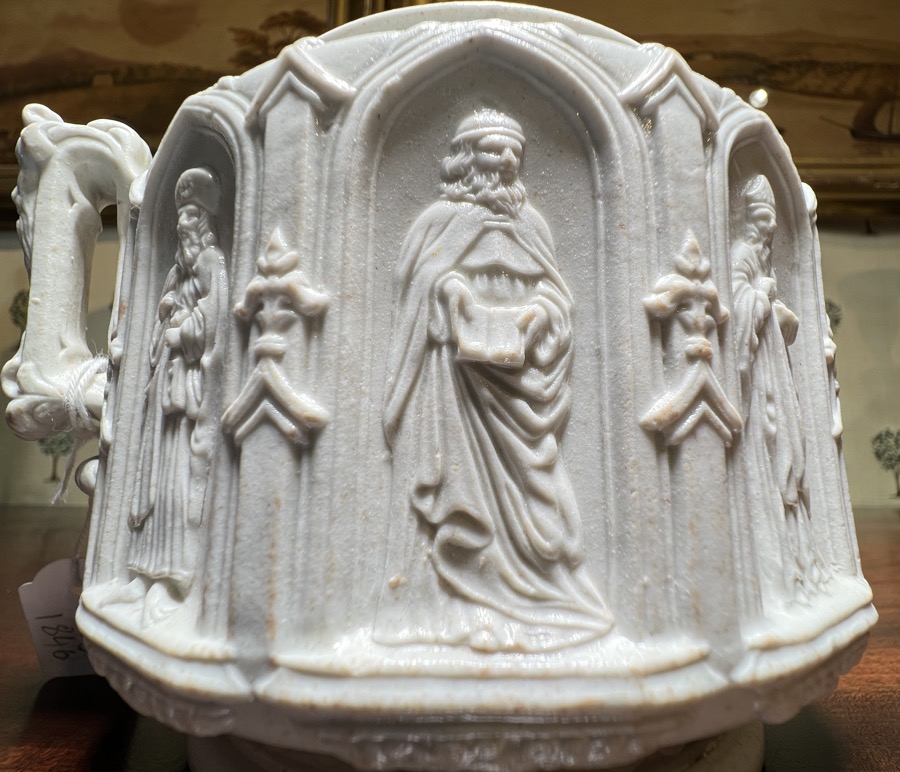 It was a popular technique with the Victorians also, and the bowl shown above is a finely detailed piece designed & produced in 1846 by Charles Meigh, decorated with eight figures of saints in arches, inspired by the Gothic wonders of York Minister.
---
Children's Plates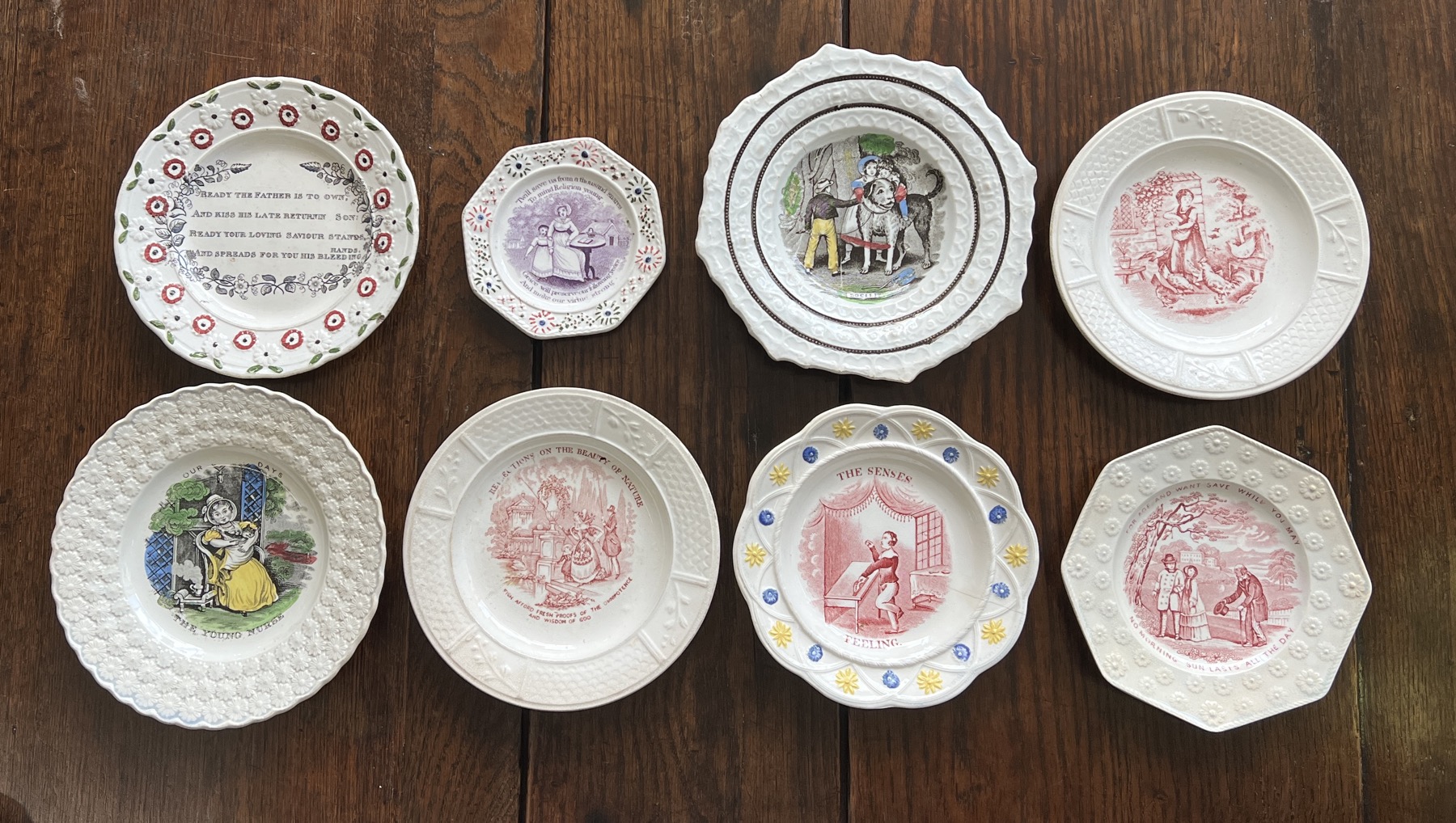 These were intended to 'Educate' the children – but many were perhaps more likely to amuse the adults!
Take this one for example: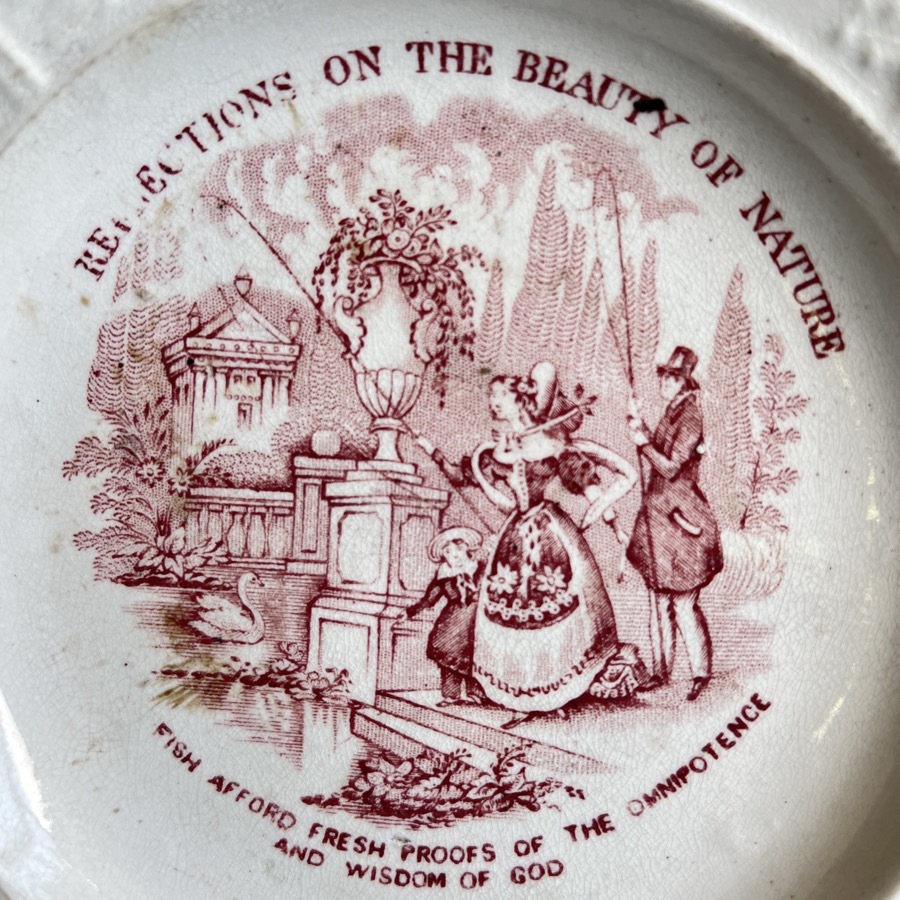 The 'fishing' isn't really the subject, as the man hasn't even cast his line: he's gazing at the 'beauty' doing the fishing instead!
There's a certain mocking undertone that would be very politically incorrect today!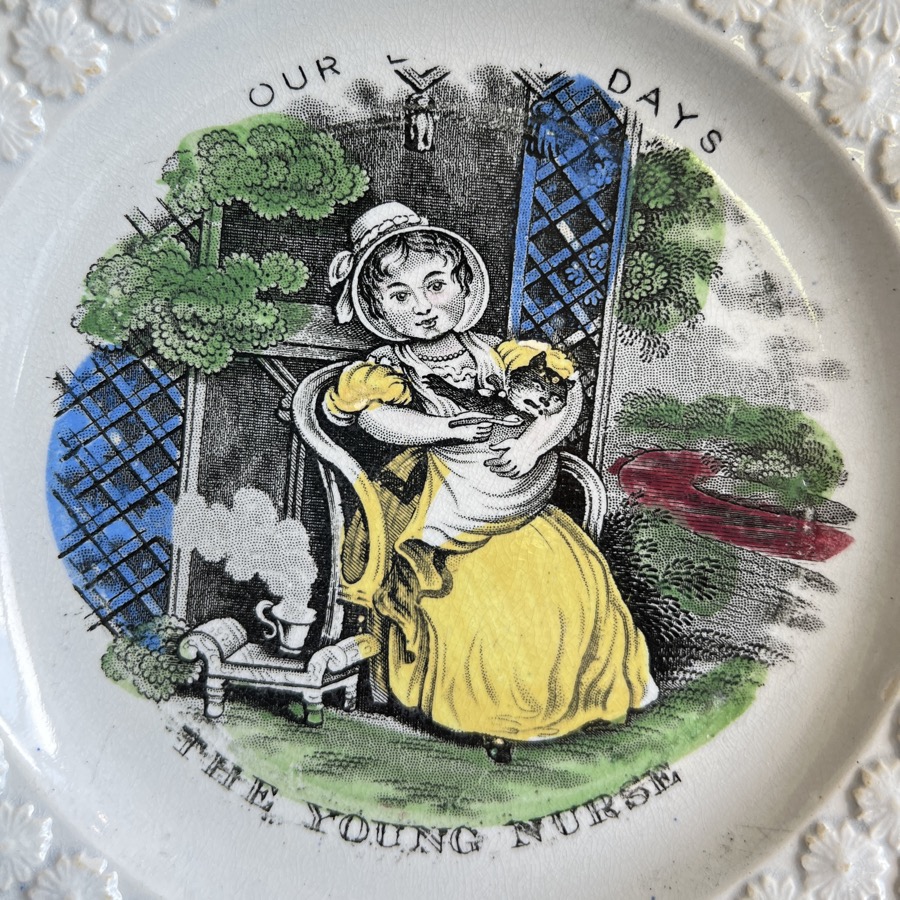 A particularly interesting example is the girl nursing a cat, dressed up as a baby. This example is marked, with an anchor & LONDON. As this exact mark appears on wares of multiple known makers, it is thought to indicate they were made by potters for a retailer in London. The slightly different moulded daisyheads on this example are the clue we need to follow to shed more light on where it was made – and a comparable moulding & clay is found at the Scott pottery, Sunderland. They also printed versions of 'OUR EARLY DAYS' series, and coloured them in a similar way. However, the impressed LONDON & anchor doesn't appear to be recorded as a 'Scott' mark, making this plate a probable documentary example.
---
Finally, there's a fresh selection of English & Dutch Delft pottery.

---
CLEARANCE!
We're making space,
with many terrific bargains here >>