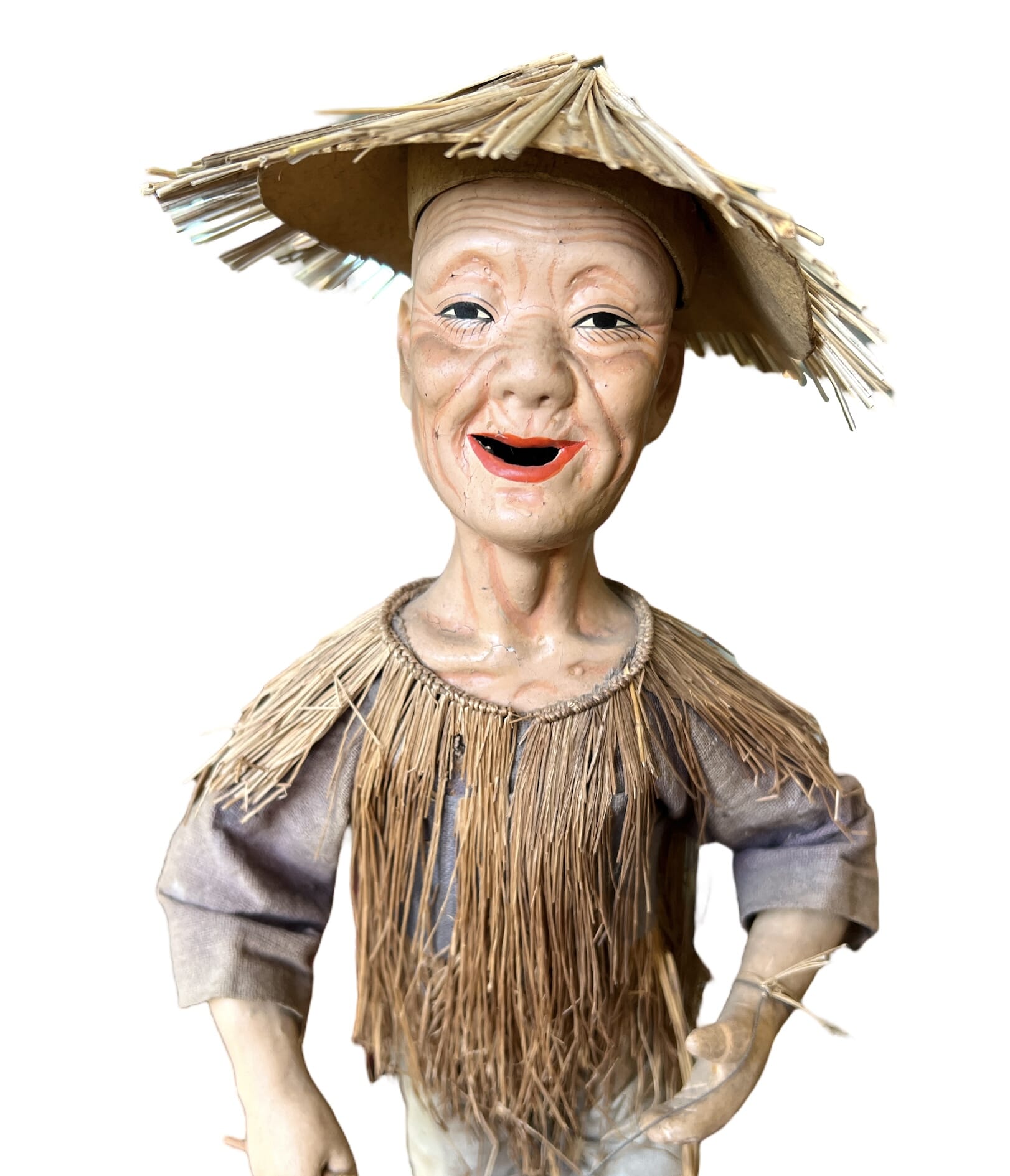 Some stunning Fresh Stock items @ Moorabool Antiques this week!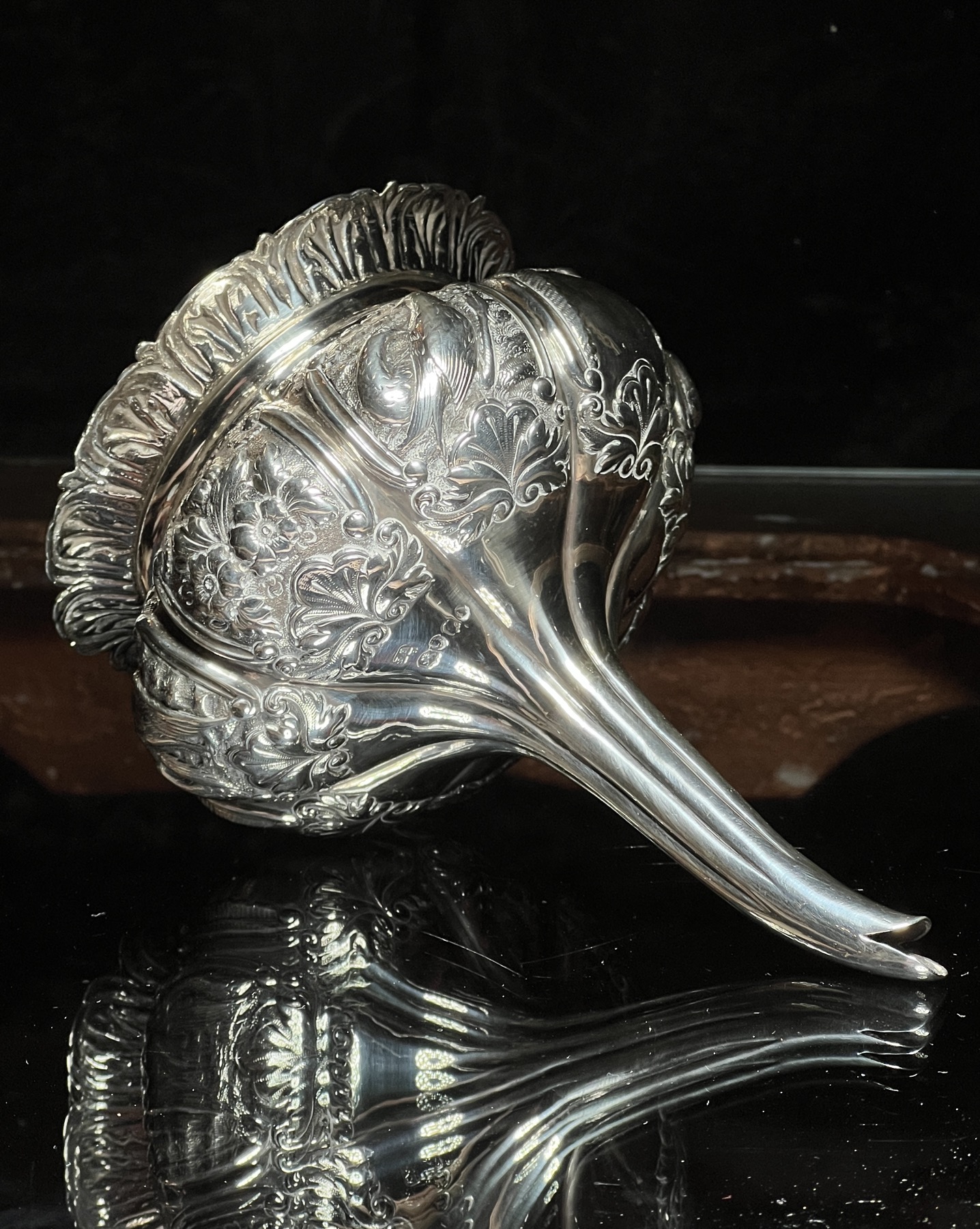 This is the ultimate wine funnel: a Sterling Silver lobed example, with 6 repoussé panels and 2 left blank for initials, the separate insert with acanthus leaf rim & gilt wash interior…. It was London-made in 1834, during the reign of William IV, the silversmiths being Richard William Atkins & William Nathaniel Somersall. While plain silver wine funnels are not uncommon, the embellishment of this example makes it an exceptional piece – and very usable!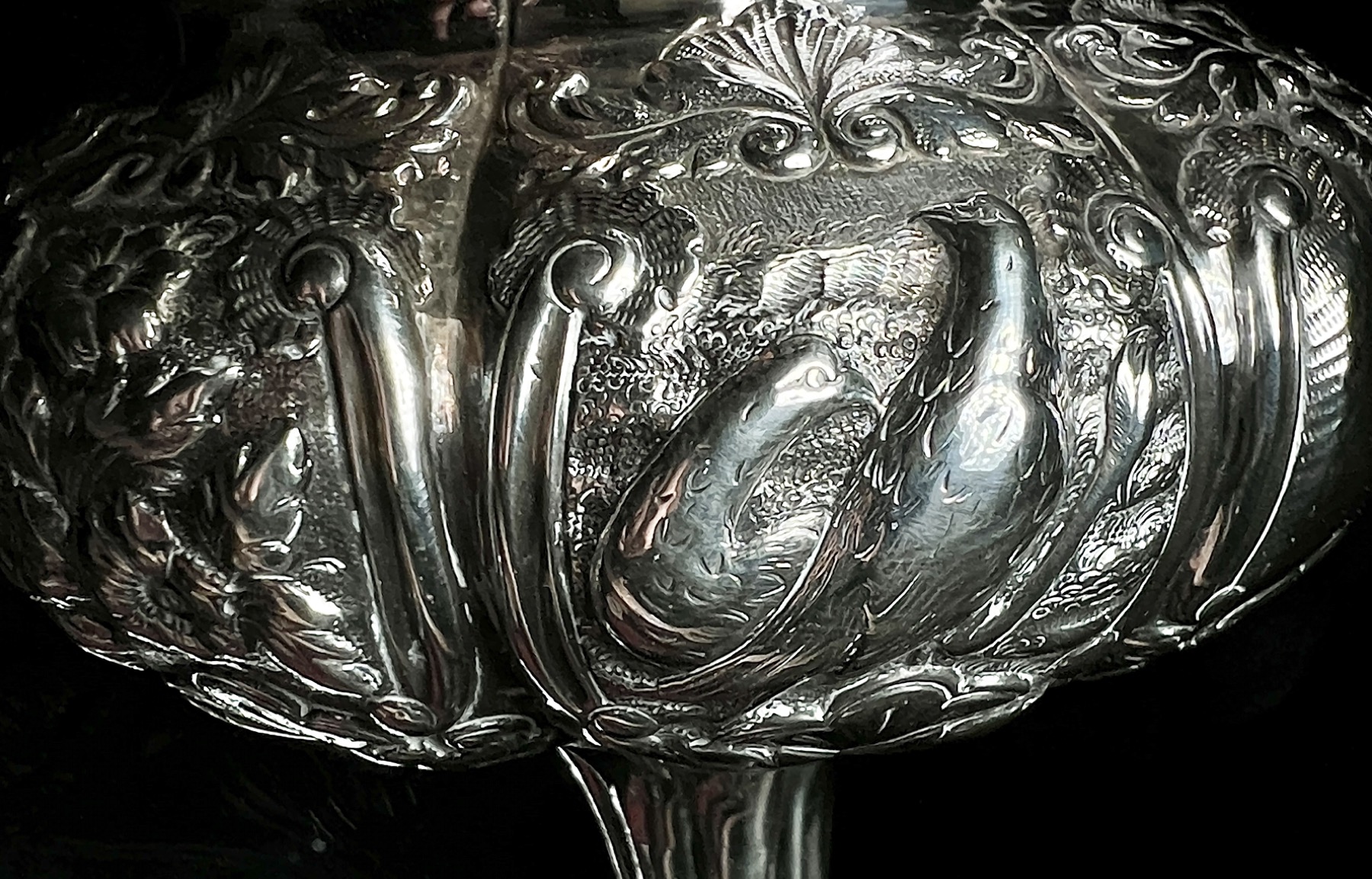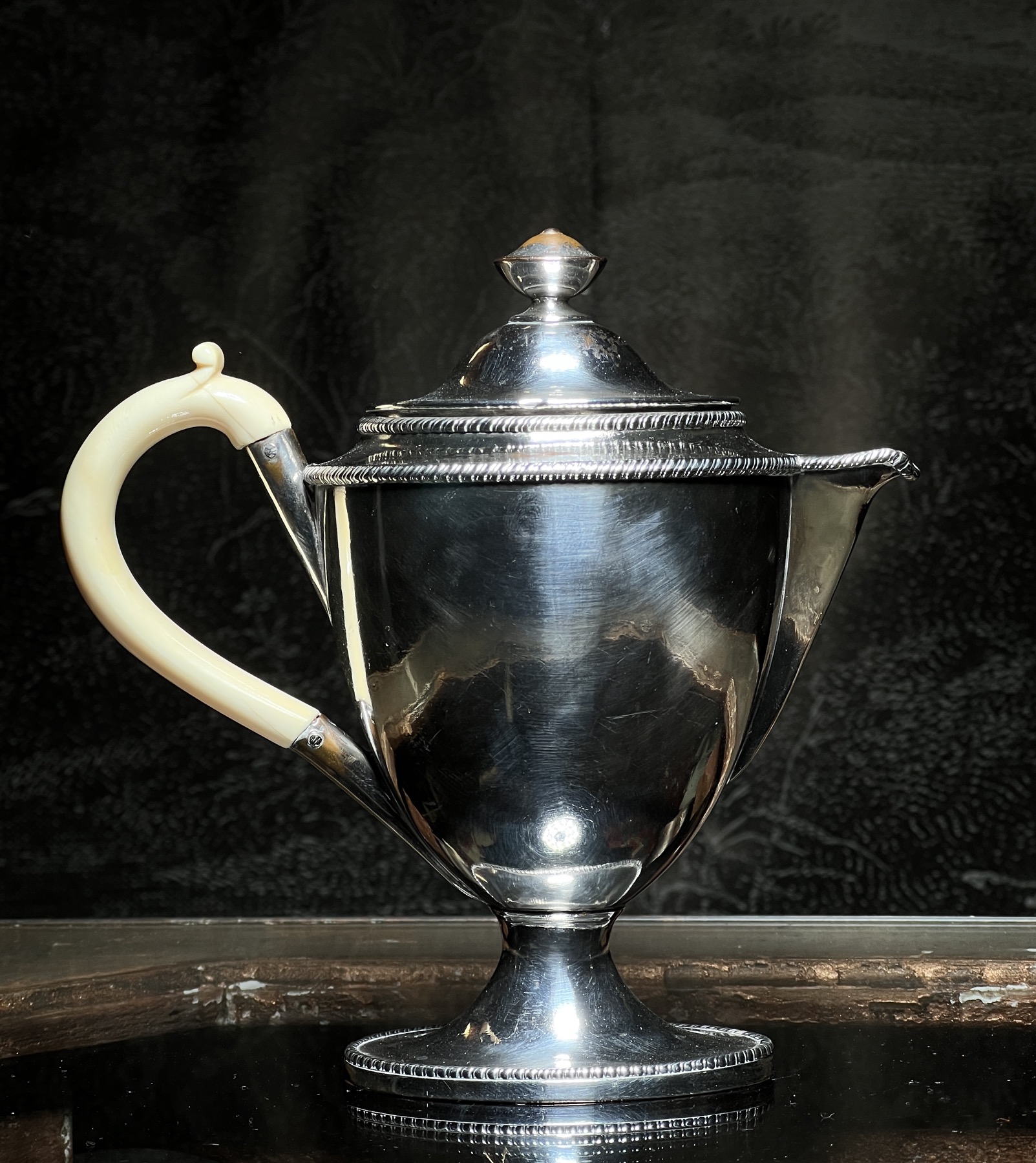 This lovely piece of Old Sheffield Plate is a rarity. Known as an 'Argyle', it has an internal partition with a lid to take some hot water – this then keeps the contents warm. Legend has it that the Duke of Argyll, back in the 18th century, came up with the bright idea after bemoaning the cold gravy inevitably served on the Duke's table, as the kitchens were a long way to bring gravy through the cold draughty castle, cooling too much on the journey. The insert made it lovely and warm…. or so the story goes. This is a particularly elegant example in the Adams Neoclassical style, with a dramatic ivory handle.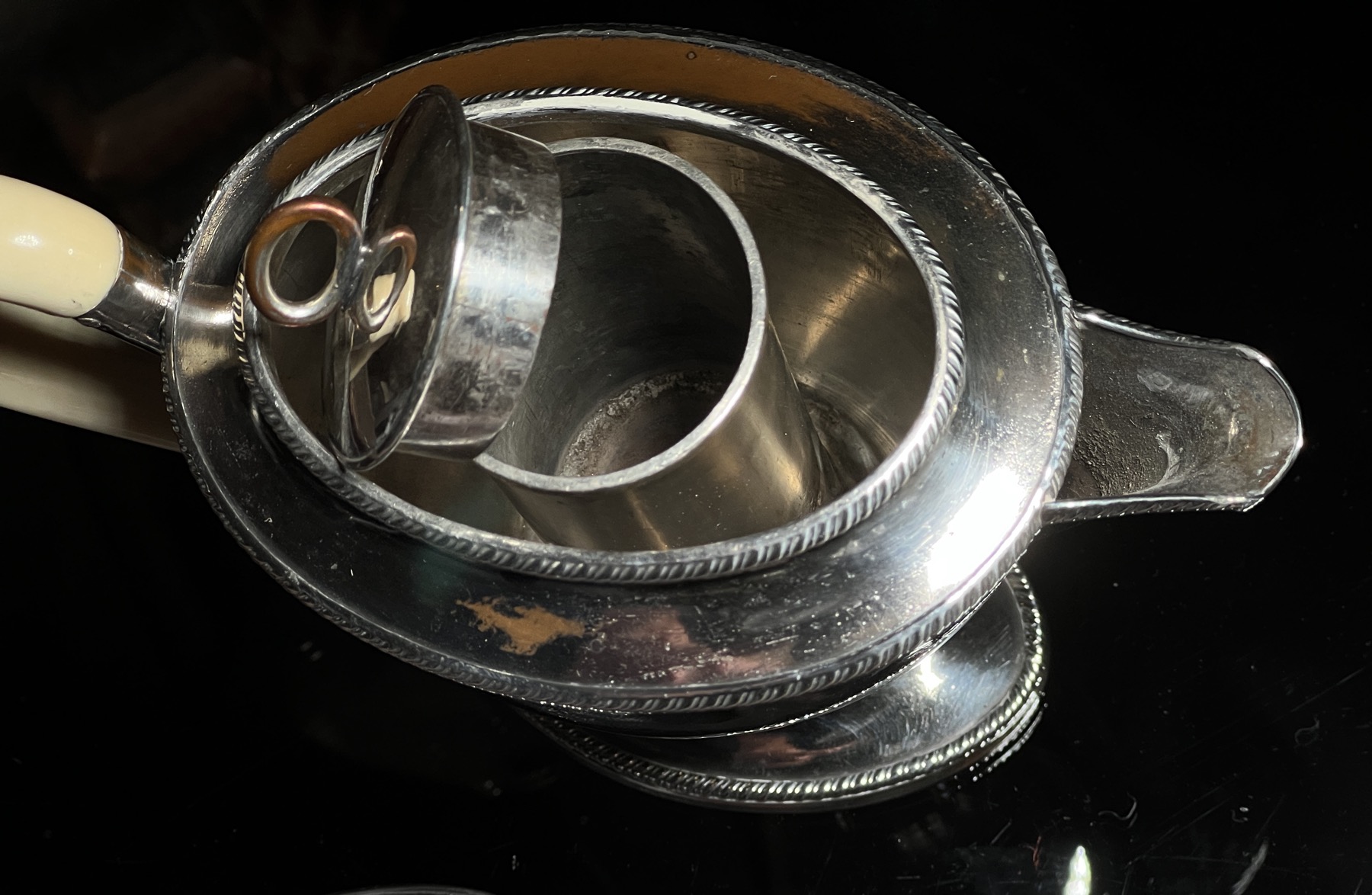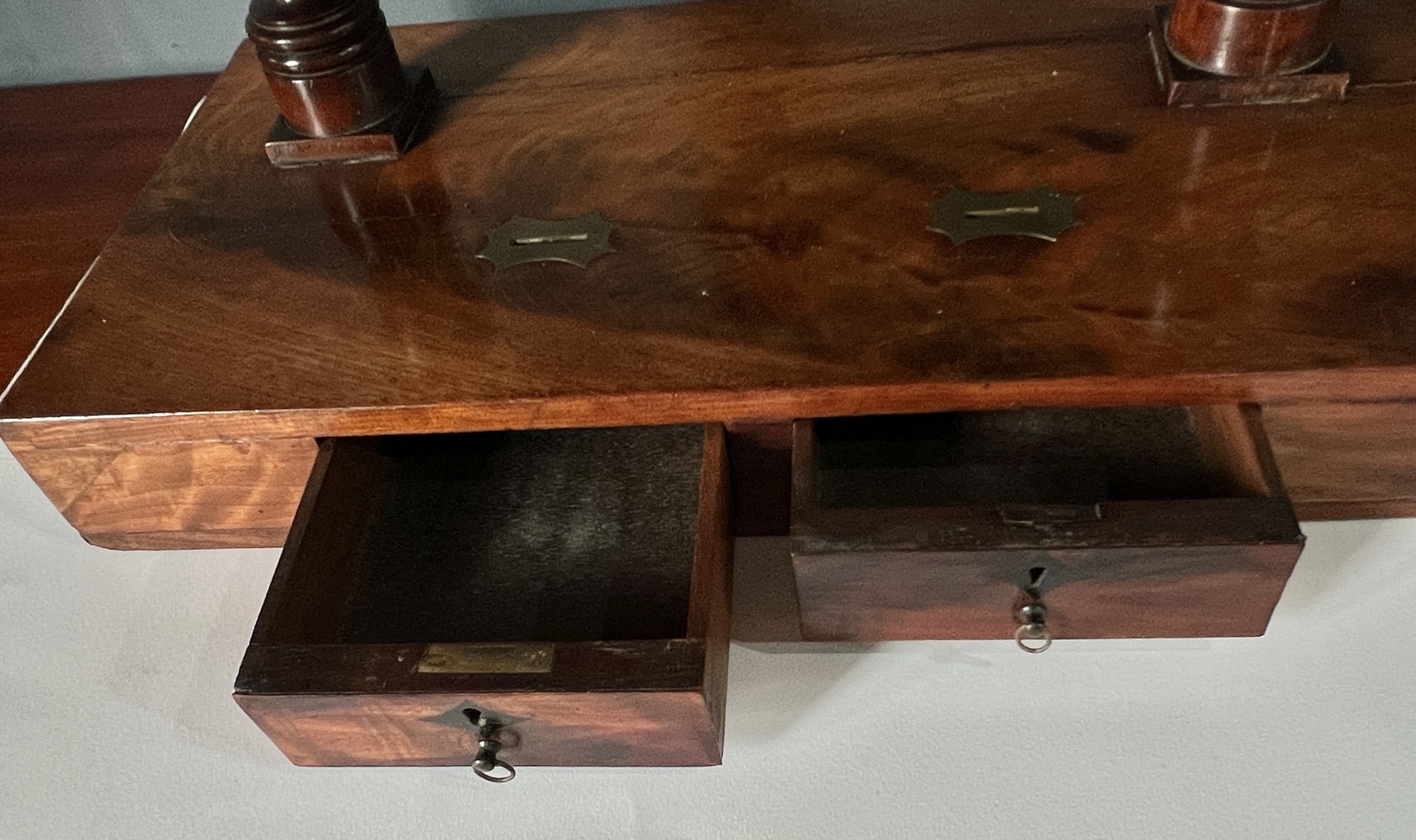 A most unusual piece begging to be used is a 'voting machine', also from the William IV period.
It is mahogany, with satinwood & rosewood veneer. The octagonal revolving drum has a hatch into which the nominations (names) can be placed & tumbled for a random selection, while below are two lockable drawers with brass slots above to take tokens for a vote – presumably ivory black & white for 'Yes' and 'No' votes. We imagine it being used in a gentleman's club to make all those important decisions….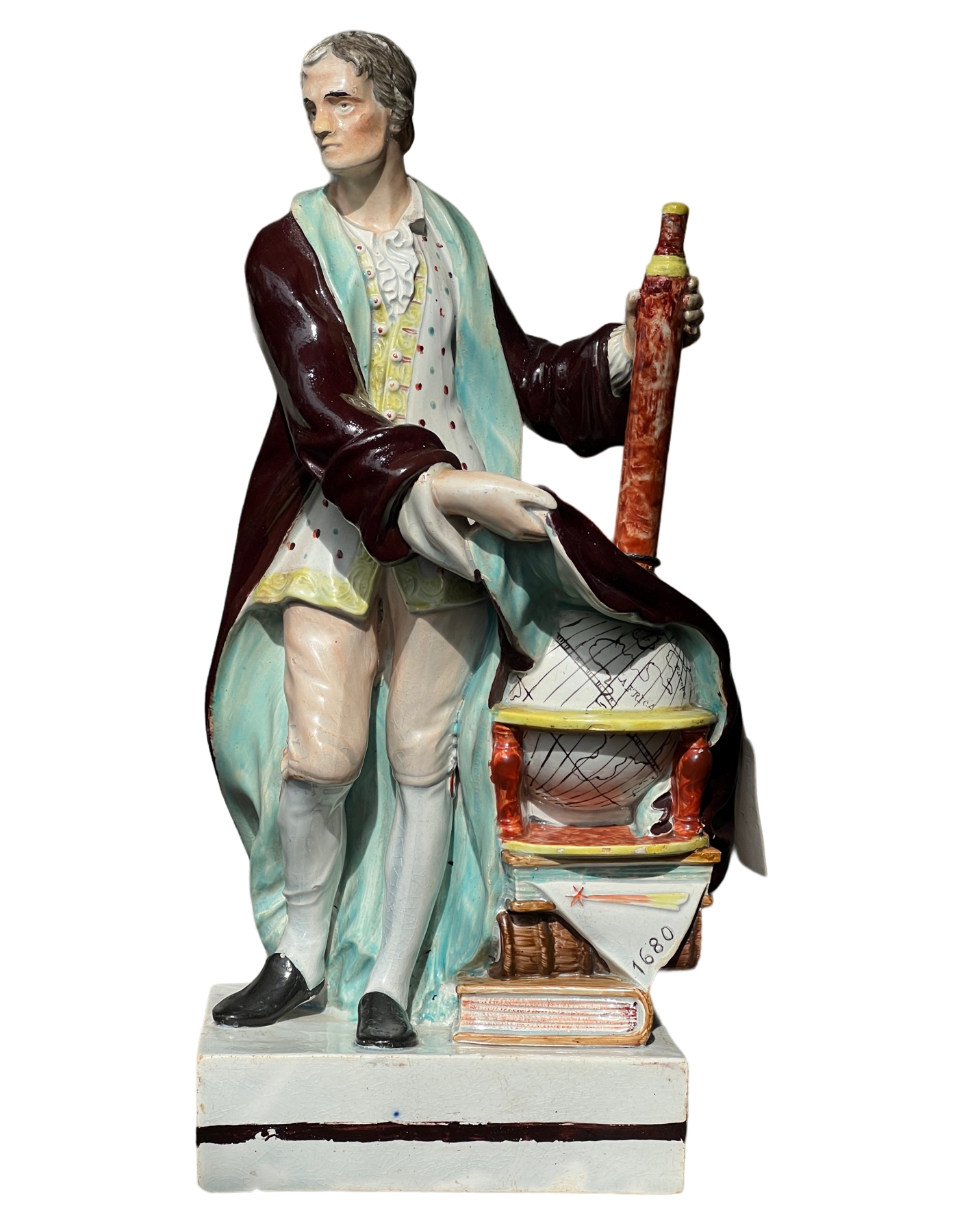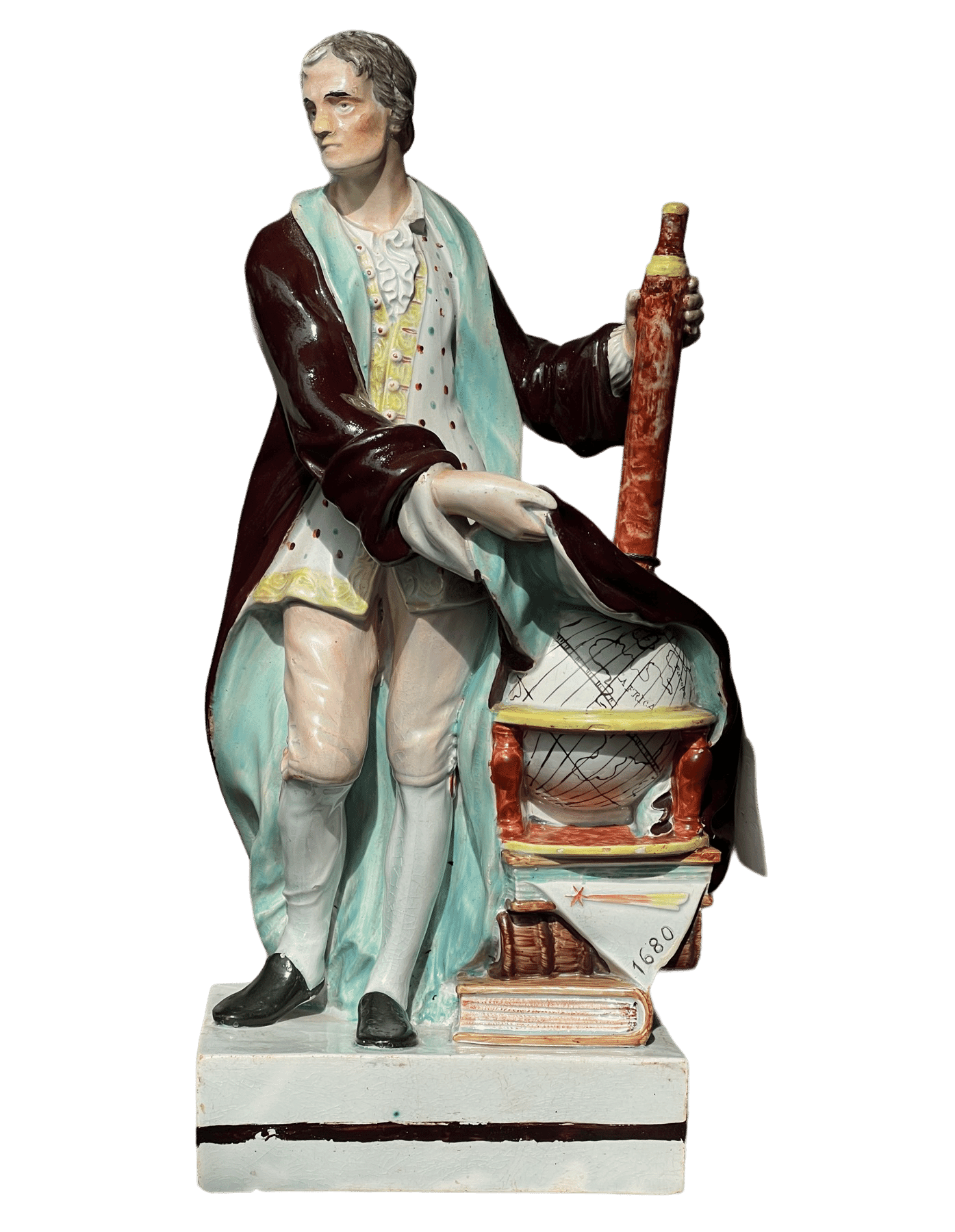 Some early Staffordshire rarities have just been released. Rarest of all is a figure of Sir Isaac Newton, almost unique in having an impressed "LEEDS POTTERY" mark – there is one other example with the mark recorded, in the Leeds Museum.
Accompanying it are two goddesses, Juno with her peacock and Diana with her dog – of a type known, rather unimaginatively, as the "Brown Base Group' – until a maker can be identified.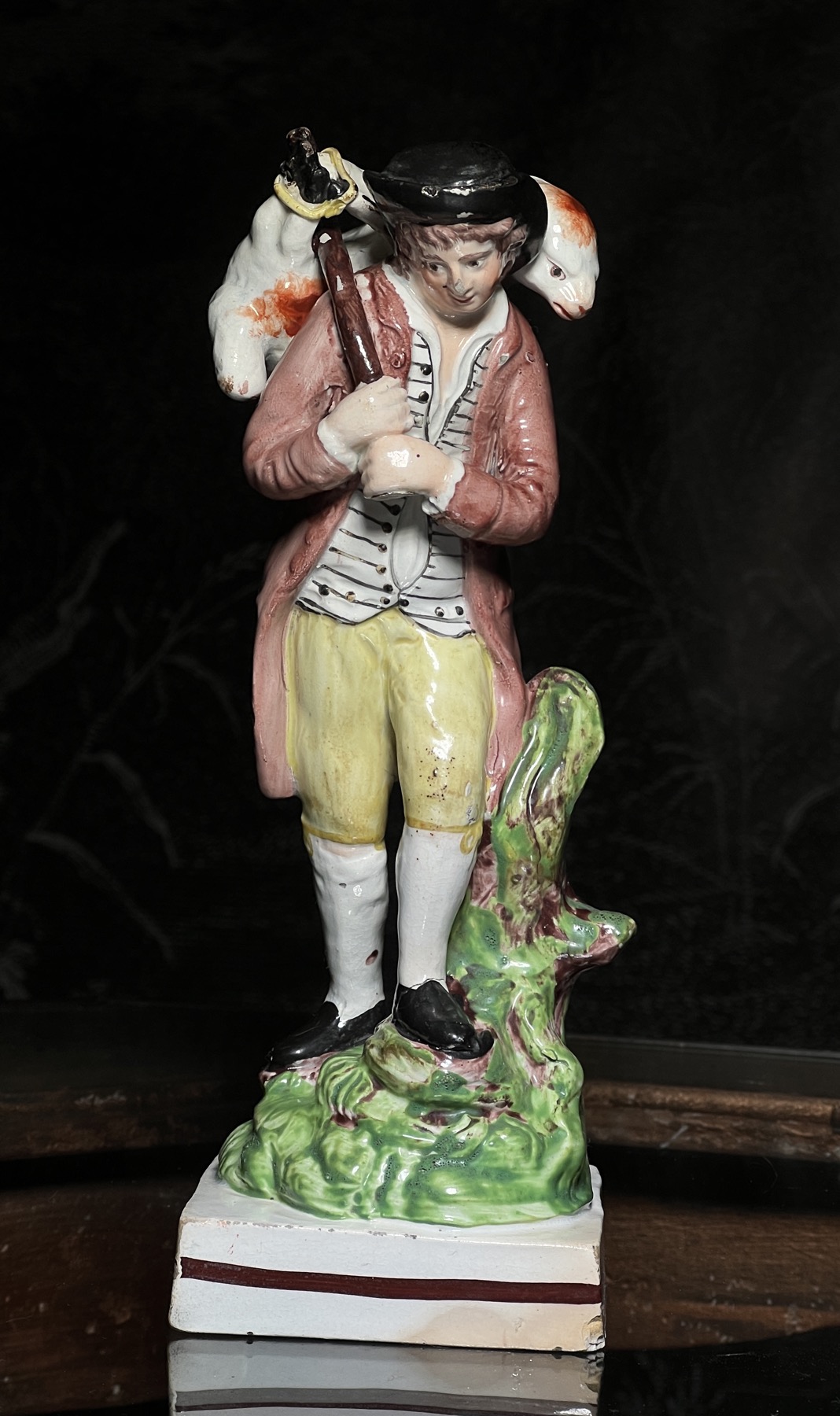 The third is more identifiable, and yet also poses a question: it's 'The Lost Sheep Returns', after the parable of the lost sheep. Standing on a square plinth base, it is one of the early detailed figures usually attributed to the Woods of Staffordshire. A 'rule of thumb' is that Ralph Wood examples have no brown line to the back panel of the plinth base, while Enoch goes all the way around. This example has a line all the way – and with some other small details, suggests a fresh attribution to Enoch.
A smaller early Staffordshire figure just released is also of interest: we have our go-to resource for identification, Myrna Schkilne's 'Staffordshire Figure 1780-1840'. In volume 1, there's an example of this figure, illustrated below …..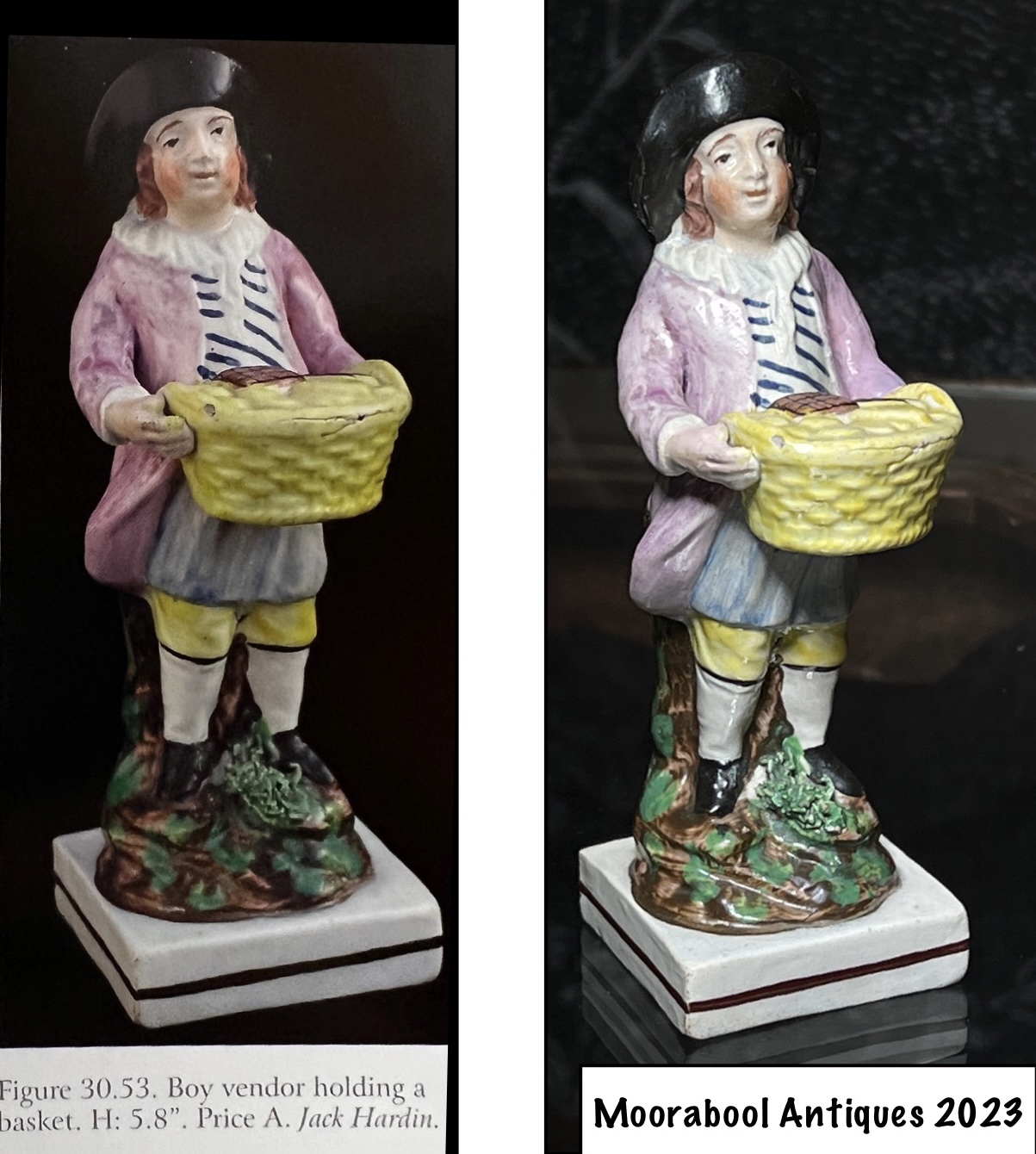 Yes, it's the exact same figure! It's noted in a collection in the 2013 publication, and somehow has made its way to Australia in the past 10 years…..
Asian fresh Stock
All Fresh Stock