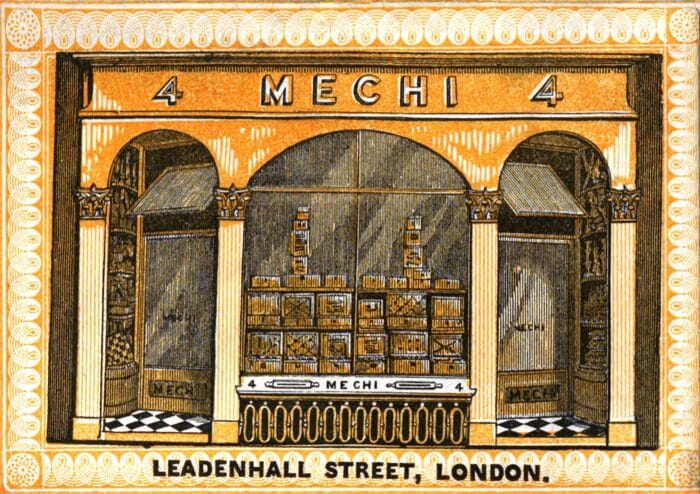 Victorian Entrepreneur John Joseph Mechi (1802-80) was born in London, the city of opportunity – and his story shows all the ups & downs in the life of an entrepreneur.
As suggested by his name, his father was Italian, and employed in the household of George III, marrying a local girl. He claimed connections with Italian Royalty, but his position in court was… a court barber! It seems young John grew up with these high aspirations, something that comes through in his flamboyant adverts:
'Mechi …. greatly improves the personal appearance of the community, by means of his extraordinary Razors…. '
His intended audience is also obvious:
'…Captains, Military, and Nautical Gentlemen, proceeding to India or the colonies, will find Mechi's are the very Emporium, in which they can instantly procure almost every article (except clothing and furniture) that a protracted absence from their native country renders necessary.'

Mechi's Shop at 4 Leadenhall Street
There's a huge amount of flair that comes through in these adverts, a showmanship that reflects his Italian roots. And yet, unlike many of the Regent Street retailers of luxury goods he was competing with, he catered for all budgets.
Beginning his career in 1818 training as a clerk, he set out on his own in 1828 as a 'cutler' in Leadenhall Street. He began manufacturing papier-mâché, and moved into his address at 4 Leadenhall Street by 1830, and later was in a partnership with Bazin in Regent Street circa 1859-69. After this date, he continued on his own, from 1870 until 1880.
His 'mission statement' printed in his catalogue is remarkably forward thinking, worthy of a fair-trade profile in the 21st century:
"1st. to sell only the very best articles, at a small profit, for ready money.

2nd. To exchange or return the money for any article found defective, without any reserve or mean objection.

3rd. By punctuality, by civility, and vigilant attention to the wants of his customers, to endeavour to identify their interest with his own, and thereby merit and increase the extensive trade, patronage and confidence with which he has already been honoured"
Products included his own inventions, such as the 'magic shaving strap', which made him a small fortune early on (until beards became fashionable!) , and items made of Papier-mâché.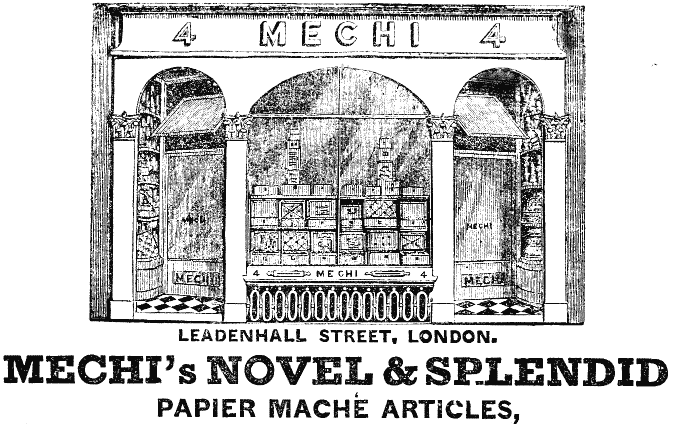 (The Spectator , London , 1846) SUPERB NOVELTIES IN PAPIER MACHER

"A visit to his establishment will prove that there is not in London another such stock of elegancies.

Caddies, tables, envelope cases, letting boxes, companions, cabinets, jewel cases, work boxes, dressing cases, tea Katies, hand and pole-screens, card racks, table inkstands, writing desks, portfolios, playing cards and visiting card cases, bottle cases, note and cake baskets, also an insult and of needle cases, and pearl and tortoiseshell, silver and gold pencil cases, pen holders and other Articles suitable for presents."
We have in stock a large tea-tray with his name & address at the back, conveniently now seated on a folding table base. These were very popular in the stylish Victorian drawing-room:
(The Spectator , London , 1846) TEA TRAYS

"Mechi's papier-mâché tea trays are decidedly the most unique and elegant ever manufactured. The designs are various, as well as the prices, and the economical may be suited as easily as those whose wealth entitles them to such for the most recherche articles which art can produce. The papier-mâché work tables work boxes tea caddies writing cases ink stands and screens card boxes and etc are really superb."
He was a prolific inventor, coming up with all sorts of interesting concepts he patented. He had a thriving farming business later on, having purchased it as a failing enterprise he managed to turn it around – and published a series of accounts on 'Profitable Farming'. He was confirmed as the Sheriff of London in 1856, an Alderman of the City of London in 1858, but unfortunately became involved in a failed financial scheme, and was declared bankrupt -right when he was destined to become the Mayor of London….
Mechi took a stand at the 1851 Exhibition to promote his wares, and again in 1862.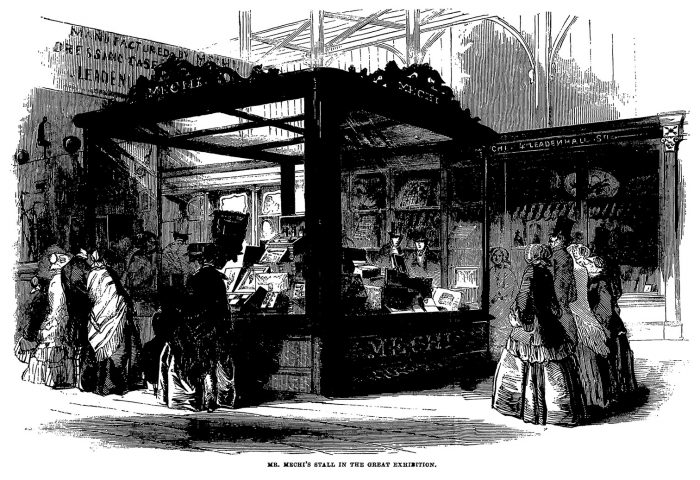 If Mechi was inserted in today's society, he'd be selling gizmo's and gadgets, from his gadget shop – ala Apple – and his adverts would be the really annoying ones with the catchy tune…
Here's what I mean; this advert from THE NATIONAL STANDARD / Journal of Literature, Science, Music, Theatricals, and the Fine Arts, January 1833 must have been penned by the man himself – in the years leading to his almost-promotion to Lord Mayor of London:
A Rather Long Story
1.
Mr Deputy Scrub had long taken out
his bachelors degree;
So he thought it high time to look about,
persuaded there to buy a twige of the gout,
for some lady with cash or even without,
Mrs Deputy Scrub to be.
But alas he was plagued with a terrible beard,
which the spinsters almost enormously feared,
and a rub in person to them appeared,
as a bad as by deputy.
2
A ticket he got for the Lord Mayors ball,
thought he come out on though I'm rough as a Thistle,
who knows what a chance may turn up at Guildhall?
I may wine with a lady and help on her shawl,
and drop her my card in the morning call,
with a charming love episode.
So he built a new coat and he wigged new crop,
and made himself smart from the tail to the top,
and resolving to take the ball at the hop,
asked the hand of Miss Barbara whistle.
3.
She simpered and smiled and said "Yes kind sir,
I am yours for the next quadrille;
Or perhaps you are gallopade prefer".
So he drew on his gloves and he took hold of her
Little finger and danced a new mazurka
with incredible skill.
But the ladies and gentlemen vowed such a pair
of muzzles were never before the Lord Mayor,
And the scrub and the bristle were matched to a hair,
and Jack should be married to Jill.
4.
Then bright cake all over the town was sent from Mr and Mrs scrub
In a chariot-and-four to Brighton they went:
But Adam honeymoon half was spent,
It began to be clouded with this content at many are conjugal Rob.
The deputy grumbled and Barbara pouted,
The loves and the graces away were rooted
From the forest of Brushwood that flourished and sprouted
under each D a little snob.
5.
But through Leadenhall-Street as the Deputy paced,
So gingerly rubbing his chin, he
Read a showy placard of the MAGICAL PASTE,
In MECHI'S shop window attractively placed,
"Odd Bobs" he exclaimed, "If this hits not my taste,
You may call me a positive Ninny"
Poor Bob shall no longer of beard be prolific;
Thanks to Mechi's sharp razors and strops scientific,
While his MAGICAL PASTE by its powder mirific,
Gives for sixpence what's well worth a guinea.
MECHI'S MAGIC RAZOR STROP PASTE