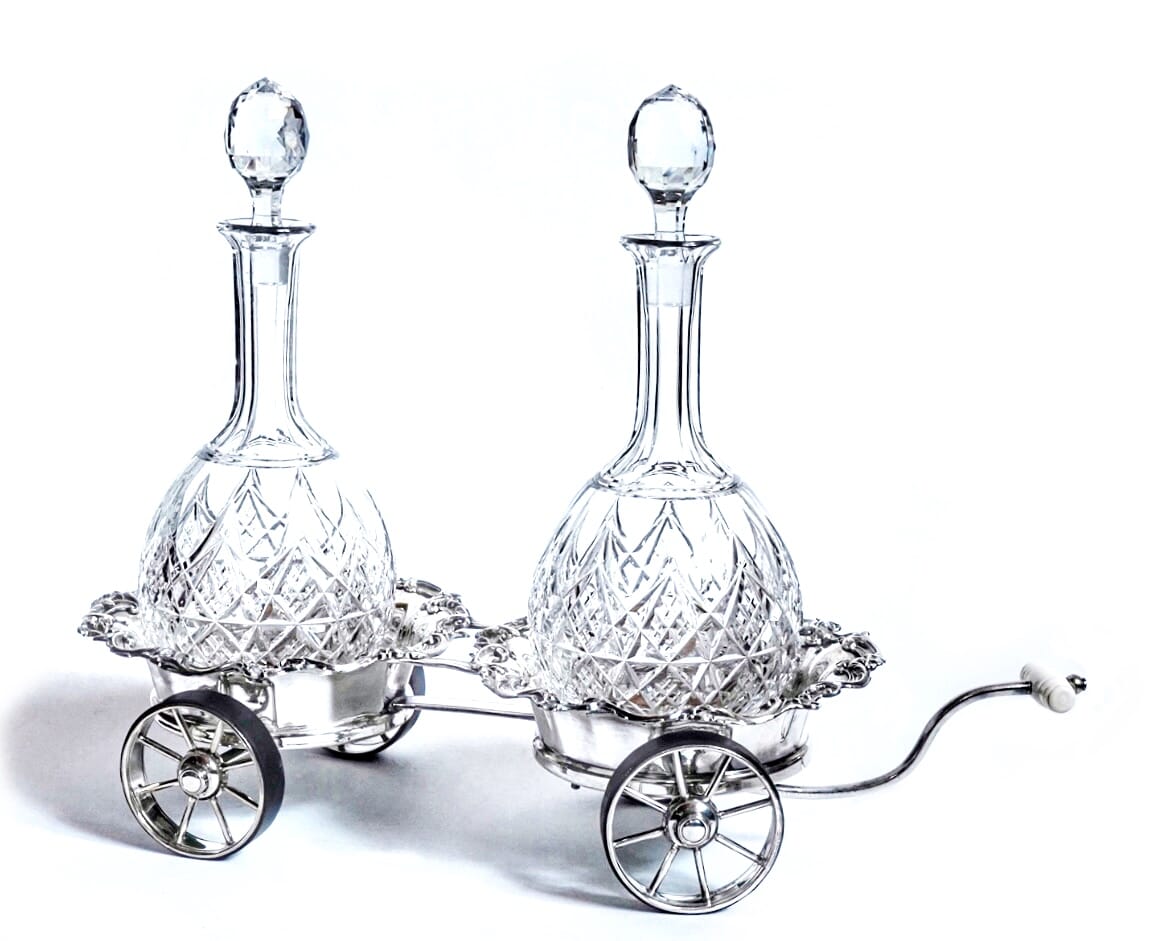 Wine has always been a part of an English gentleman's meal. In the past it was considered safer to drink than the water…. and to do so with style was important. Glasses were once pretty basic, but as the Georgian period continued, they became works of art. So too did the presentation of the beverages; wine accessories such as decanters, silver plaques with the names of the drinks, and coasters became a necessity at any refined table.
The ultimate recently 'rolled' through our door; a wheeled cart to transport two full decanters down the table with ease!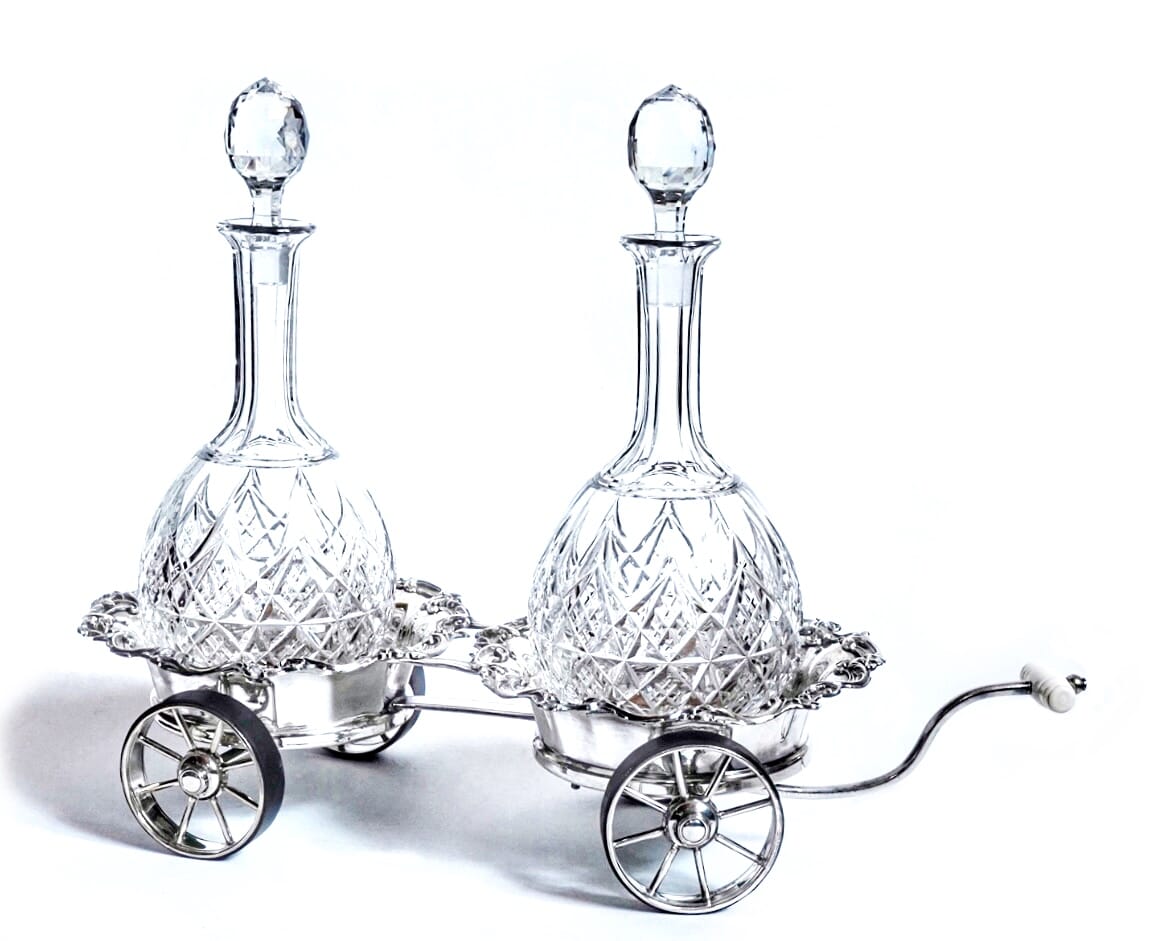 This piece is constructed from a copper/silver body known as 'Old Sheffield Plate'.
Old Sheffield Plate is a fascinating collecting field, and the go-to book is the 1912 'Old Sheffield Plate by Frederick Bradbury. He was active in the late 19th century, and published his lavish book full of hundreds of photographic illustrations and records of the manufacturers and their products. The information he records is important as it was compiled just a generation or two from the time the Plate was last in production, and many of his sources were the workmen trained in the production of the type, 50 years later. He also had a personal connection, with an ancestor being one of the manufacturers he was writing about.
Old Sheffield Plate is an important step in the evolution of silverwares, and should not be confused with silver plating, or electroplate. This modern method, invented in 1840 by Elkington, meant that any base-metal item could be moulded and then dipped into the plating solution, coming out covered in silver. Quick, easy & very cheap.
Old Sheffield Plate is the opposite. The basic material was laboriously made by hand. Basically, a slab of Sterling grade silver and another of copper were heated, then rolled together through a press to form a sheet. These flat sheets could then be formed into the desired shapes, ie. teapots, trays, or wine coasters. There is a seam on anything that required a vertical wall, and this was silver-soldered. A breath on a suspected seam results in a clear indication of a seam, and is a collector's favourite method of identifying Sheffield Plate. Another feature is the rims of a vessel; if left exposed, the layered nature of the body is obvious, and so the intricately stamped-out silver borders, often Rococo scrollwork, was laboriously silver-soldered along the rims.

Bradbury illustrates the exact same 'Wine Wagon' we have, and identifies the maker as Battie, Howard & Hawksworth, dating it to 1820.

He has a tale on the subject, and saw in interesting enough to include in his book:
The origin of the " wine wagon " we must attribute to the inventive genius of Sir E. Thomason, of Birmingham, and in this connection the following extracts from his memoirs will be read with interest :

" Many years since, Lord Rolle called upon me at my establishment, and said that he had dined with His Majesty George IV. the day before, and that His Majesty was pleased to remark that he regretted that his noble guests who sat on either side of him were constrained to rise from their seats to pas the wine, and observed to him (Lord Rolle), 'as you have said that you are going to Birmingham to-morrow, you had better call upon Thomason who may invent some plan to obviate this inconvenience.'

I suggested to Lord Rolle that decanter stands upon wheels was, in my opinion, the only method to be adopted ; and as I held the beautiful dies containing the victories of the late war, forty in number, viz., from the landing in Portugal to the capture of Paris, and the settling of Napoleon at St. Helena, I recommended to place these medals around the flat perpendicular edges of the bottle stands, which would fill up four, thereby adapting them to two waggons, the whole made of silver and richly gilt, and each waggon to have beautifully ornamented wheels.*His lordship approved
of my suggestions, and requested that no time should be lost in executing them, and when done to forward them to the Marquis of Conyngham. On their arrival, His Majesty expressed his entire approbation of the thought.
Some time afterwards the King presented them to the Duke of Wellington."

Frederick Bradbury, 1912
This is the story related by Bradbury, via the memoirs of Thomason, one of the major manufacturers of Old Sheffield Plate luxury items in Sheffield in the early 19th century. The items he is describing are these remarkable constructions, created for George IV who then presented it to the Duke of Wellington in 1826. The pair can still be seen in his preserved residence at Aspley House, on the corner of Hyde Park, London – considered the only preserved example of an English aristocratic townhouse from its period.
However, Bradbury was not convinced in this being the actual origin of the type, stating in a footnote:
Notwithstanding what is here recorded, wine waggons not very dissimilar to those illustrated are to be met with in both silver and Old Sheffield Plate apparently made late in the 18th century. Whether, however, such have been put together at a more recent date in the form of wine waggons from pairs of coasters, cannot be said with certainty.
We are pleased that our example of a 'Wine Wagon' is absolutely original, being a documented product of Battie, Howard & Hawksworth of Sheffield. It is in splendid condition, despite being completely 'black' when it came in. Many hours of patient cleaning later, the original silver was found to be in excellent, unworn condition – a rarity with Old Sheffield, which is well known for its tendency to 'blush' as the copper starts to show through the silver.
It is now ready to grace the table of some fresh Stylish Imbiber….