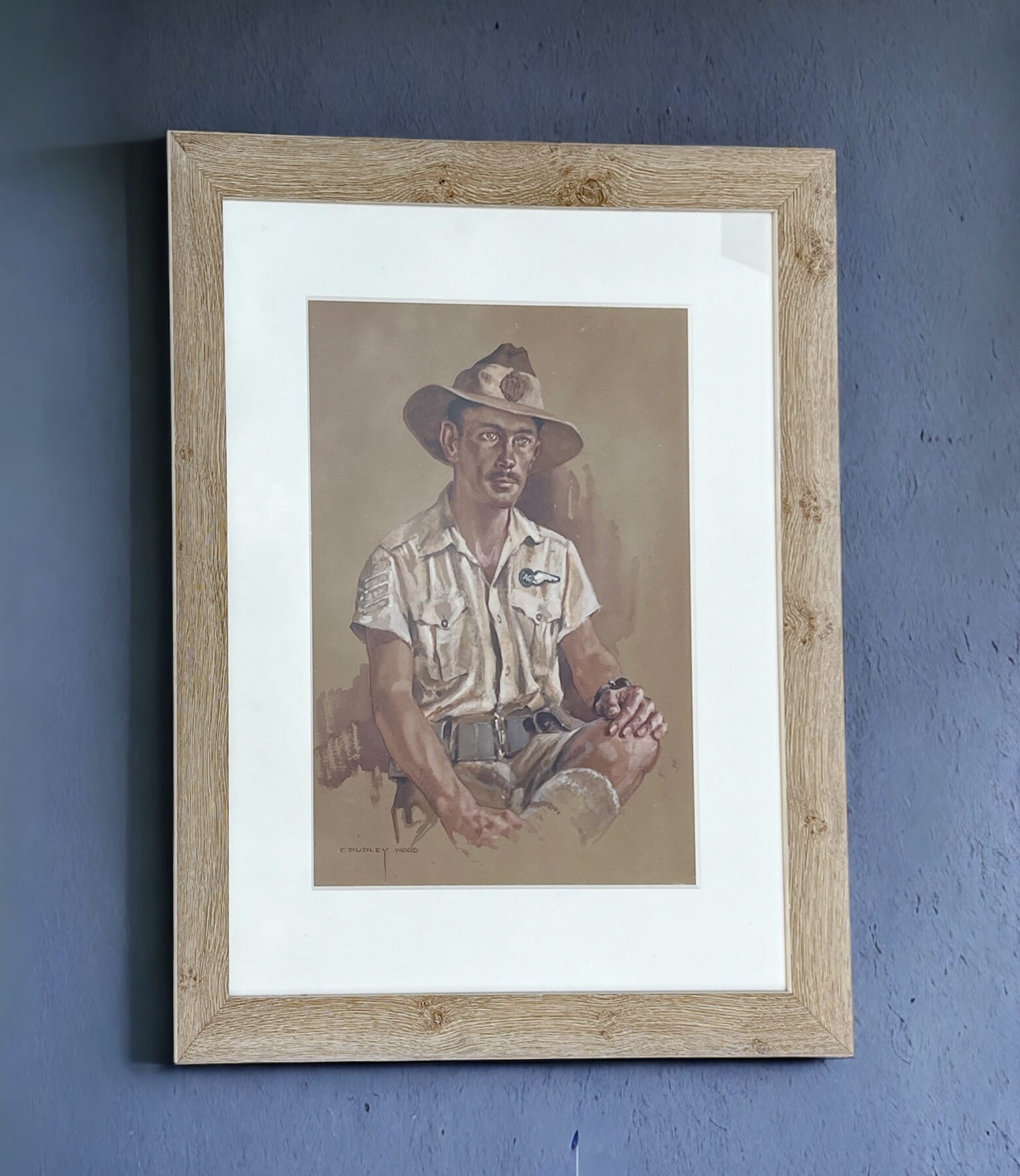 This splendid wartime watercolour portrait depicts a very distinct character.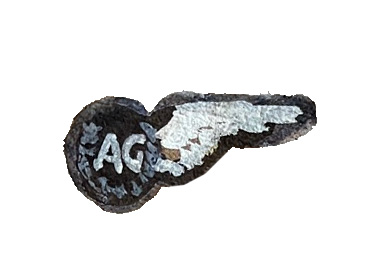 By his stripes he's an NCO Sargent, and reading his brevet – the badge with 'AG' and a wing on his shirt – he was an air-gunner in the Australian Airforce.
It's a signed watercolour by Clifford Dudley Wood. He was born in Geelong, studied at Swinburne in the early 1920's, and exhibited with the Victorian Artists Society. He became a commercial artist, but always followed his own path in oils & watercolours. By the 1940's he was a successful artist in his own right, being a finalist in the 1941 Archibald Prize twice . He has been described as a 'Romantic Realist'.
During the War years, he was posted to both Queensland and Darwin, his role…. camouflage artist! While in military service, he produced a number of art works. Several feature RAAF officers, like this handsome one of WO Peter N. Munro of Orange.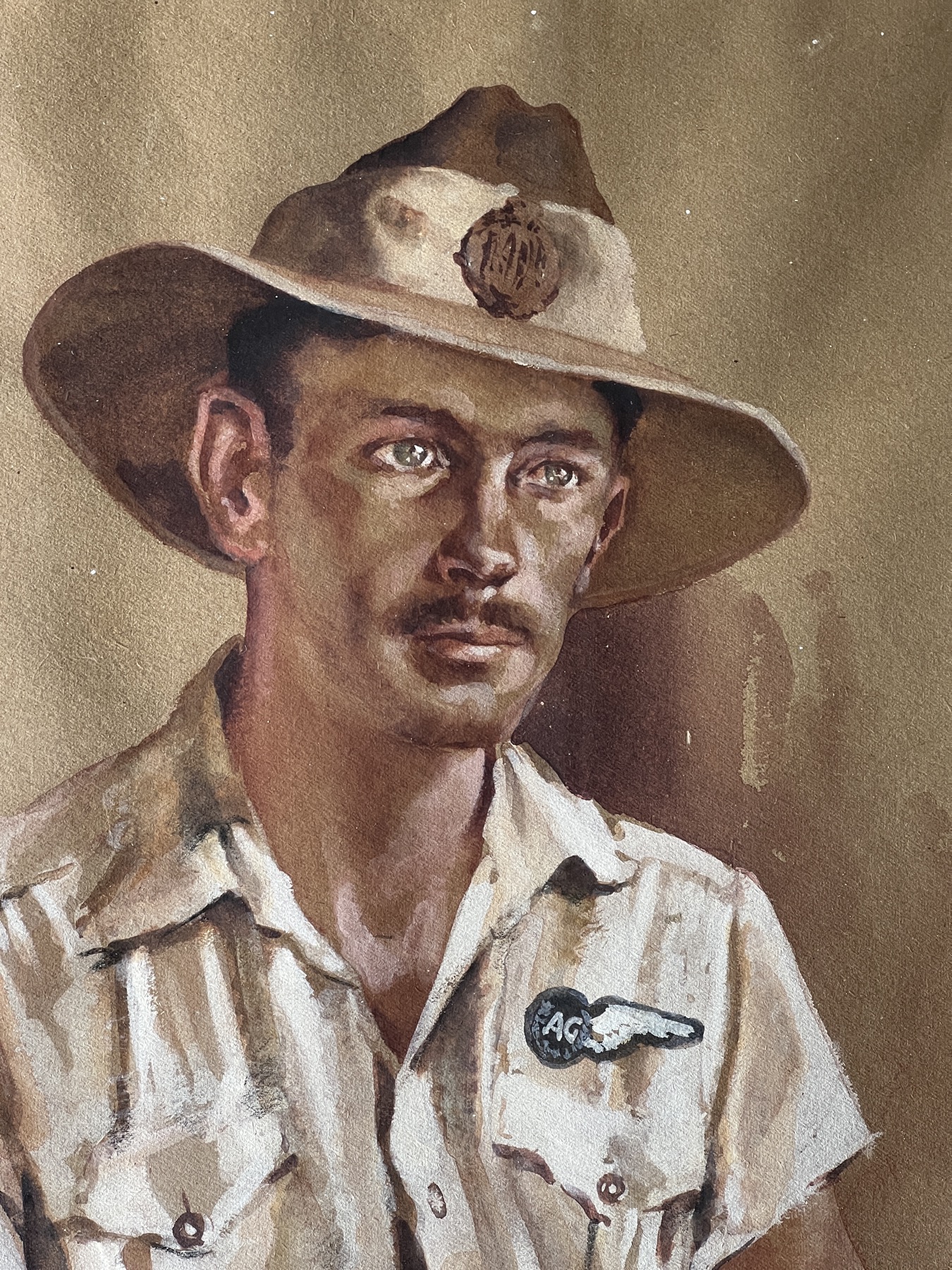 MUNRO, PETER NAPIER : Service Number – 405764 : Date of birth – 11 Jul 1918 : Place of birth – BRISBANE QLD : Place of enlistment – BRISBANE

Official Military Record Entry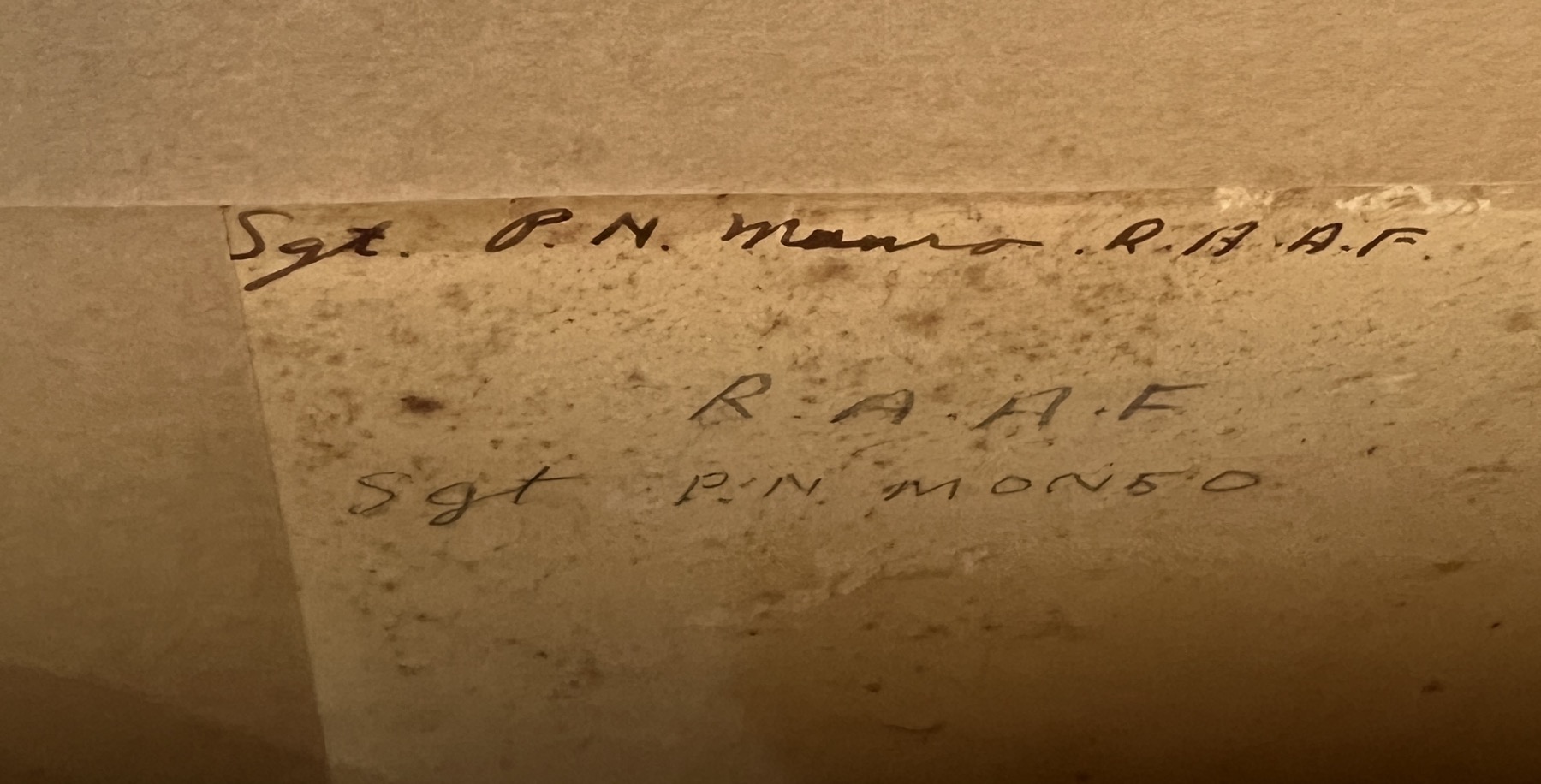 Munro was a WO – a Warrant Officer – in the RAAF, serving in the No.21 Squadron.
No. 21 Squadron
No 21 squadron was formed in 1936 at Laverton, near Melbourne, and entered the war years with the task of training and convoy escort duty. As war with Japan became more likely, it was moved to Singapore, and then on to Malay in late 1941, where 5 days later they had their first taste of conflict, and it didn't go well; they were pulled back to Singapore, then to Java, and shipped back to Fremantle in 1942 and disbanded.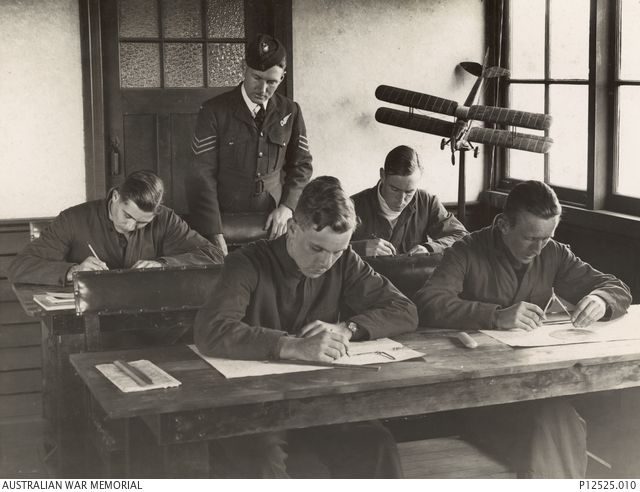 At this time, Munro was married:
A very quiet wedding took place at the Presbytery on Wednesday night, when Elizabeth Patricia (Beth), only daughter of Mr. and Mrs. Pat Williams, of Summer Street, was married to Sergeant Air Gunner Peter Munro, R.A.A.F., son of the late Mr. Munro and Mrs. Munro, of Brisbane. The bride looked very attractive in a beige tucked frock, white hat and gloves and navy accessories and a shoulder spray of lily of the valley……….

LEADER newspaper, Orange – Friday 30 October 1942:
One year later, Squadron No. 21 was re-formed in South Australia, and quickly transferred to Queensland with updated American planes. After four months of training, the 21st was transferred to New Guinea. Here it used Vultee Vengeance dive-bombers, but as the Japanese advance was stopped and then reversed, longer range aircraft were needed. No. 21 was withdrawn to Queensland, and the squadron trained on American bombers, the Consolidated B-24 'Liberator'. It was probably at this stage that Munro, the subject of this painting, was trained and became a part of the crew of MJ-W. A gossip column in the Orange 'Leader' follows his story:
Flight Sergeant Peter Munro received his promotion to the rank of Flight Sergeant in May last.

LEADER newspaper, Orange – Friday 3rd December 1943
October 1944 mentions a baby daughter has been born, and Peter Munro is home on leave from the Air Force. By the end of the year, the squadron transferred to Fenton airbase, south of Darwin, where a series of photos of the crew were taken. In the following photograph, we see the dapper Peter N. Munro, dressed in the same shirt with the same insignia with 'AG' indicating 'Air Gunner'. This meant he had one of the most dangerous jobs of all: the gun torrent either at the front or the back was a primary target for any attacking aircraft, as it could potentially guard the bomber from any attack.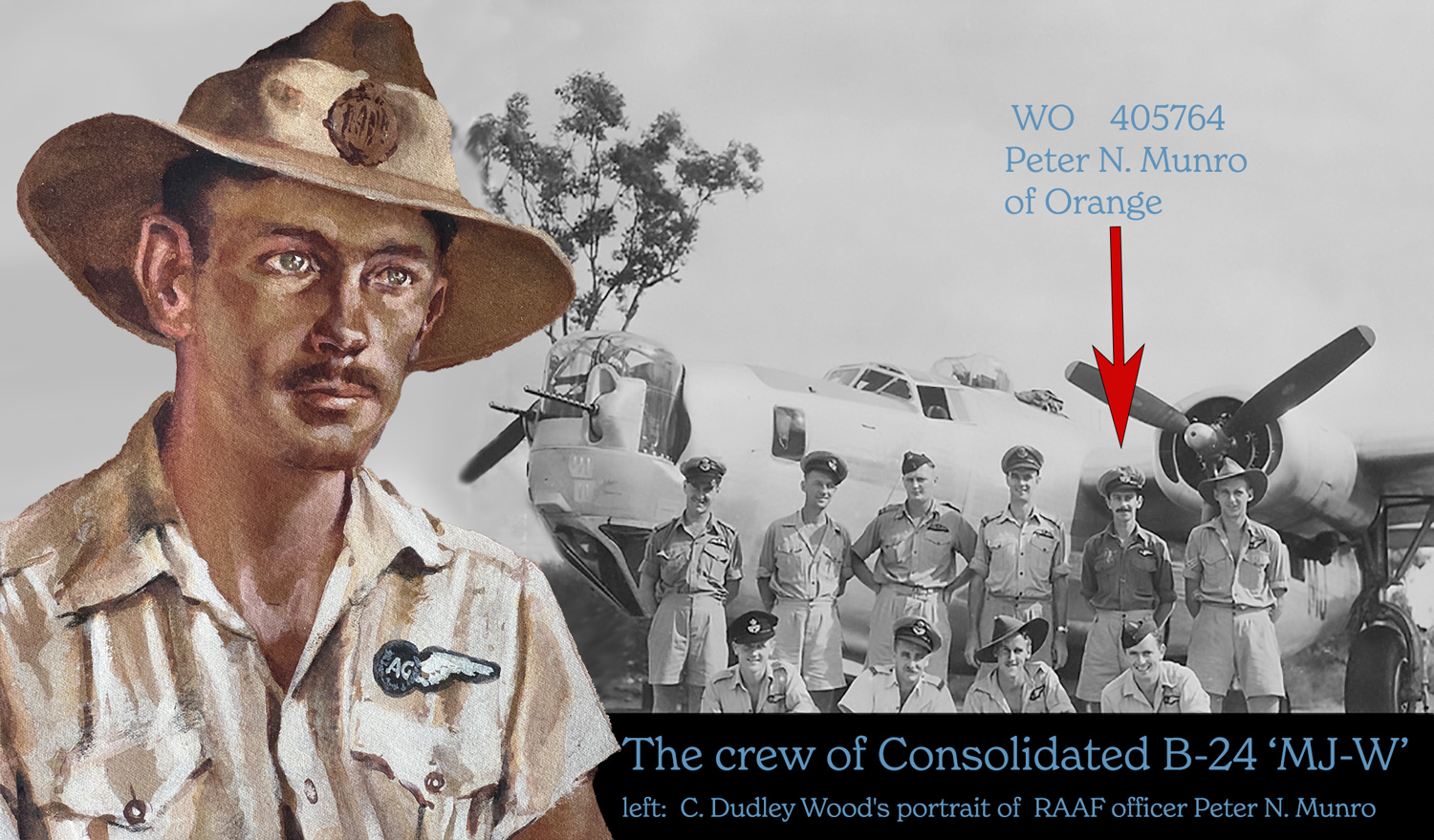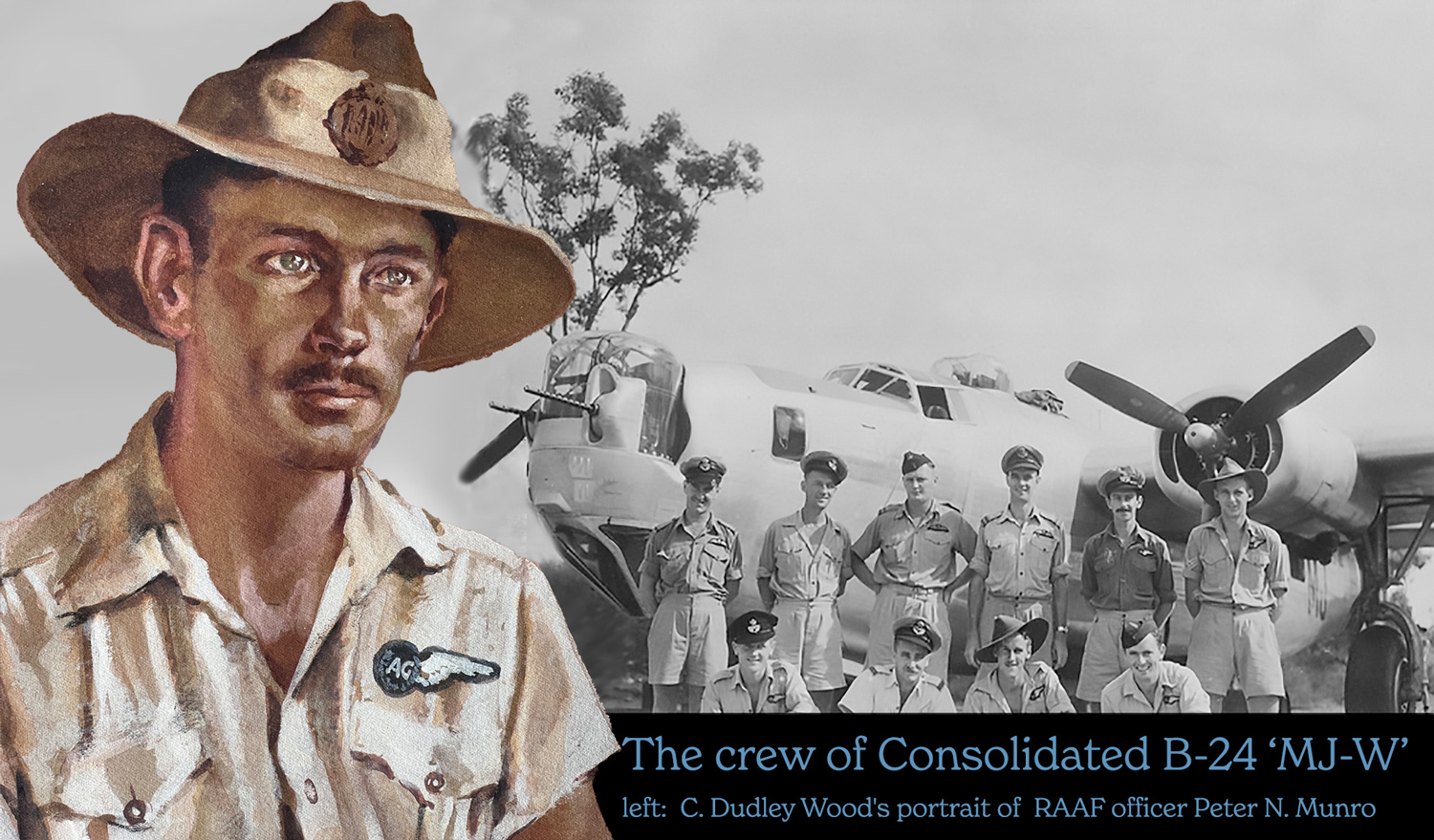 As you can see above, Munro is easily identified by C. Dudley Wood's excellent watercolour depiction.
Meanwhile, the stiff resistance in New Guinea meant Japanese paused, then withdrew; No. 21 squadron flew constant missions from Fenton in the first months of 1945, making the use of the long range the bombers had.
The final conflict for the squadron were the landings at Borneo, with the Battle of Balikpapan on July 1st commencing with large landing parties of Australian troops, preceded by multiple bombing raids by the RAAF. These were the last flights, as enemy resistance was gradually overcome. Two months later, on the 2nd September, Japan surrendered. One more flight remained, and Munro's flight home was recorded…..
Orange's 'Leader' paper reports on the 14th September, 1945:
"W.O. Peter Monro, R.A.A.F., left Borneo by plane on Sunday and was in Darwin for tea and Sydney for breakfast. He arrived in Orange on Tuesday afternoon for six weeks leave with his wife and baby Cherilyn."
More gossip column reports speak of 'Sergeant Air Gunner Peter Munro and his pretty young wife…. this attractive pair are always a welcome addition to the Orange Younger Set'.
We can see this character in the eyes of the handsome, strong character Dudley-Wood has painted.
So back to the original question: where did Clifford Dudley Wood and Peter Munro cross paths?
The base at Lowood, Queensland, was where they may have met, but Dudley Wood was also sent to Darwin. He may have come across Munro there, and there are a scattering of other military portraits it would be interesting to cross-reference with.
Being a commercial artist, it is probable that Clifford Dudley-Wood was able to secure commissions from people in the services like Peter Munro, as what better way to surprise a loved one – like Mrs Peter Monroe back in Orange – with an image of his very handsome mug in uniform!