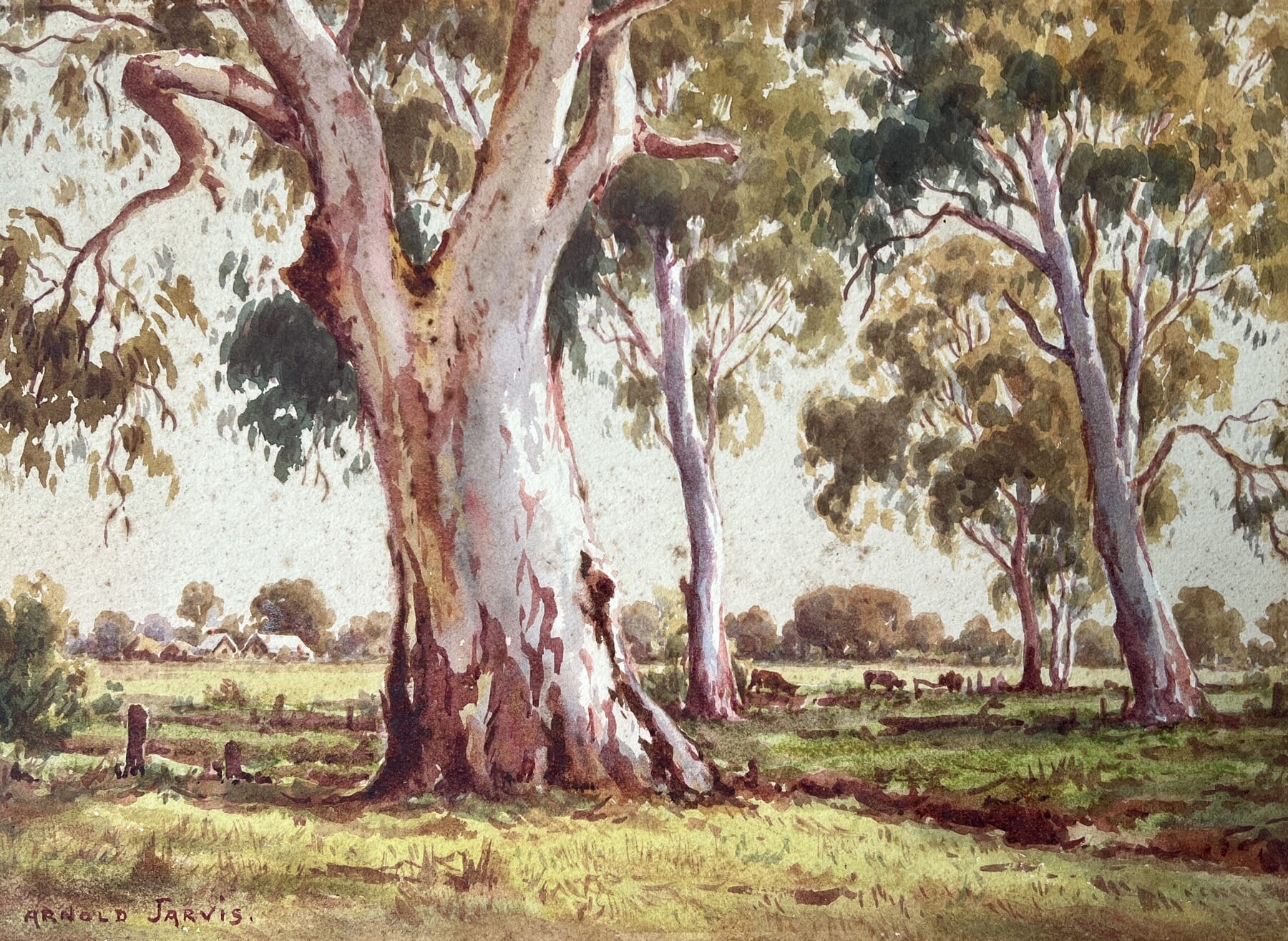 Arnold Jarvis (1881-1959) was born in Adelaide, South Australia.
He became known as a prolific professional artist, particularly rural scenes of farmland with massive ancient gumtrees.
However, his earliest career was as an 'equilibrist' – an acrobatic performer who could amaze with balancing & juggling acts. He travelled from Adelaide to Perth in 1900 to perform, and was well received as an entertainer.
Part of the act was 'speed sketching' – he would produce a finished painting – of a landscape or room interior – from a blank canvas to a finished work in under 3 minutes. It was this talent which took over and earns him a living as a professional artist.
Most of his work was done in watercolours, where he achieved a pleasing technique of detailed foreground interest – inevitably massive ancient gums – framing distant hazy hills, with perhaps a farm in the middle distance. They were actual locations, and are sometimes named on the back.
Some coastal views were also produced. From the titles recorded, it is possible to trace his travels – a few in South Australia, a few in New South Wales, but the vast majority in Victoria – around the Grampians, through the Western District, and along the southern coastline are the areas that appear multiple times.
An anomaly is a small number of 'Thatch Cottages', which are very accurate depictions of classic English thatch houses in the style of Myles Brisket Foster. He was an earlier artist than Jarvis, dying right as Jarvis began to paint seriously, in 1899. Was Jarvis influenced by the earlier English watercolours that were popular at Australian art exhibitions of the early 20th century? Perhaps given it as a commission for a client after an original English Cottage Scene just like the popular – and expensive – Foster paintings. Or is this an indication that he travelled to the UK at some stage and painted while there? Nothing in the brief artist records indicate this, so the question must stay 'open'.
Read more on Arnold Jarvis on our blog post >>
See all Arnold Jarvis items in stock >>