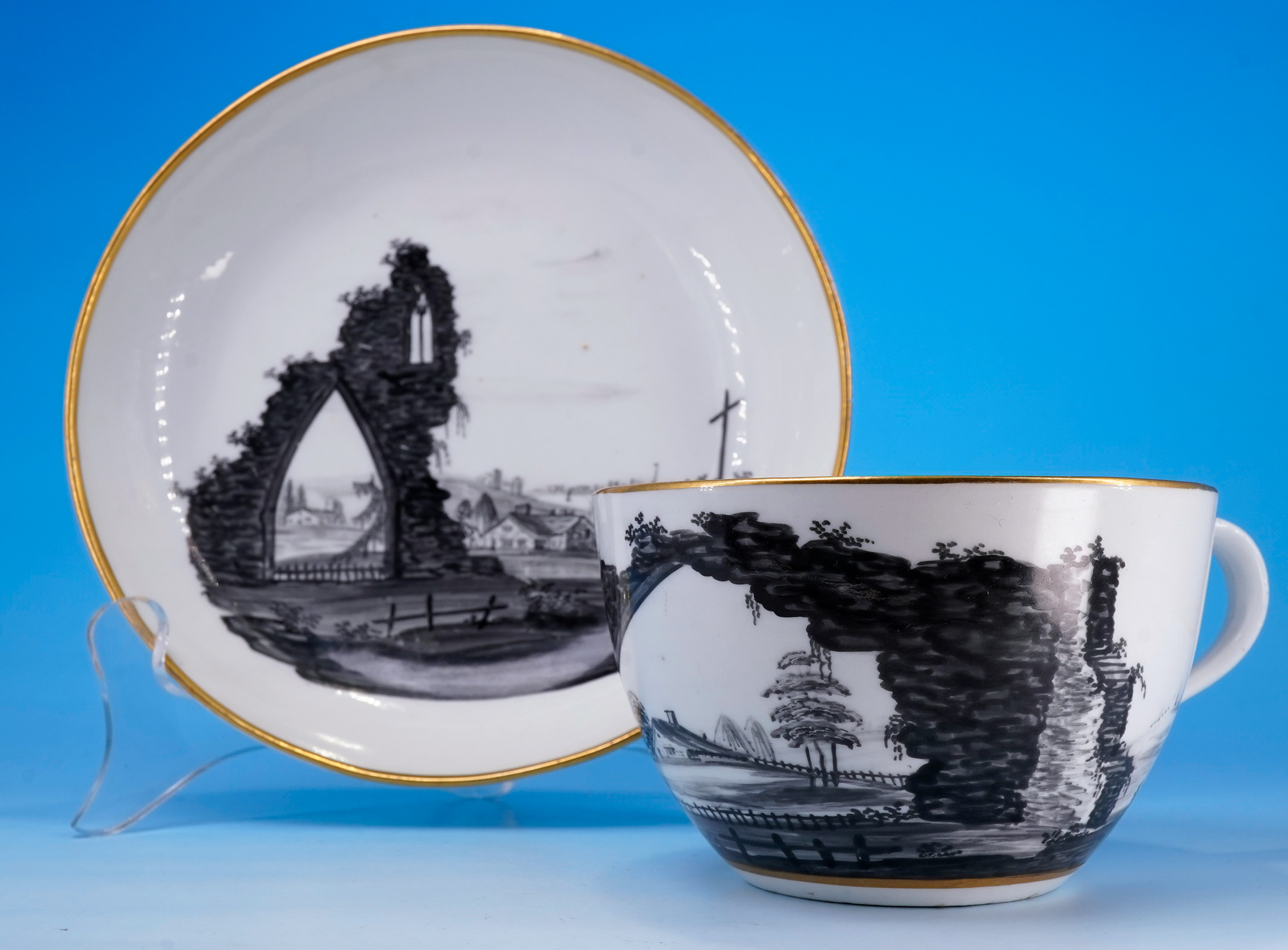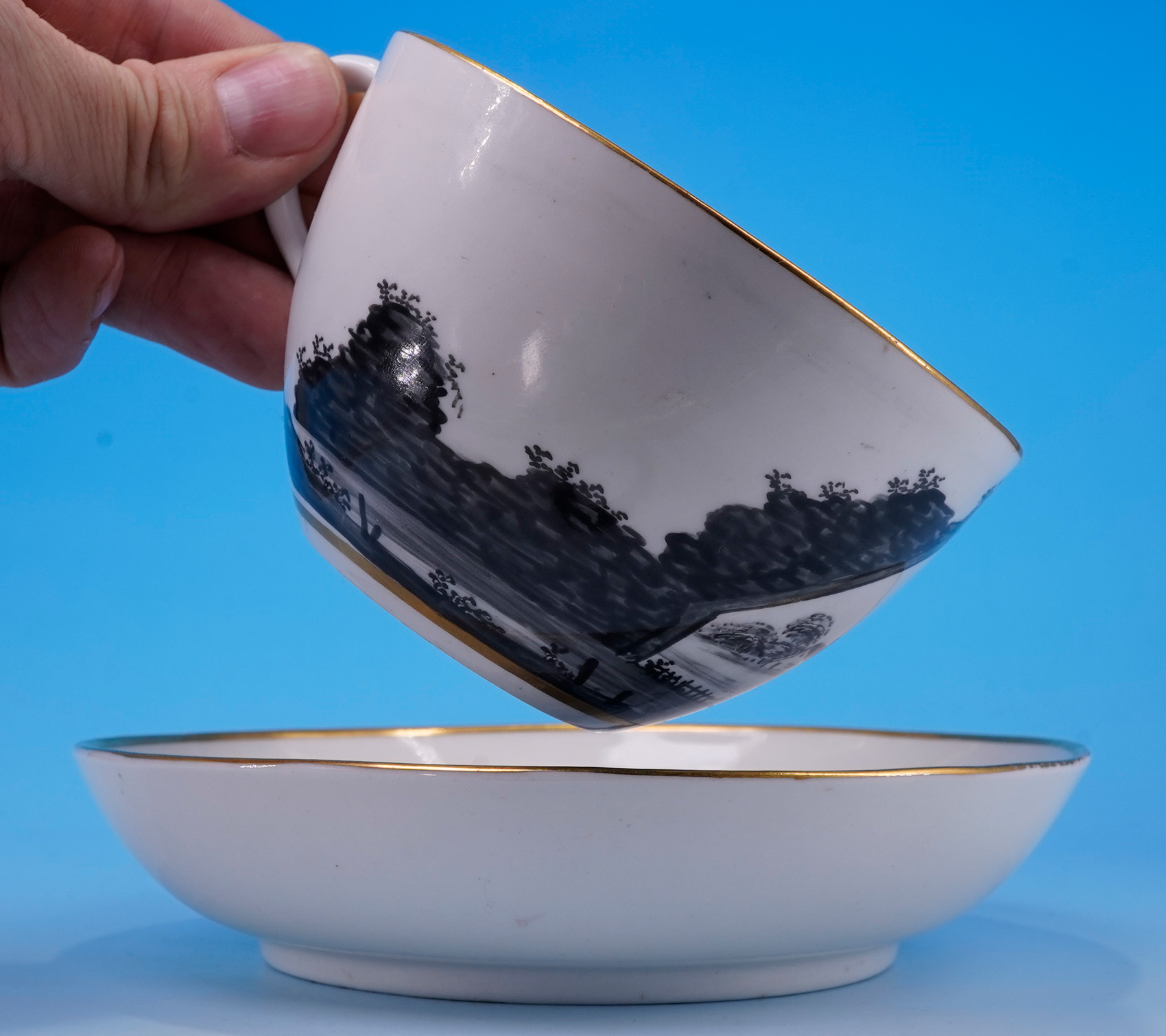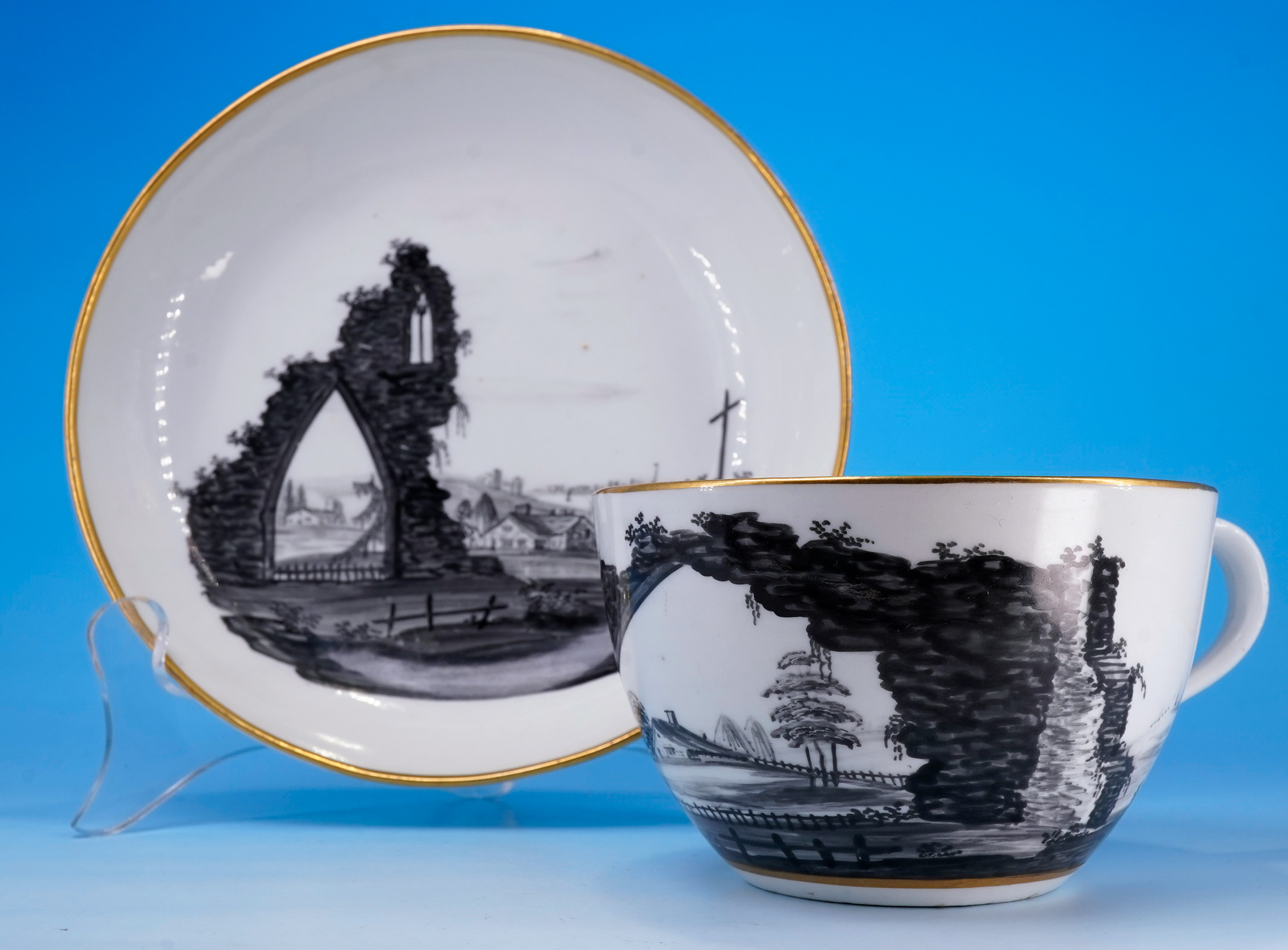 Breakfast cup and saucer, Romantic landscape monotone, Davenport, c.1810
$695.00 AUD
Handsome large Bone China breakfast cup & saucer, dramatically painted in monotone with a complex 'Romantic' landscape, framed by a ruined abbey in the foreground, with scattered houses of a village receding towards a distant bay with several boats sailing, a large cross to the right.
Unmarked, attributed to Davenport,
Circa 1810
Saucer 16.5cm wide, cup 10.5cm wide, 6.5cm high
Good condition
Attribution based on comparison to examples in the Rosenberg Collection, Geelong, and matching the distinct 'flowing' style of the decoration:
Ref. Lockett & Godden 'Davenport' p212 for a discussion of this interesting bone china body. P193 shows a similar cup & saucer of smaller size, with a scene that suggests the same hand at work – complete with the dramatic cross framing the edge of the scene. P89 has a plate that is the exact landscape painting technique as this cup & saucer, which includes thick black enamel washes filling the foreground: similar monotone landscapes elsewhere (ie Spode) would leave white sections, or use a very light wash for foreground. Lockett/Godden notes this plate is '…decorated in monochrome with the typically free approach of the water-colour Picturesque artist. This is a much 'sketchier' approach than (other artists/manufacturer)'. Many of the pieces painted in this manner are earthenware, and in particular the 'drabware' or 'Chalcedony wares'. This is a orange-buff clay that is used as a coloured body with a clear lead glaze, and black landscapes over this body are by the same artists as worked on porcelain such as this breakfast cup & saucer. A tea service in chalcedony body in the City of Liverpool Museum has monochrome landscapes that match this example closely (ibid p93).

The locations depicted were taken from a variety of publications illustrating the 'Romantic' and 'Picturesque' aspects of the British landscape; views through ruins such as on this breakfast cup & saucer certainly illustrate the 'Romantic' aspect, and the distant view of boats sailing is most unusual amongst these charming landscapes.

Davenport was founded c. 1793 in Longport, Staffordshire, by John Davenport. They continued to produce a wide variety of Porcelain and Pottery, and even Glass, until closing in 1887. Curiously, early teawares were not marked, with marks only appearing in the 1820′. An anchor & DAVENPORT is the frequently seen one. Dessert wares & service pieces were marked from early on.
The Bone China body is fine with a close-fitting glaze that can have slight crazing. Translucency is fair, white with a slight buff tone.
In stock
Shortlist