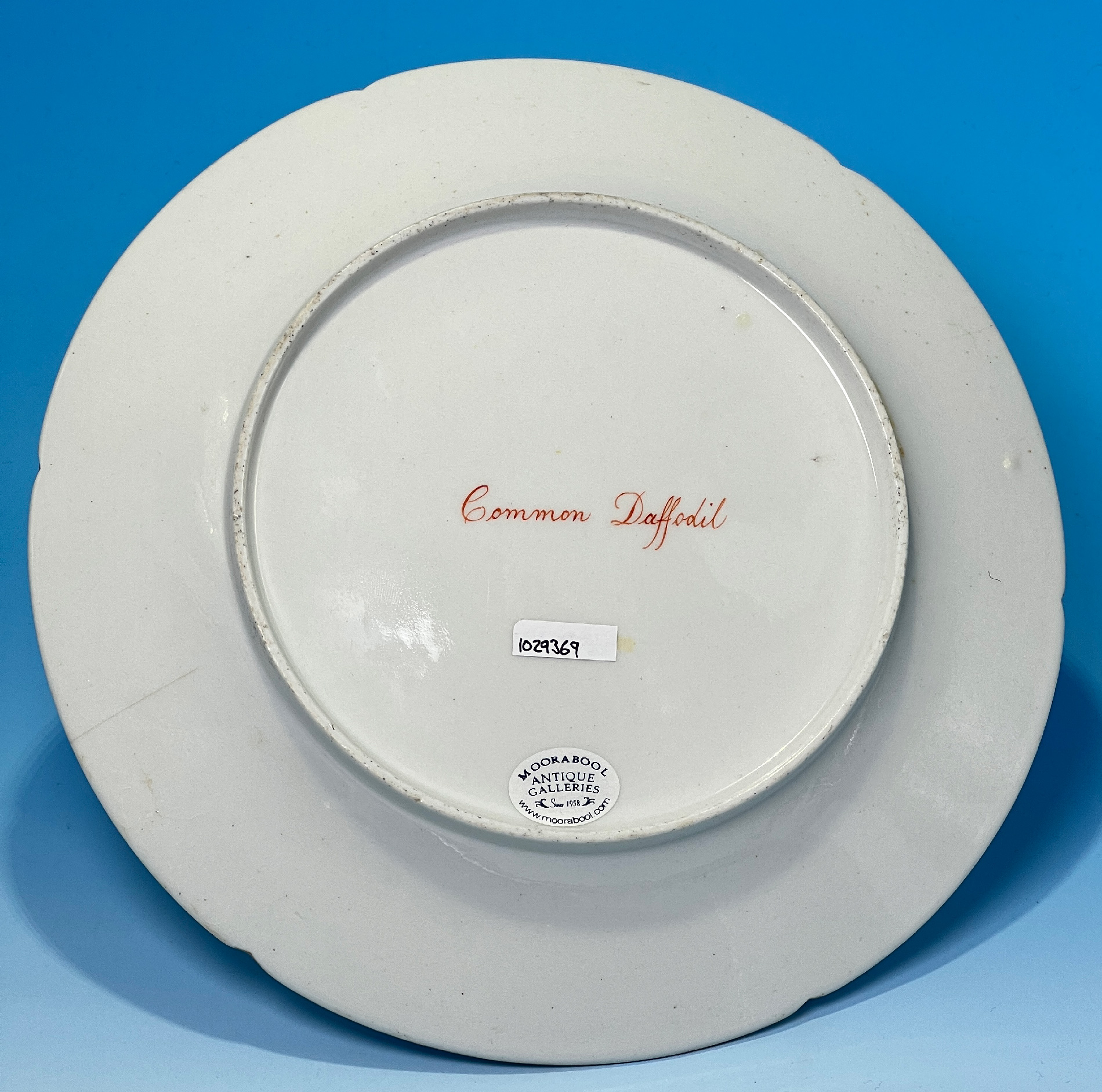 Coalport plate painted with a daffodil, Curtis print, titled to the back c. 1815
$295.00 AUD
Interesting Coalport lobed rim plate, independently decorated with a daffodil, attributed to Thomas Pardoe in Bristol, titled to the back in red 'Common Daffodil'.
Circa 1815
21.5cm
Condition: some wear, short hairline at rim
Thomas Pardoe was a major artist in the porcelain trade of the late 18th/early 19th century period. Born in Derby in 1770, he was apprenticed to the Derby porcelain works around 1785 where he undoubtedly learnt his skills as a china painter. After probably some time at Worcester, he was at the Cambrian Pottery in Swansea, Wales, by 1795. Here he became the chief decorator of the fine white earthenware they produced. In 1809 he established an independent decorating studio in Bristol, which continued for the next decade. In 1820, he was employed at Nantgarw, Wales. His presence here was at the behest of William Weston Young. This local businessman was the 'money' behind the Nantgarw works, with William Billingsley and his son-in-law Samuel Walker providing the skills for making and decorating porcelain.

This concern had begun in 1813, but while the products were supremely good when they survived the firing process, up to 90% were unusable due to collapse. The nearby Swansea Pottery organized the removal of Billingsley & Walker to their Swansea premises, giving them some financial respite, and porcelain production began there around 1816. However, the purity of the body which was the superior aspect of Billingsley's formula was also the cause of it failing in the kiln. Clearly to be financial, a more robust body was needed, and the 'trident' body developed by Swansea was the solution. Disheartened at the changes, Billingsley left Swansea and re-opened the Nantgarw works in 1817, once again making his own original pure body. While fresh capital raised by Young allowed them to increase production, the same kiln loss problem led to the same result – they ran out of money by 1820, and Billingsley & Walker 'abandoned' the concern, with Billingsley heading to Coalport where he died a few years later.
This left Young with a problem – debts to pay, and a large stock of white porcelain, many with slight flaws. The solution was to employ Thomas Pardoe to decorate the pieces and make them saleable. This began in the same year, and continued up until his death in July 1823.

He left behind numerous sketchbooks and letters, containing good samples of his handwriting. As a result, tribution to Pardoe is easy if there is an inscription, as is the case with botanicals such as this plate – the 'Common Daffodil' in red script is by his distinct hand. It was painted from While many of his botanicals are taken from 'The Botanical Magazine' by William Curtis of Kew Gardens fame, this example is from another Botanical publication of the time, Smith's 'English Botany', engraved by James Sowerby and published in London in 1791.

ref. Nance 1942, Pl CLXXXI for botanicals by Pardoe on Welsh porcelain, Pl CLXXXIX for the same Coalport plates with flower groups, decorated at Bristol.
In stock
Compare list