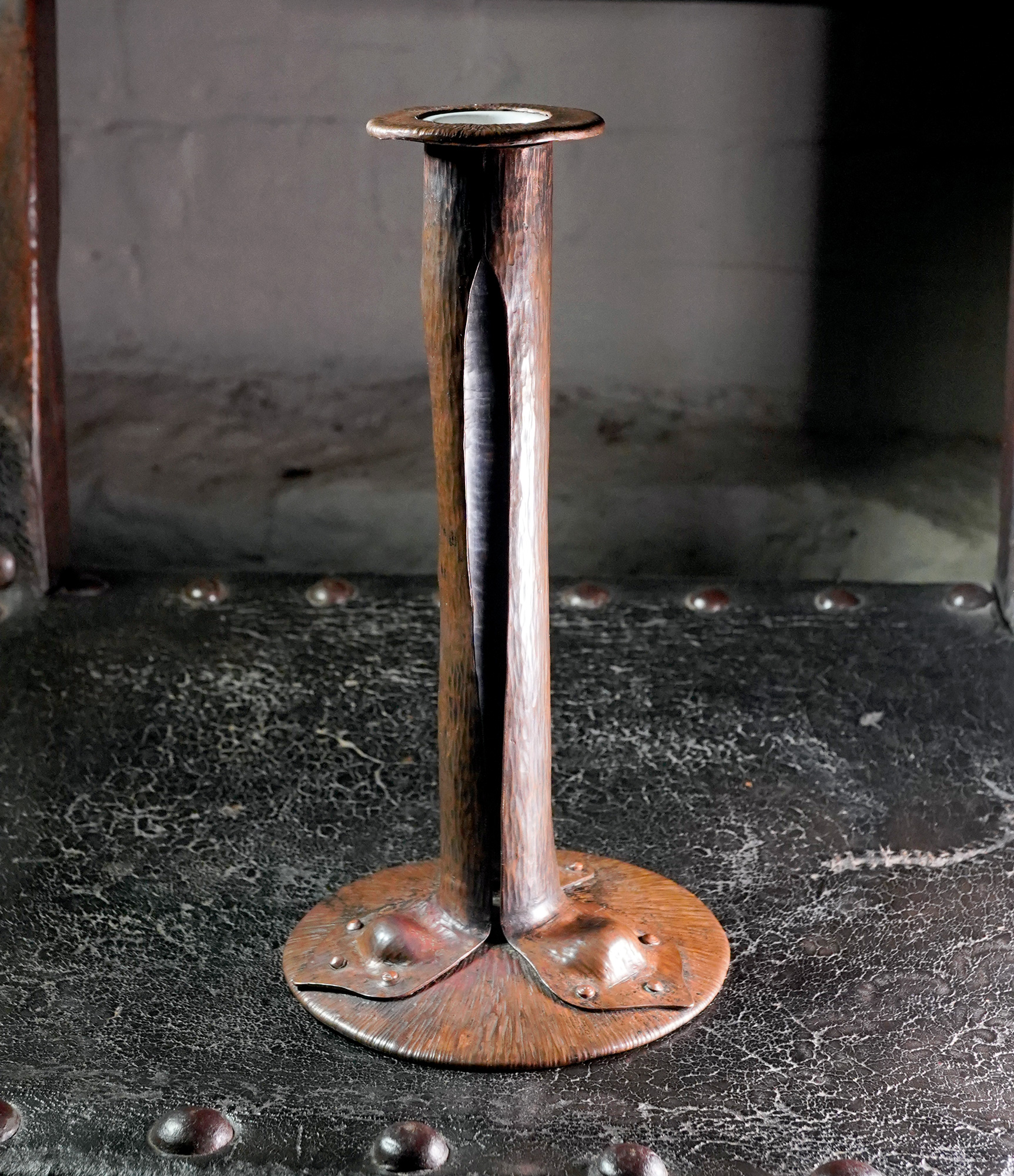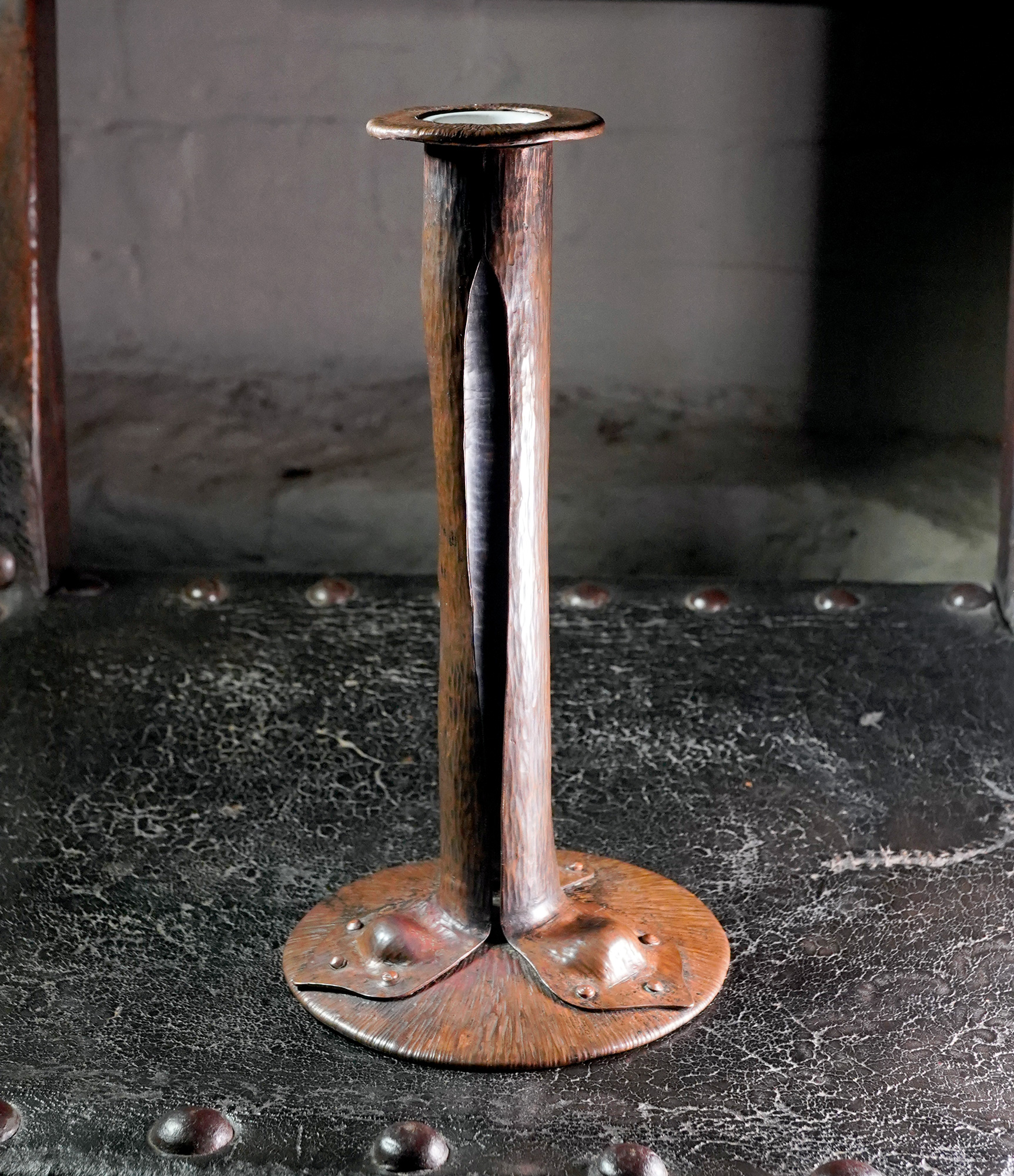 Copper Arts & Crafts candlestick, tri-split stem with 'woodgrain' hammerwork, Nouveau terminals, c. 1905
$780.00 AUD
Interesting copper Arts & Crafts candlestick, the round disk base slightly domed, supporting three tall legs with petal-form base terminals secured by three large round-headed rivets, a short sconce lip to the top with a ceramic interior, the whole embossed with long 'wood-grain' style hammered marks.
Unmarked,
attributed to Arthur John Seward , Birmingham
Circa 1905
23cm high
There are several possible origins for this piece; stylistically, it is Vienna Secessionist, the first possible origin is a Continental workshop c. 1905. At the same time, the style had penetrated America, and their 'Mission Style' had incorporated many ideas of the Arts & Crafts style. The workshops of Roycroft made split-column candlesticks, called the 'Princess' line – but these have a square base, with two supports of thick hand-beaten copper. Karl Kipp also made similar designs, but not this exact design.

This piece is not a usual 'pattern' piece seen in catalogues or books, and seems to be unique – either an early piece / experimental piece from a workshop, or an amateur's work. The quality of the hammerwork & riviteting do not seem amateur in any way.

There is a more 'Nouveau' feel to this compared to the American examples, with the column terminals having a flower petal form that is domed, and with the tight woodgrain-style hammering, this makes them closer to European styles, ie Vienna Secessionist. Another unusual feature not seen elsewhere is the use of a ceramic candle holster instead of one incorporated in the metalwork.

At the Birmingham School of Arts & Crafts, Arthur John Seward was making very similar copper pieces that were often silvered. He is not well documented, but appears in 1891 winning a medal for a 'metal photo frame' in the 'Co-operative Festival', Birmingham. By around 1902 he is making Arts & Crafts metalwork pieces on a small scale; these often bear a mark, a 'HS' monogram that looks just like a US $ – actually standing for 'Home-Spun', his Arts & Crafts trademark. This was only registered as his trademark in 1919, and he seems to have ceased in 1921; this candlestick is clearly earlier.

A very similar design marked for Seward's workshop has a tri-stem support, although with two bands spaced up the column to give it support. They also have the registration number 392927, indicating the design was registered in 1902. These same candlesticks have a slightly lesser version of the elegant petal lower terminal seen on ours, and have the domed center and the three rivets. These rivets are identical, with domed tops and neatly spread disk undersides. With this similarity in both design and technique, there is a very strong case for attribution to Seward of Glasgow.

There is a hard-to-see mark on the inside of one leg that could be a makers mark, but it is only partly visible – it is tempting to read it as interlocked 'W's' – but this is unlike Wiener Werkstatte pieces in the literature….
In stock
Compare list
SKU:

1029521
Categories: Arts & Crafts, Art Nouveau, 20th C Furniture, Brass & Copper, Fresh, Latest Additions, Metalwares
Tags: 'woodgrain', &, 1905, 20th, 21-6-22, art, arts, Arts+Crafts, Brass, Candlestick, Copper, crafts, fresh, Furniture, hammerwork,, latest, metalwares, nouveau, stem, terminals,, tri-split