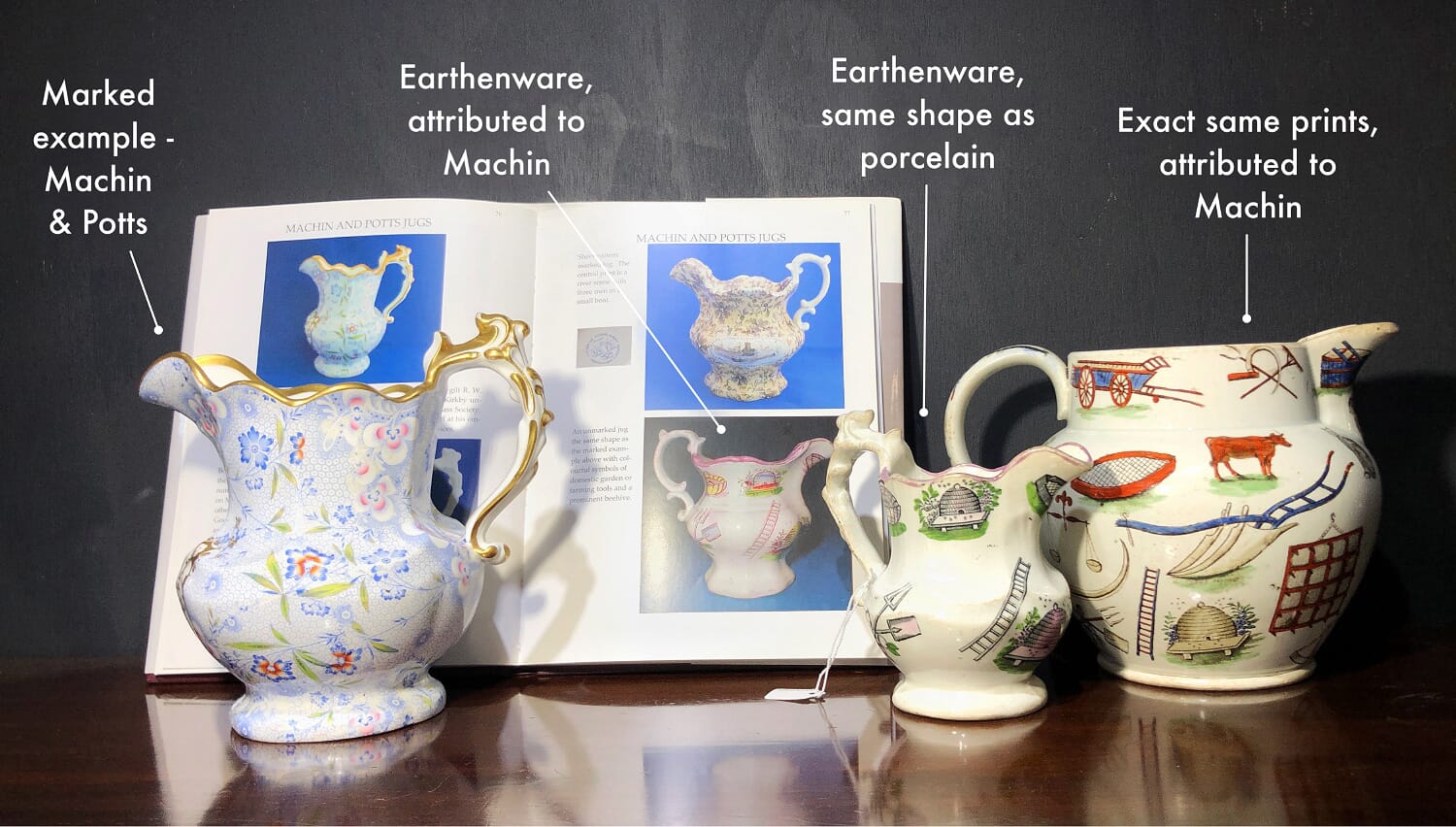 There are two pottery jugs in this week's 'Fresh', sourced from the same amazing collection of early 19th Century pottery & porcelain as all the similar pieces we have released recently. Our research team had been working overtime (thanks John!) and poured through every book in the library to help identify the vast number of items that have come in.
This jug has a very similar example illustrated in the book 'British Jugs', marked for a Staffordshire company called Goodwin. Bridgewood & Harris. Case closed, maker identified…? not so fast!
There's another example, in our collection, which bears an uncanny resemblance, although in porcelain rather than in pottery. Many manufacturers made the same shape in both bodies, the pottery being much cheaper to make, and therefore to sell, than the porcelain. This other example is from the small firm of Machin & Potts, which has until recently had very little documentation. Fortunately two collectors, Bill Thom and Phillip Miller, spent a good deal of time collecting and researching the firm, and published the definitive book in 2008. This exact same porcelain jug is in the book, identified by the unique dedication to a certain 'R.W. KIRKBY of THRENTHAM HALL'.
This leads to an interesting detective trail of identification, involving a ladder, a beehive, a basket, several farm implements and a hen & rooster!
In the above image, you see the first clue; the porcelain jug. The illustration above reveals it to be the exact same piece of marked Machin. Below this (hidden by our jug) is another example with a pattern no. that conforms with known Machin teawares. You can see the tip of the handle though the handle-hole of our jug – it is an exact version of the smaller jug we have, shown to the right in the above photo. This jug has the amazing 'scrap' printed decoration, and a distinct pink lustre rim – both appear on the illustrated jug, giving us a close linkage; the small jug we have is also now attributable to Machin.
Then comes the 'big one' – the large jug with 'scrap' decoration. Its form is the 'Dutch shape' , a perfectly normal & popular shape that is very difficult to identify… usually. In this case, we have the prints, and a side-by-side comparison of the same items proves most interesting…. basically, they're not just 'similar', they are identical, right down to the little flaws in the printing plate that have been replicated. Note- in the photos there is some distortion due to the curved surface of the jugs.
[metaslider id=64347]
The person who printed the smaller jug used the exact same printing plate as the larger jug, therefore most probably worked at the same factory:
Machin!
Footnote: Thom & Miller note "other makers including Goodwin, Bridgwood and Harris … made very close versions to this shape" – we trust the above identification of the prints used justifies our attribution!
See all our Machin offerings, including these jugs, here >>