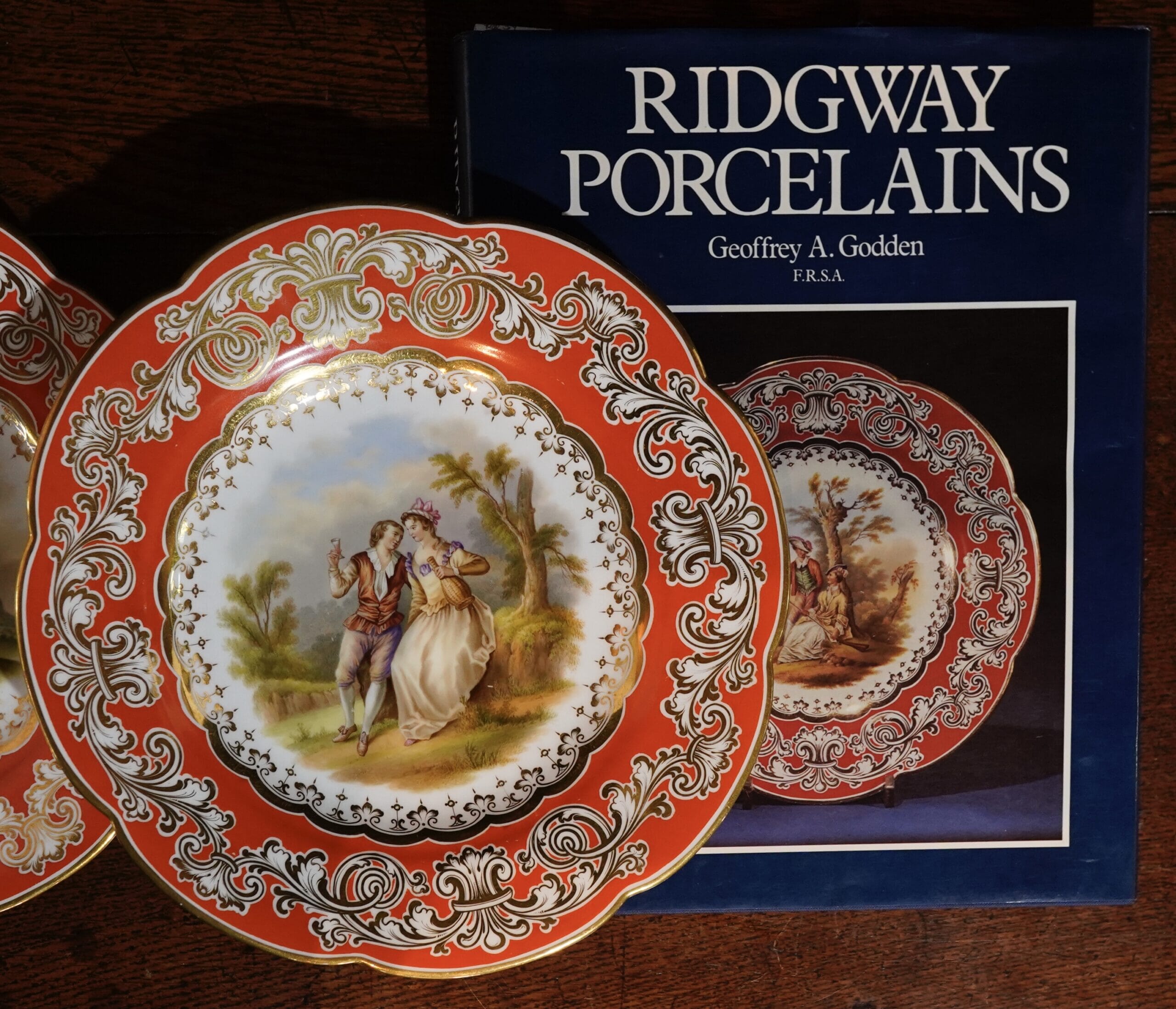 A surprise attribution leads to a fascinating provenance.
A flamboyant pair of plates with startling orange borders had been in our storeroom for some time before their significance was unearthed, purely by chance.
Their shape is a common 'lobed' form, and made by many porcelain makers in the mid 19th century. Our possible attribution was Copeland…. circa 1870…. one of many similar makers of bone china in the 19th century. But as unmarked pieces, it would take a miracle to attribute them firmly.
One day, their origin literally left out at me – on the front cover of a newly acquired book (a gift from a good friend, thanks Helen!) was an identical plate! The book was Godden's 'Ridgeway Porcelains', 1985 edition. At last, a firm attribution.
Opening up to p229, we discover their significance:
'A plate from a John Ridgeway dessert service shown at the 1851 Great Exhibition'..>>! What excellent provenance!
Tracing Godden's identification of this service to an original booklet that was available to visitors at the Great Exhibition, we find the following inscription:
#42 One Dessert Centre(piece) , Two Comports, Six Plates….. Coral Border, Watteau Centre & Gold
At the 'Great Exhibition' in Crystal Palace, London, this was a 'sample' display of a service type, showing off what the company was capable of, and one of a group of other sample services with different decoration. Similar to the way 'concept cars' at today's car shows sometimes never get made commercially, the display and the available retail product may well have differed; some items may have been 'Great Exhibition Only' pieces and never been part of the commercial production of the firm. The superb and very costly large scenes on these plates makes the case for the idea that these plates are two of the 6 made for the Great Exhibition of 1851, and were not part of the general offerings to the public from Ridgeway.