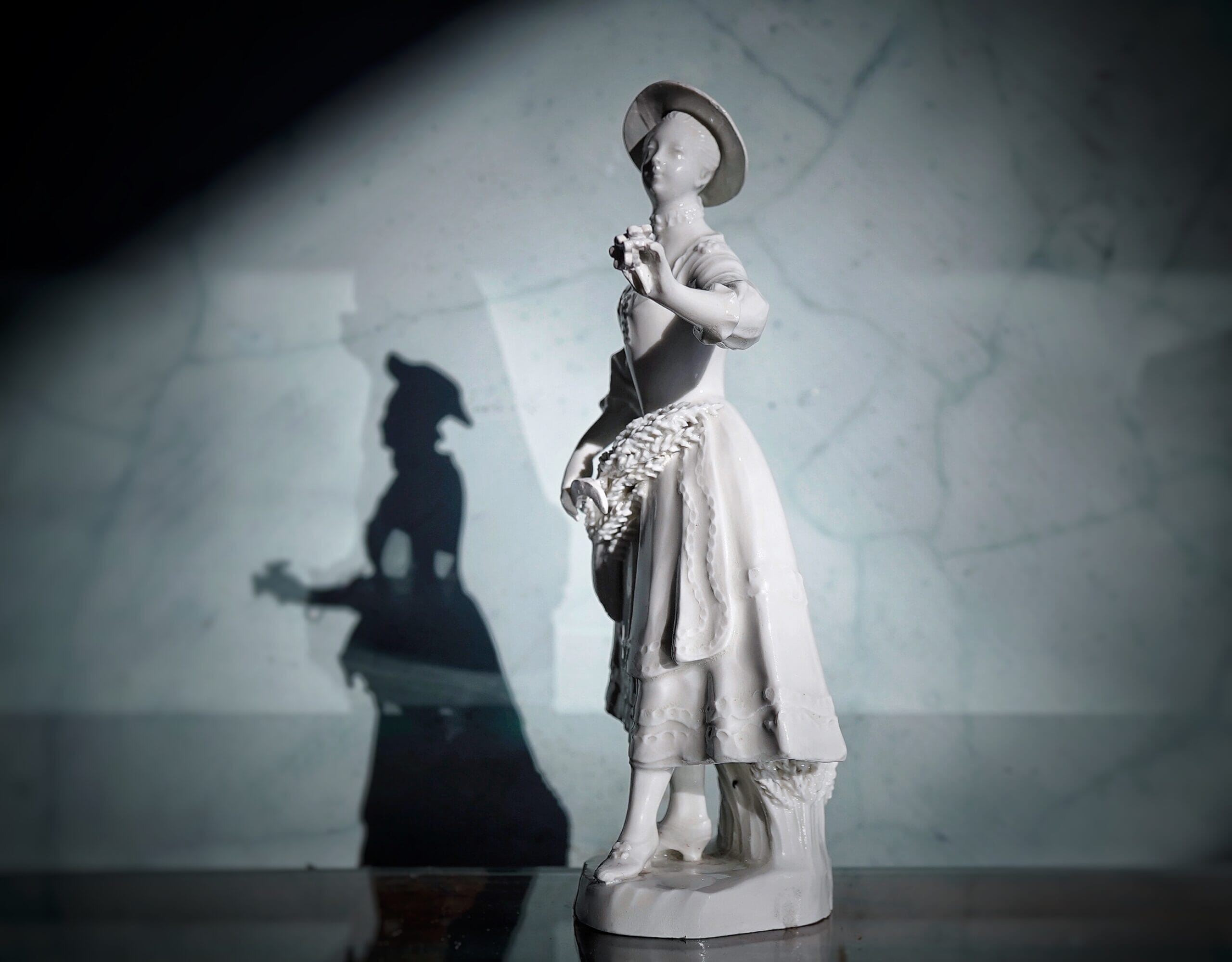 Moorabool is often a place of meeting, both for people who enjoy Antiques – and for the Antiques themselves! We have occasionally been guilty of 'match-making' in the Antique world, discovering pieces that were quite literally made to be together…. but somehow became separated. It's a thrill to re-unite pieces.
In today's 'Premium Fresh' there is a rather sweet Vienna figure of a lady. Very early, she is circa 1755, and her costume is very distinct – very well dressed – and yet she carries a sickle and bundle of wheat. There's more wheat behind her waiting to be cut; clearly she is a 'Harvester' off to sickle the wheat crop – but take a look at her shoes! How would they be practical in the fields…?
While today we tend to place these lovely pieces in cabinets or a mantel shelf, in the 1750's in Europe they were intended for the table. A scene would be set up along the length of a grand table, to entertain the guests with depictions of the gods, the Greek myths, a hunt, or in the case of a group of one group of interesting Vienna figures, "Pastoral Pursuits'.
The definitive book on these early figures helps us understand their purpose. 'Ceremonies Feasts Costumes : Viennese Porcelain Figures during the reign of Maria Theresia' is a splendid 2007 publication with large clear illustrations, detailing hundreds of Vienna figures from the 1740's until the 1780's. A private businessman, Du Paquier, had started the porcelain works in Vienna as early as 1719 ( making it the second true porcelain manufacturer in Europe, after Meissen), but by 1744 he was financially struggling, and the Viennese State purchased the works. This was of course ruled by Maria Theresia, the Empress of Austria, and she loved a good party… the porcelain works were an excellent source of the needed table wares, and this included table figures.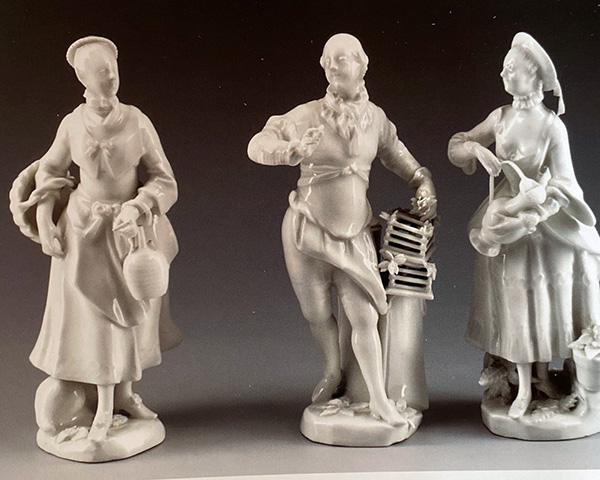 We find a series of well-dressed ladies & gents going about various occupations such as picking grapes, making wine, collecting milk…. and our lovely lady harvesting wheat. They're an example of the idealisation and romantic notion that prevailed in the courts of 18th century Europe that the peasant lifestyle was an idyllic, carefree one. France of course excelled in this – think Mary Antionette and her role-playing as a milkmaid – and other courts tended to follow the fashions of France. Dinner parties could have an 'Arcadian' theme, meaning everyone would be dressed as a 'commoner' of some sort, but in silk and satin instead of the rough cotton the authentic garb would have been made of! These fancy-dress banquets had a curious way of dispersing the guests along the table – a lottery game would decide – giving the evening a sparkle of uncertainty in what was otherwise a very formalised environment.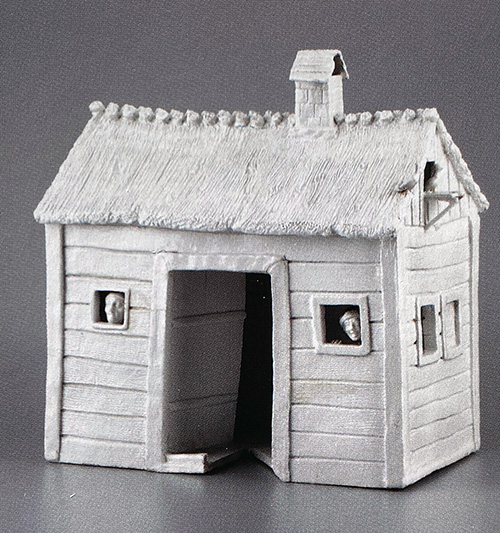 Some rare survivors are model buildings for a table setting – also recorded in parallel in Meissen productions – suggesting the appearance of the table, with this banquet's theme being Wirtschaft, meaning 'Economy' or 'Workplace' . This is the perfect fit for our lovely lady with the sickle. She's actually a Princess, pretending to be a Harvester for the evening…..!
While exploring this fascinating topic, I came across a colourful 'Cavalier as reaper' group illustrated in the before mentioned book. Our lovely lass isn't illustrated, but a comparison with the 'Cavalier' figure leads us to an exciting conclusion: this is surely a long-lost partner figure.
Together at last… virtually, thanks to Photoshop!