Welcome to our 2022 Exhibition Preview page.
It's been a few years since we had an event – and now we're more than making up for lost time with a wealth of special pieces.
From local and overseas collections, we have a superb variety of quality 18th Century pieces. English ceramics dominate, with important pieces of Worcester, Bow, Chelsea, Derby, Longton Hall, and Isleworth. Some are published pieces, and come with good solid providence.
There is a large collection of figures from the above early porcelain factories, including some with exciting 'fresh research' to publish. The large Derby figure of John Wilkes is unusually left undecorated; a rare figure, it has opened up a fascinating trail of research that leads to the British Museum, the archives of the Victoria & Albert, and the National Portrait Gallery – the result is an attribution of the sculptor responsible for this figure and a whole group of other Derby figures at this time – more on this later.
From the Continent, a rarest-of-rare Chinoiserie teabowl & saucer from the Du Paquier factory, the second porcelain maker in Europe after Meissen, and dating to the 1720's. Du Paquier was a private businessman in Vienna, who had managed to entice a few workmen away from the Meissen factory, which at that time had a monopoly on making porcelain. Johann Friedrich Böttger was the alchemist at Meissen responsible for the first instance of porcelain production in Europe in 1709; it was his stepbrother Just Friedrich Tiemann who was employed by Du Paquier to help set up the Vienna factory. Between 1718 and 1743, they produced a steadily increasing range of porcelain items for the local wealthy, and when Du Paquier relinquished ownership in 1743, it was Empress Maria Theresa who purchased it, and the Royal Vienna porcelain works was born. We also have a fine selection of Royal Vienna, marked with the blue shield, from the 18th & 19th century.
A rare Sèvres ''Soucoupe à pied', or ice-cream cup stand is apparently from the 'Comte de Montmorin' service, 1788. The Comte de Montmorin was a 'gentleman-in-waiting' to the young Louis XVI, and by 1787 was elevated to the Minister of Foreign Affairs and the Navy. Louis XVI of course bankrolled the Sèvres factory, and it is no coincidence that people elevated to positions of power also purchased expensive services from the King's porcelain factory…. it was expected! What makes this example special is that the unique pattern was said to have been created by the Comte's own hand.
Another group of superb rarities is a part-service from the Royal Copenhagen porcelain factory. This follows the same script as Vienna; a private concern managed by the chemist Frantz Heinrich Müller, it was established in 1775. By 1779, Royal interest had intervened, and it was sold to King Christian VIII in 1779. The local gentry were the clients, who previously would have been very familiar with the shapes and designs of imported Meissen porcelain from Germany. It is no coincidence that the early products reflect Meissen design closely.
The part service we have certainly does, especially the stunning shell-shape dishes. Royal Copenhagen is, of course, most famous for the 'Royal Danica' pattern, decorated with large-scale botanical specimens illustrating the botany of Denmark. That was intended for a gift to Catherine the Great of Russia in 1790; the part service we have is earlier, circa 1785, and as a tribute to the source of design, the pattern is named 'Saxon Flowers'.
From the 19th century, we have a remarkable selection of fine quality ceramics. Unmissable is a 'gigantium' Derby urn, painted by Thomas Steel to either side with life-size fruits. Thomas Steel was, in the words of the late Geoffrey Godden, 'the finest painter of fruit on porcelain'.
Some Swansea porcelain rarities include a pair of sauce tureens, and botanical plates with specimens taken from Curtis. These are accompanied by a whole range of other botanical pieces, including Spode and Davenport – and we have managed to obtain the exact Curtis botanical print the work was copied from, as a point of interest.
The rarest of the rare is a Nantgarw plate painted with Chelsea-style 'fancy birds' – and marked with a red anchor! It's the work of a London decorating studio which prefered the stunning Welsh porcelain from Swansea and Nantgarw as their body to decorate with lavish designs for the London gentry, and comes from what is probably a single service produced in the early 19th century.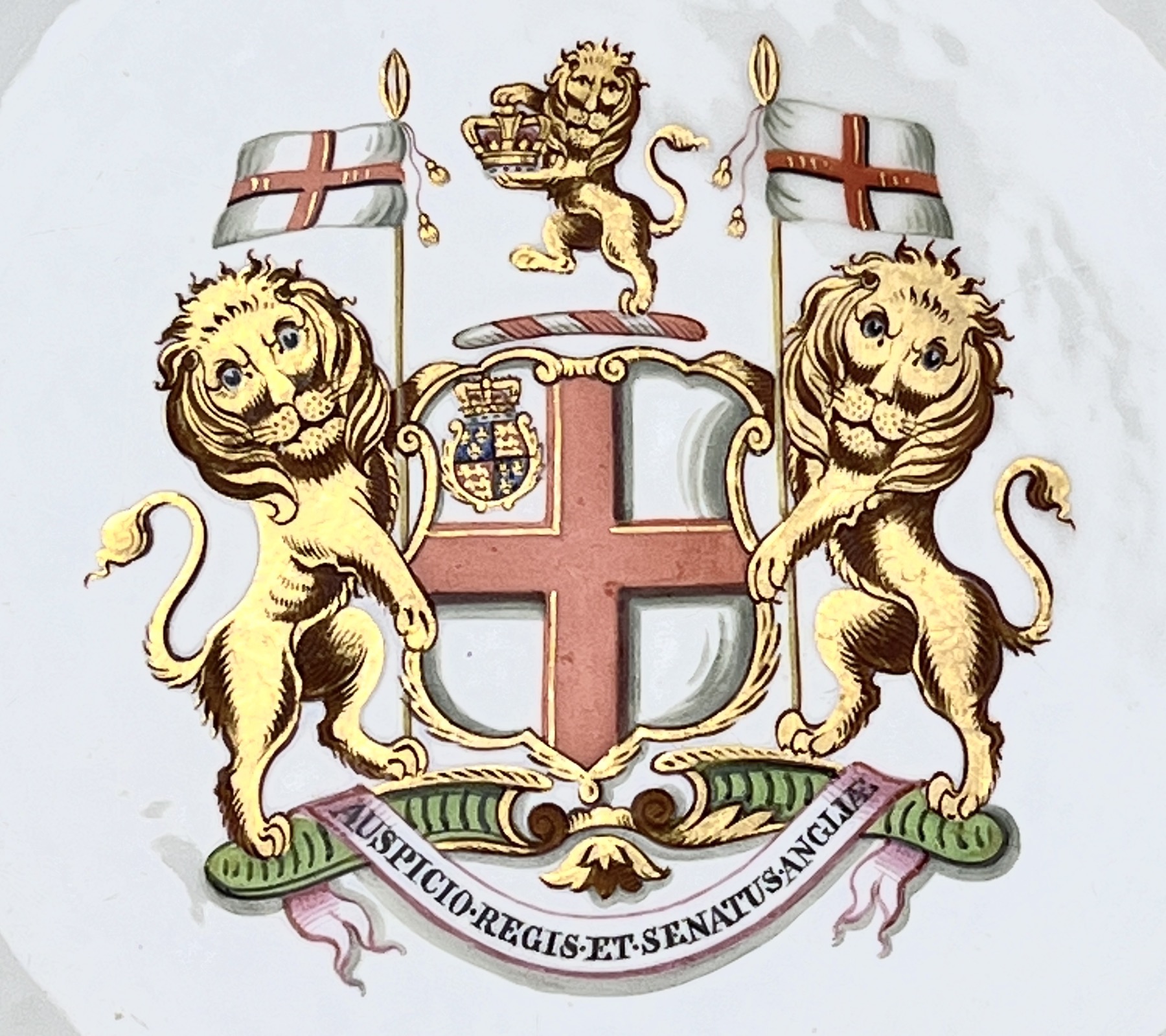 There's a large collection of fascinating armorial pieces, with family crests – or in the case of the following Spode plate, the crest of the "New" or British East India Company. Spode records the East India Company ordering a service in 1823, remarkably to export to Canton where a devastating fire in 1822 had destroyed their headquarters. They were actively importing Chinese Porcelains from Canton in the previous decades, but it is very revealing that they didn't turn to the local wares of the 1820's for a replacement, but rather imported it from England! The service is thought to be the exact design seen on this example, with no ground colour: however this example has a further story to tell.
On the back, as well as the Spode mark it bears the name "The London". This was a Company Ship which made 8 voyages to the East between 1819 and 1832, and one trip in 1824 to Canton is speculated as the 'delivery' run for the new Spode service. The Captain, John Barnet Sotherby, is thought to have ordered his own personal service at the same time – for use on his ship – differentiated from the main service by the addition of "The London" mark on the back.
If you're able, come along and see our display in Geelong.
If Melbourne is more convenient, we will be exhibiting in our 60th Dealers Association Antique Fair at the Malvern Town Hall, June 10-13.
For all international customers, the Exhibition & Sale will open in-store and online at 12 Noon (Eastern Australian Time), Saturday 7th May.
All items will be fully documented and priced before then, and shortly posted to a 'Preview Gallery'.
Exhibition Internet queries will be answered and purchases possible shortly after 12 noon on the Saturday, to make accessibility fair for those unable to attend in person.
Sorry, no pre-sales.
Coming to the Exhibition? RSVP!
If you're able to come to our Exhibition, drop us a note using the form below.
This will help us calculate numbers, necessary in this Covid-aware age.
Our large shop can cater a large number of people, so don't hesitate!