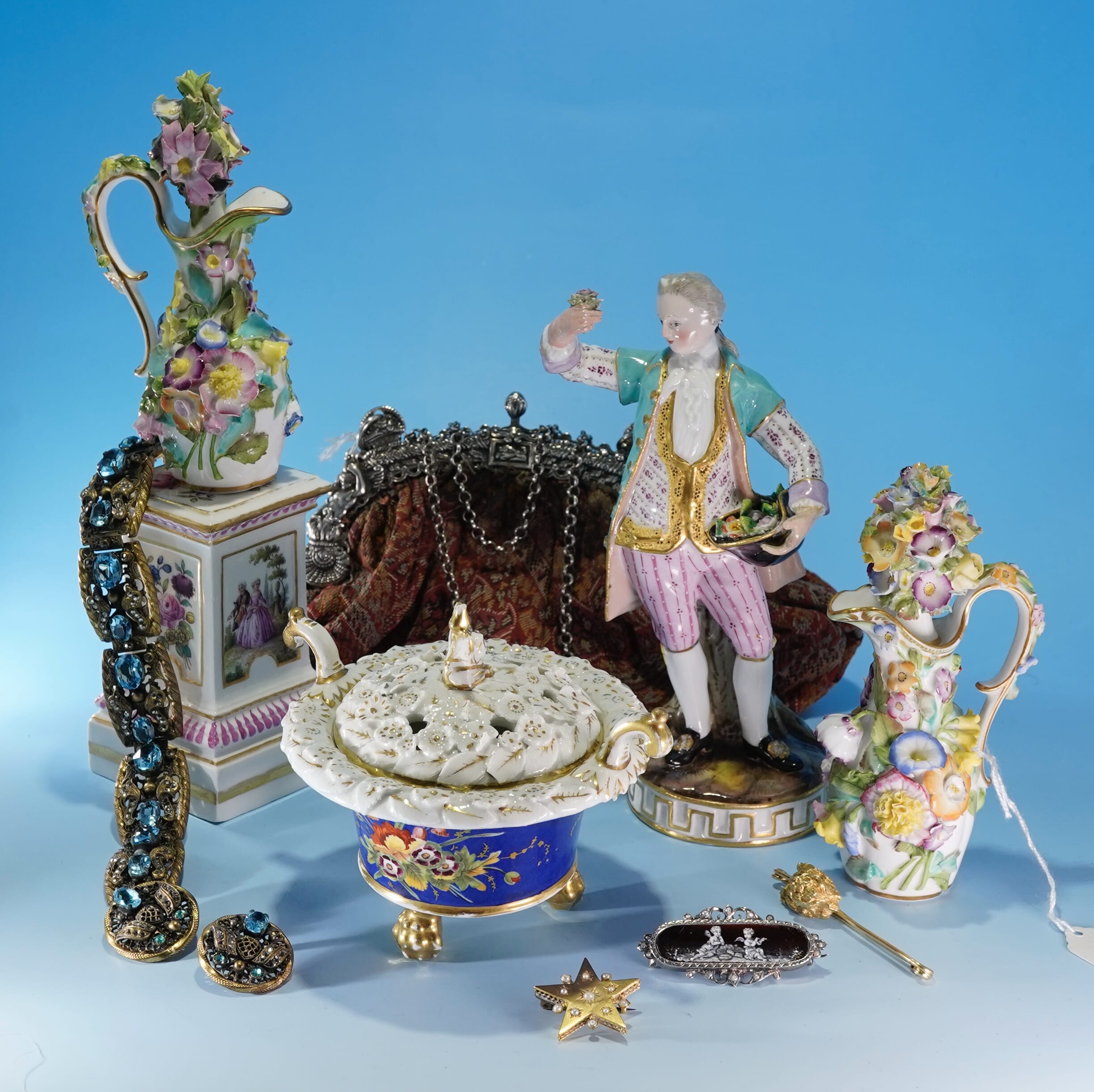 April 1
Today we're releasing a flood of lovely Fresh Stock.
There's a scattering of porcelain, including Meissen, and some other highly decorative porcelains including the scarce 'wall pockets' modelled as birds on nests, and a sweet little pair of 'perfume ewers', probably Coalbrookdale, all encrusted in flowers.
The selection of small little precious pieces is mainly of French origin; this is no coincidence, as the branch of the local family they came from traces its origins to a romance in France at the time of WWI: these were just the sort of thing to buy a French 'sweetheart', before they came back to Australia and settled down.
There's a host of other fine pieces, with more to be added shortly. The large-scale 'Mercury', illustrated below, is a 19th century Bronze after the 1580 original by Giambologna. It was made for the Medici family of Florence – to put in the middle of a fountain! A very wise choice, considering he was the god of commercial success – and successful the Medici most certainly were.
---
2022 EXHIBITION

In other news… we are very pleased to announce our 2022 Exhibition date.
We have waited patiently for our Government to announce when they will call our looming election – but as they have yet declined to do so, and there is very little time left, we have taken a chance and settled on the 'least likely for election' Saturday in May – the 7th. It will run for the next few weeks, before we bring it up to Melbourne for our next event….
This Exhibition is an accumulation of wonderful items of quality from the past several years, sourced from all over the globe – but also very locally. Several high-profile collections of ceramics will be included, with many published pieces.
Dr Wall Worcester punchbowl, circa 1760
A superb large-scale example of early Worcester porcelain, with a rare combination of four prints by Hancock, printed in a rarely seen 'Lilac' tone.
One of a number of fine Dr Wall Worcester pieces to be seen in our upcoming 2022 Exhibition.
Check out the extensive 'Preview' page here >> with much more yet to be added as it is process and published.
---
Melbourne Antique Fair
Finally, we are also eagerly anticipating our Melbourne Antique Fair for 2022. This is taking place 'back where it all began'- in the Malvern Town Hall, High Street Armidale, Melbourne, 10th-13 June. The AAADA is selling tickets already, book via their website here >>
Enjoy!
regards,
Paul & Glenys Rosenberg,
Mathew Bugg
---
Fresh Stock