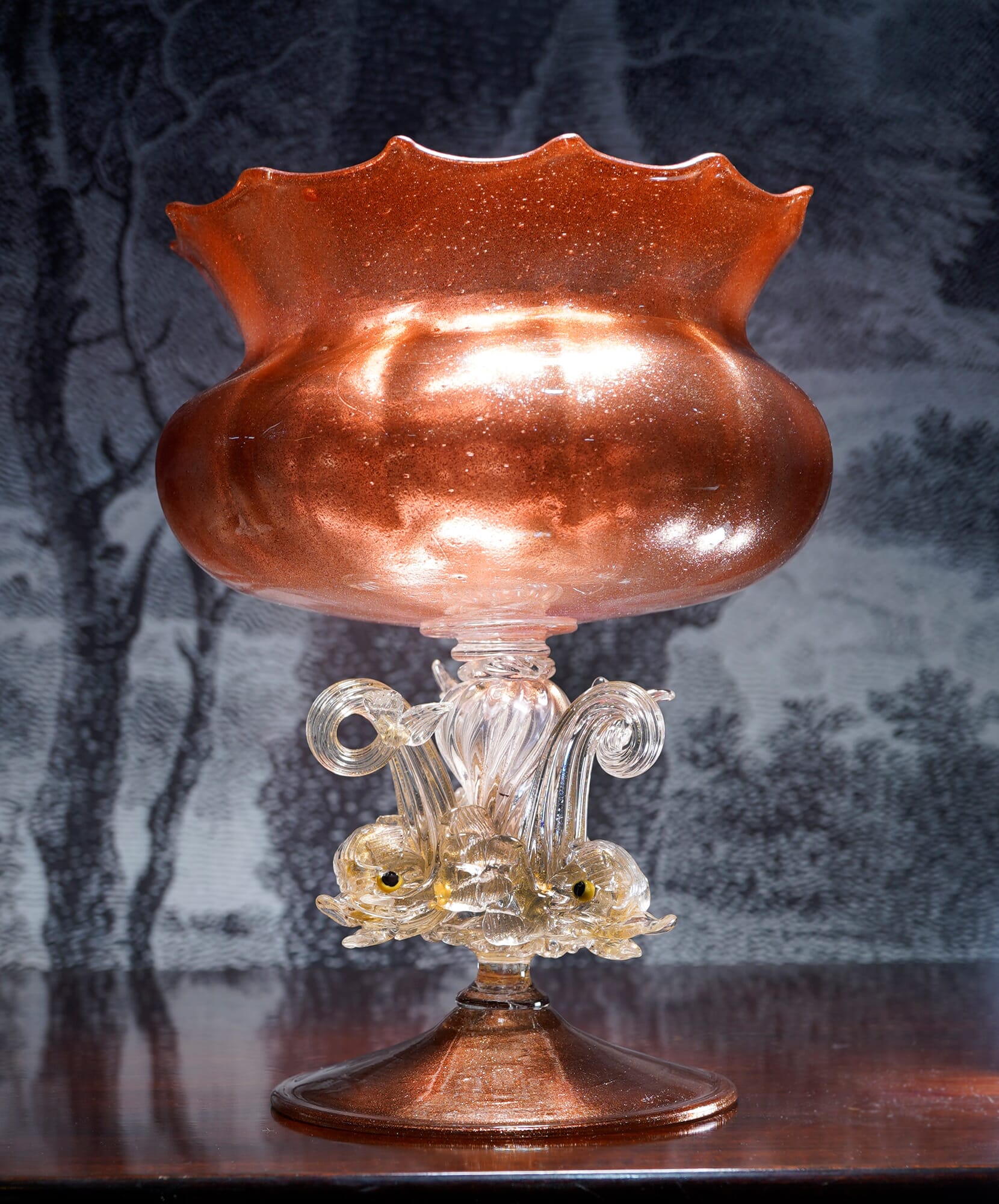 This flamboyant piece of glass is – believe it or not – Italian! Actually a stunning example of an interesting period in the development of the 'Murano Glass' we are familiar with, it dates to the later 19th century years when the revival of the Italian artworks was just beginning. It comes from the workshop of Antonio Salviati (1816-1890), who paired up with an English archaeologist, Sir Austen H. Layard, M.P. (1817-94).

Layard is an interesting character. While considered 'English' (sitting in British Government 1852-69), he was raised in Italy, buying a palazzo and living there – but is best known for his travels through Persia in the 1840's, which resulted in identification and the first excavations in Nineveh, Nimrud, and Babylon. His discoveries form the greater part of the collection in the British Museum. While he was in Venice, he collected early glass and artworks, and came to befriend Salviati – after which they formed a company with one ambition, to revive the golden-days of Venetian glasswork.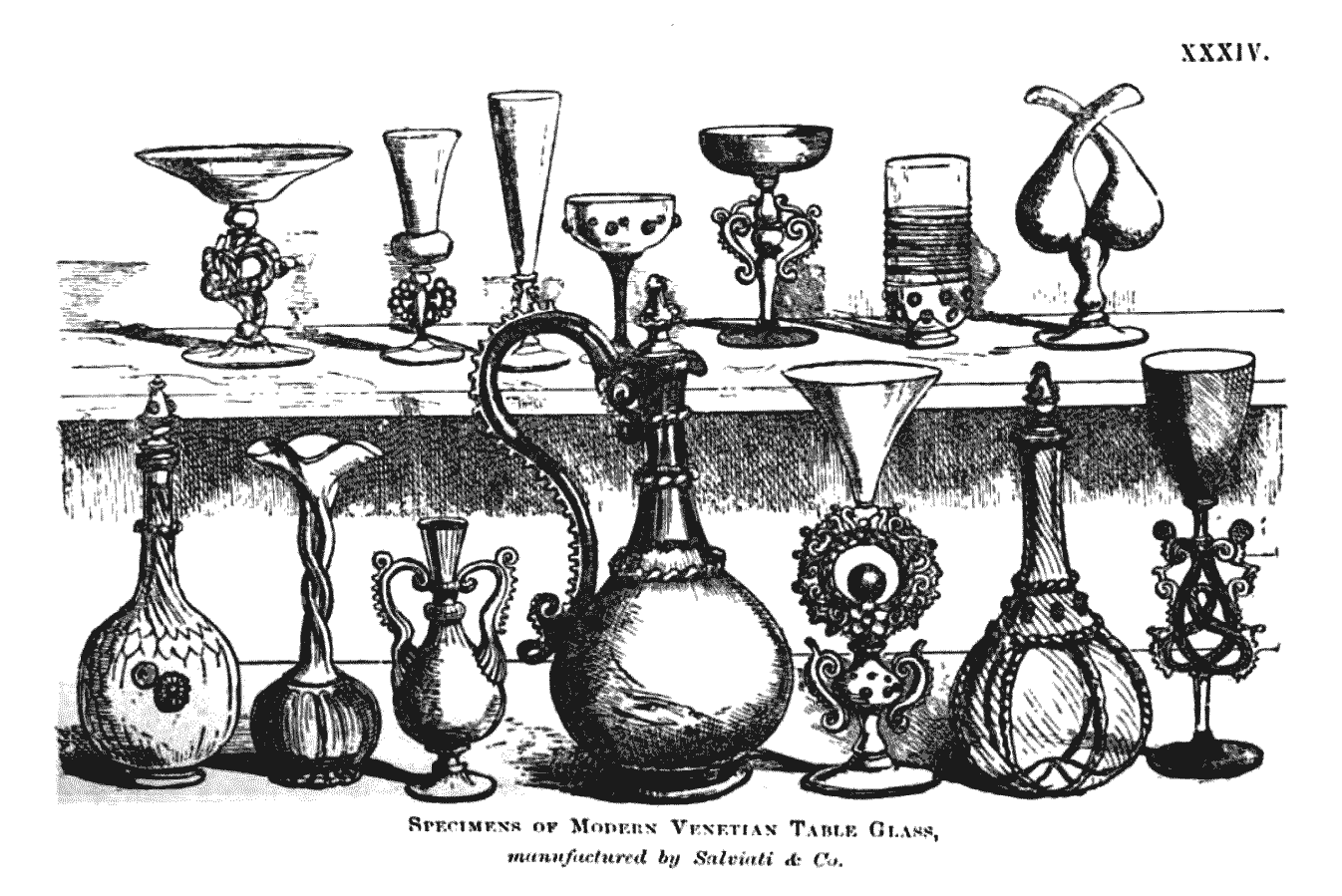 The result of this partnership was remarkable. Venetian glass making had stagnated, but they were able to kick-start it again in the later 19th century. They did this by looking backwards to the magnificent original Venetian creations of the 16th and 17th centuries – but as many of the techniques had not been used for generations, they found themselves re-inventing the sometimes very complex recipes from scratch.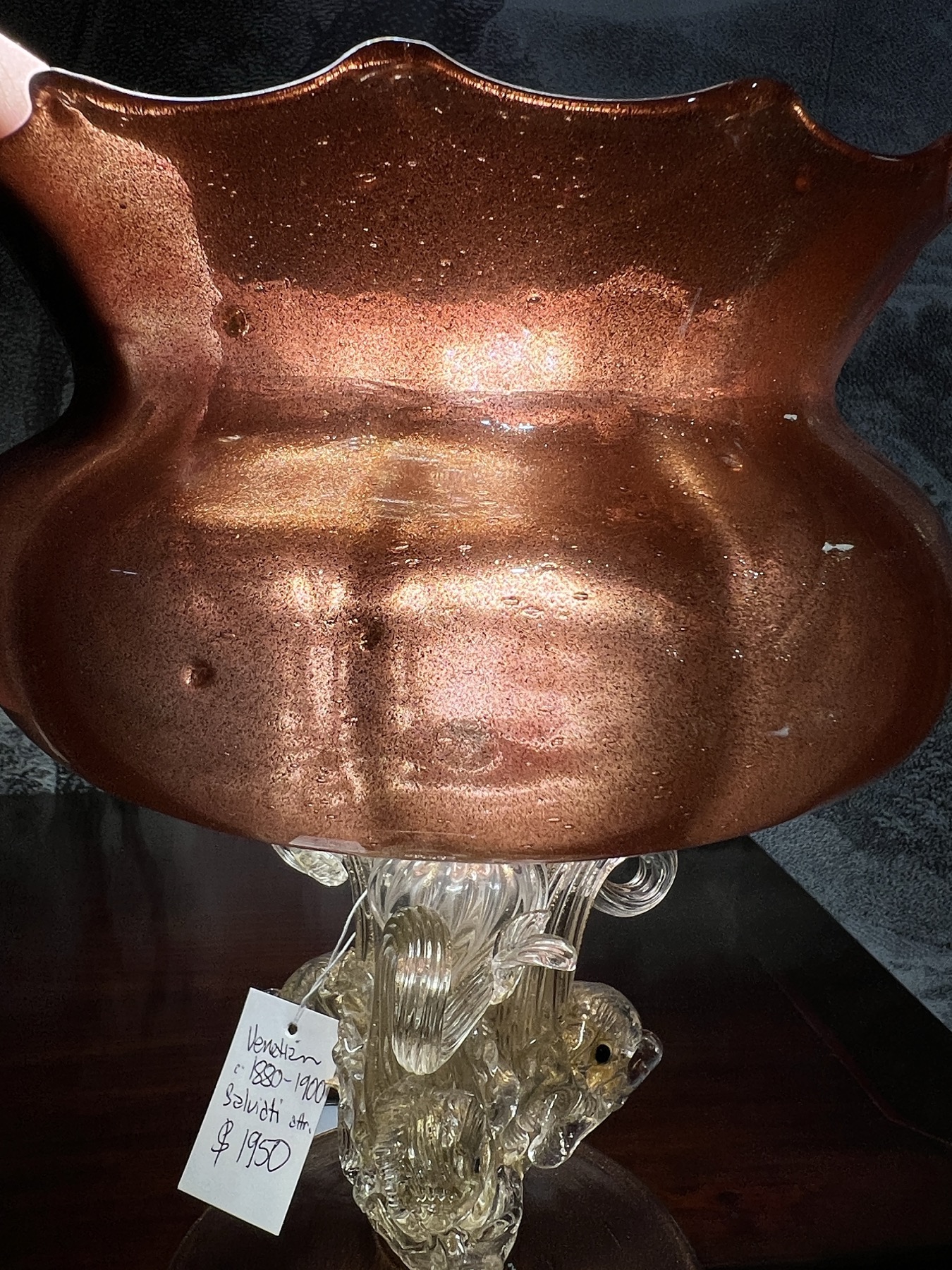 This centerpiece is 'Aventurine', designed to simulate the semiprecious stone by the same name. It was developed in Venice, with legend of glass-making monks accidentally putting copper shavings into molten glass; however, an early 17th century date is now considered the first production of this glass type.
It involves a mixture of copper, iron, and tin oxides, introduced into the glass mixture, which is then fired in a reducing low-oxygen kiln, causing them to form compact crystalline clumps which reflect the light in their unique manner. The new glass structure with the glitter effect is not stable and would deteriorate rapidly in the air, but a method of enclosing it in a layer of clear glass ensures it is preserved.
This large piece was sourced in Melbourne, and may have been here all of its life. The National Gallery of Victoria has a magnificent collection of Venetian 19th century glass, acquired in its early years, with a group of 'modern' glass selected for them by Antonio Salviati himself in 1874. When Melbourne hosted the massive 1880-1 International Exhibition, there was a splendid display of Murano glass, with many pieces ending up in the Gallery's collection where they remain to this day. The Italian glass was highly popular with the Victorians- it was noted for its 'ethereality', and 'might as well be called gossamer glass' ! It was of course all products of Salviati's company, the 'Compagnia Venezia-Murano', and it won the highest prize, a gold medal indicating the First Order of Merit.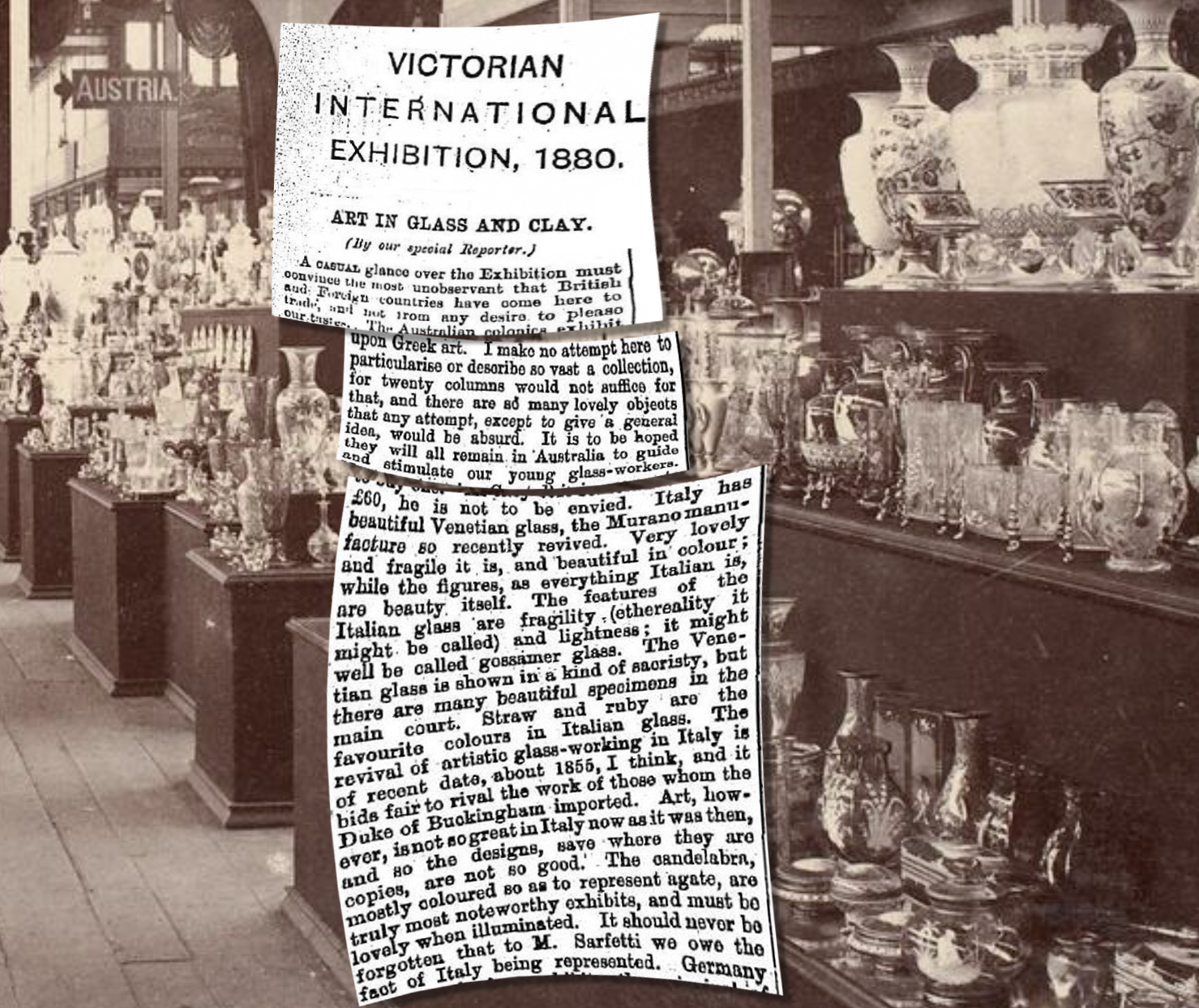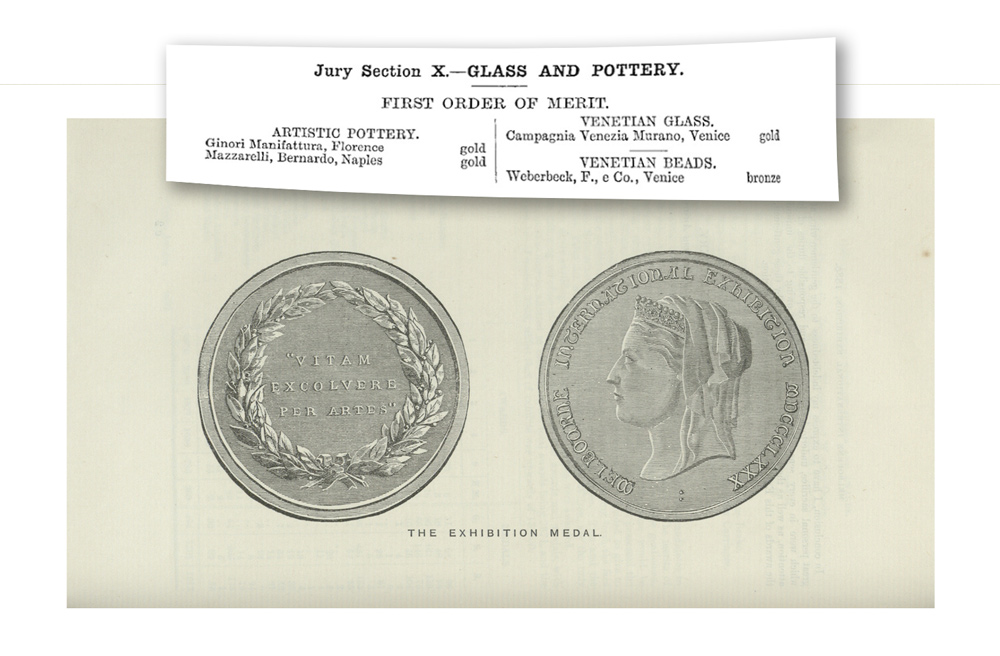 After the exhibition closed in 1881, 130 pieces were purchased for the Gallery. At the same time, the impressive wealth in Melbourne meant the top-end department stores were also offering these luxury products for sale.
Moorabool is very pleased to offer this remarkable large & early piece of Venetian Glass.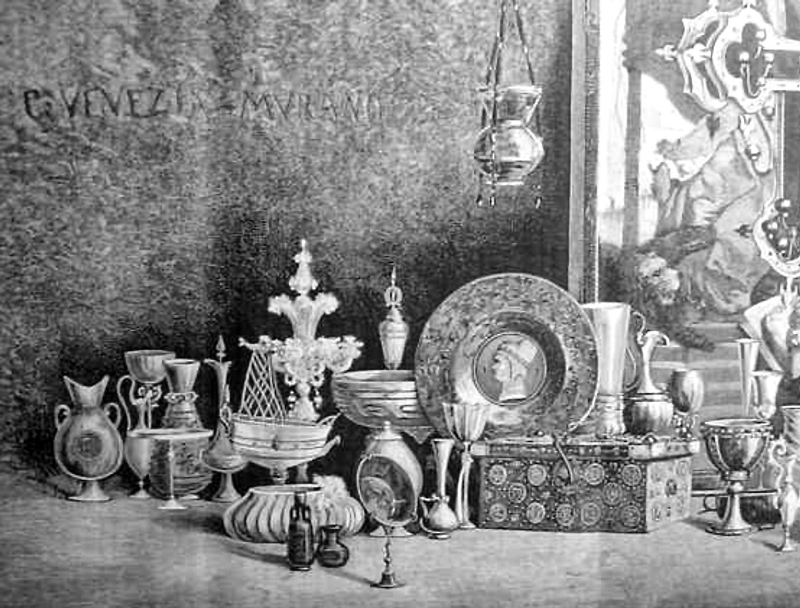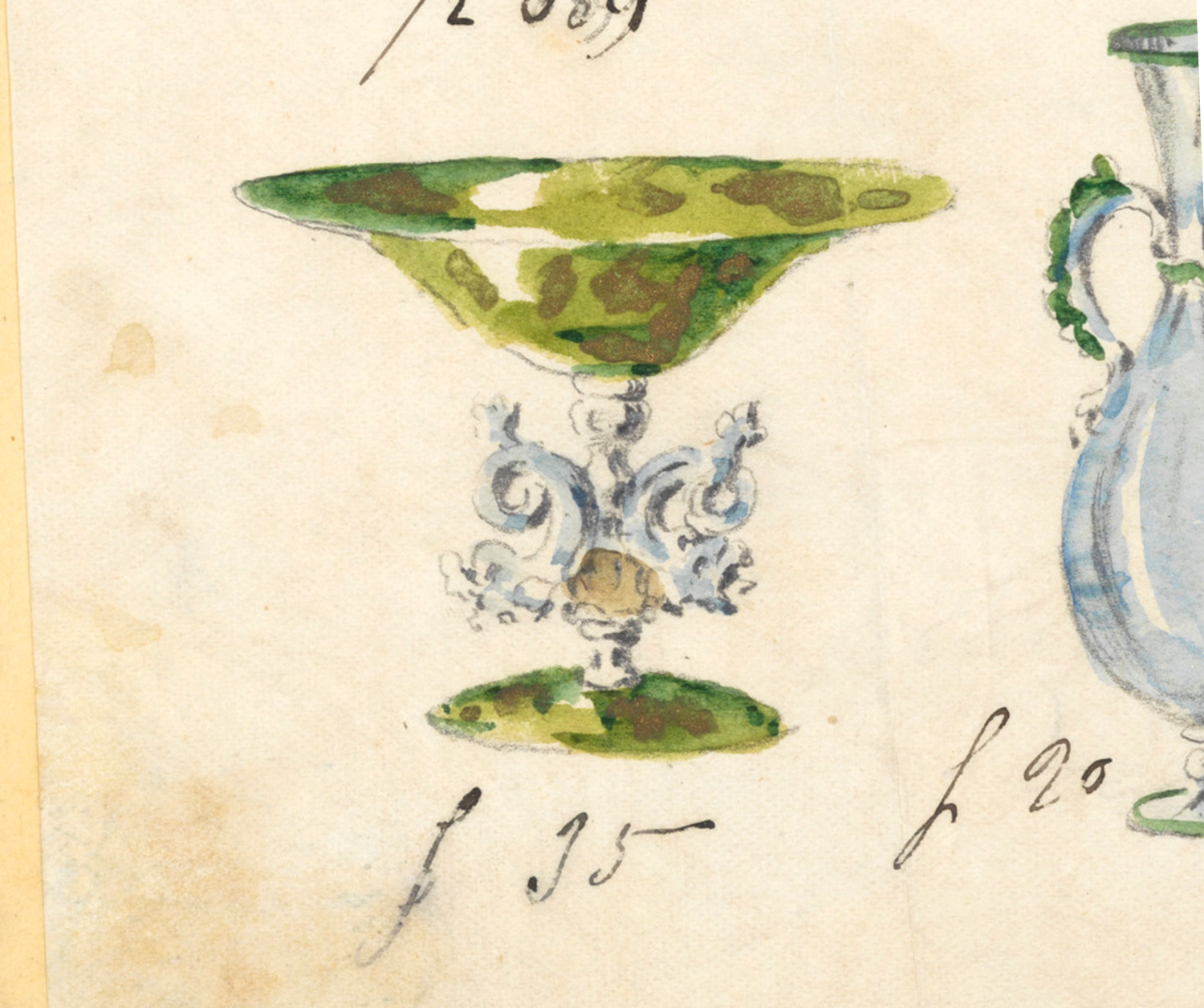 Some more interesting connections, including designs from a design book at the Met Museum, New York.