A remarkable folio of 200 year-old Chinese paintings recently came to Moorabool. They are large-scale examples of the 'China Trade' paintings, usually seen on a smaller scale on 'Pith-paper'. These are on a thicker paper, using Mulberry bark as the basis, hence known as 'Mulberry Paper'.
They were popular with the European traders who came to Canton to buy Tea, Silk, Porcelain, and exotic Eastern produce. Rare early examples can be the mid-18th century, but they became very popular by around 1800 as trade flourished.
Their subject matter reflects this intention as a 'souvenir album' – the distant ancestors of the postcard folio of the modern tourist.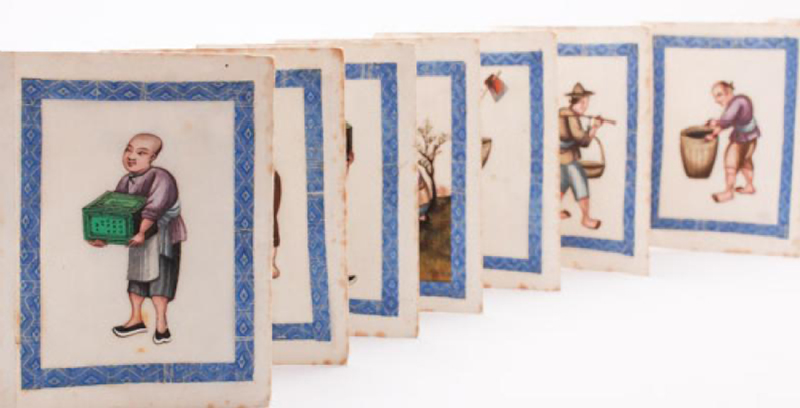 One theme was 'The Story of Tea', showing the process it went through from the bush to the tea chest- appropriate considering the intended customer, visiting European merchants. Another rarer series follows the manufacture of Porcelain.

By far the most popular subjects were the everyday people that visitors would have seen on the streets – the umbrella mender, the fish sellers, the hat maker. Crime & punishment folios featured many macabre details not suitable for children… Others have children playing with toys, the dress of the wealthy & court, and the bright & lively processions for various holidays and celebrations.
A third group served as a 'Visual Encyclopaedia' – with subjects such as flower specimens, birds & fish specimens, ship types, and even 'Antiques'. This album we are showing here belongs to this group, a Musical Instrument 'visual guide'.

Occasionally there are small-scale pith paintings of Chinese musicians playing the various instruments –
but it seems these depictions of instruments on this album are quite rare.
No comparable example could be found.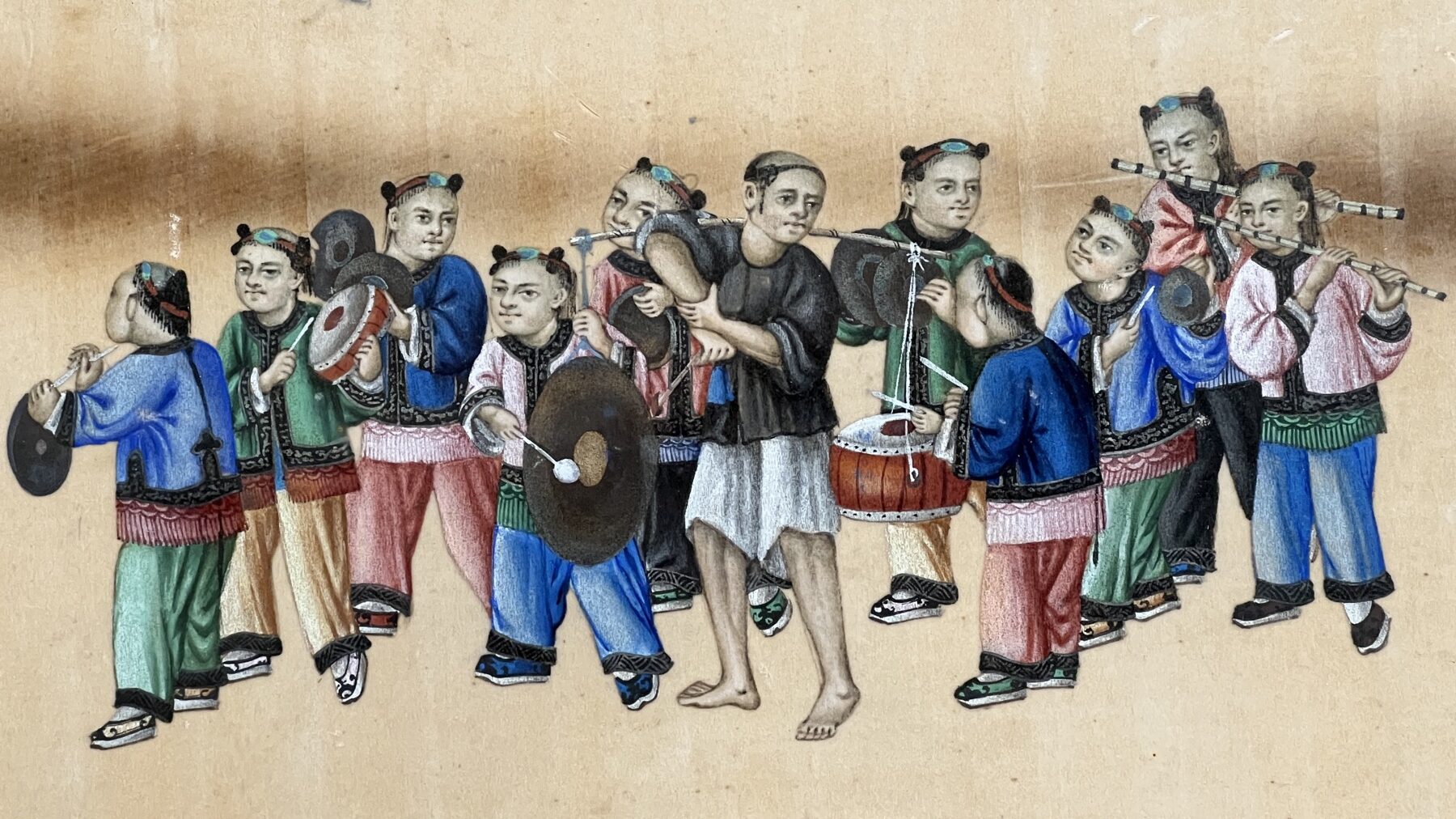 They represent a large number of Chinese musical instruments, as were used in the early 19th century when they were painted. As a folio, they were a document of the types of Chinese traditional instruments, which brings to mind it's purpose: to the Westerners who were often the clients for the China-Trade paintings, they were curios; to the Chinese, they would be a fine reference folio for the musically minded – a tutor to a prince, perhaps?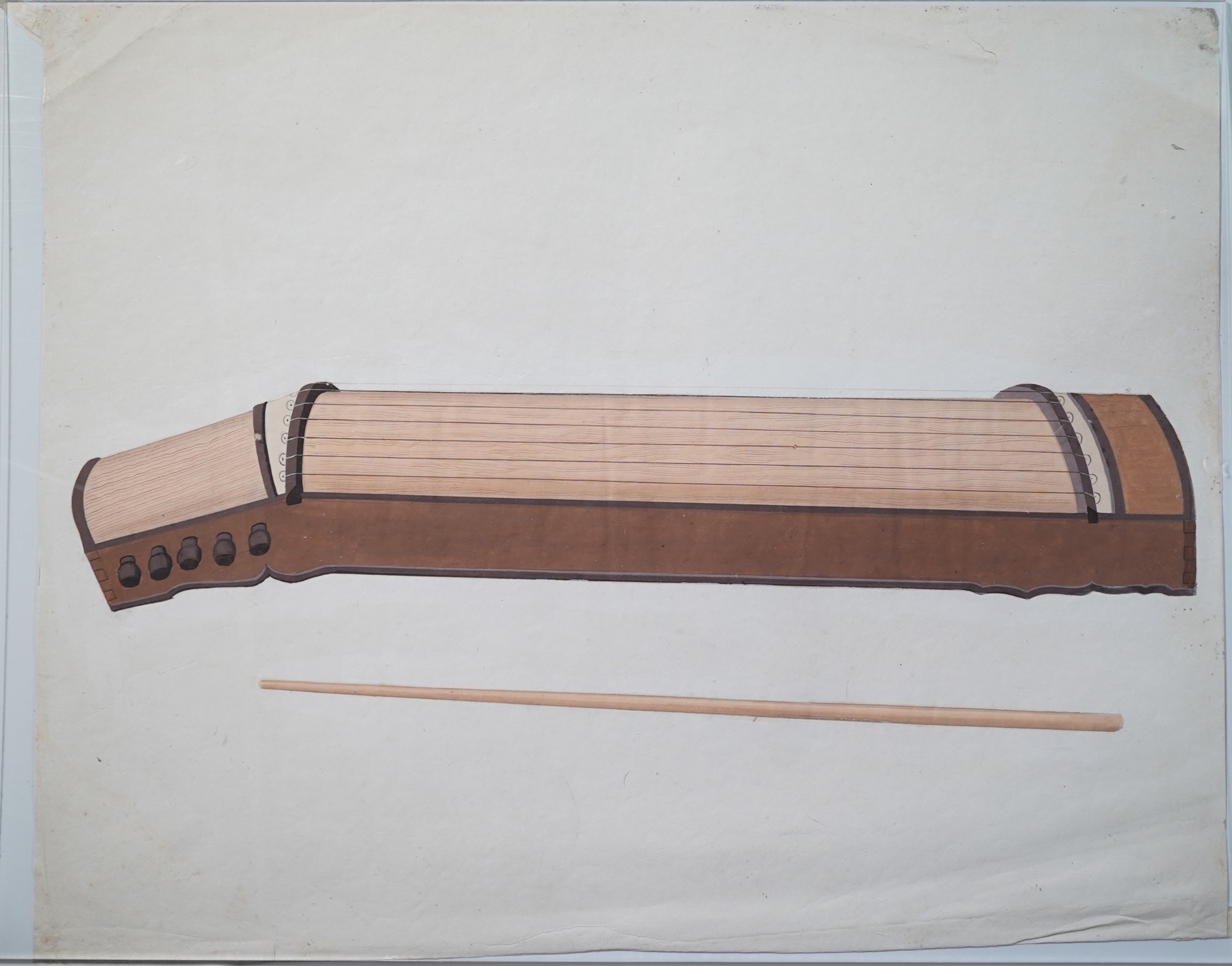 A total of 20 instruments are depicted, some single, several double, and two triple.
These works are for sale individually, or talk to us if you are interested in the complete group, or part thereof. Individual prices – $750 each, all 11 total price $7,000
Other Chinese Paintings