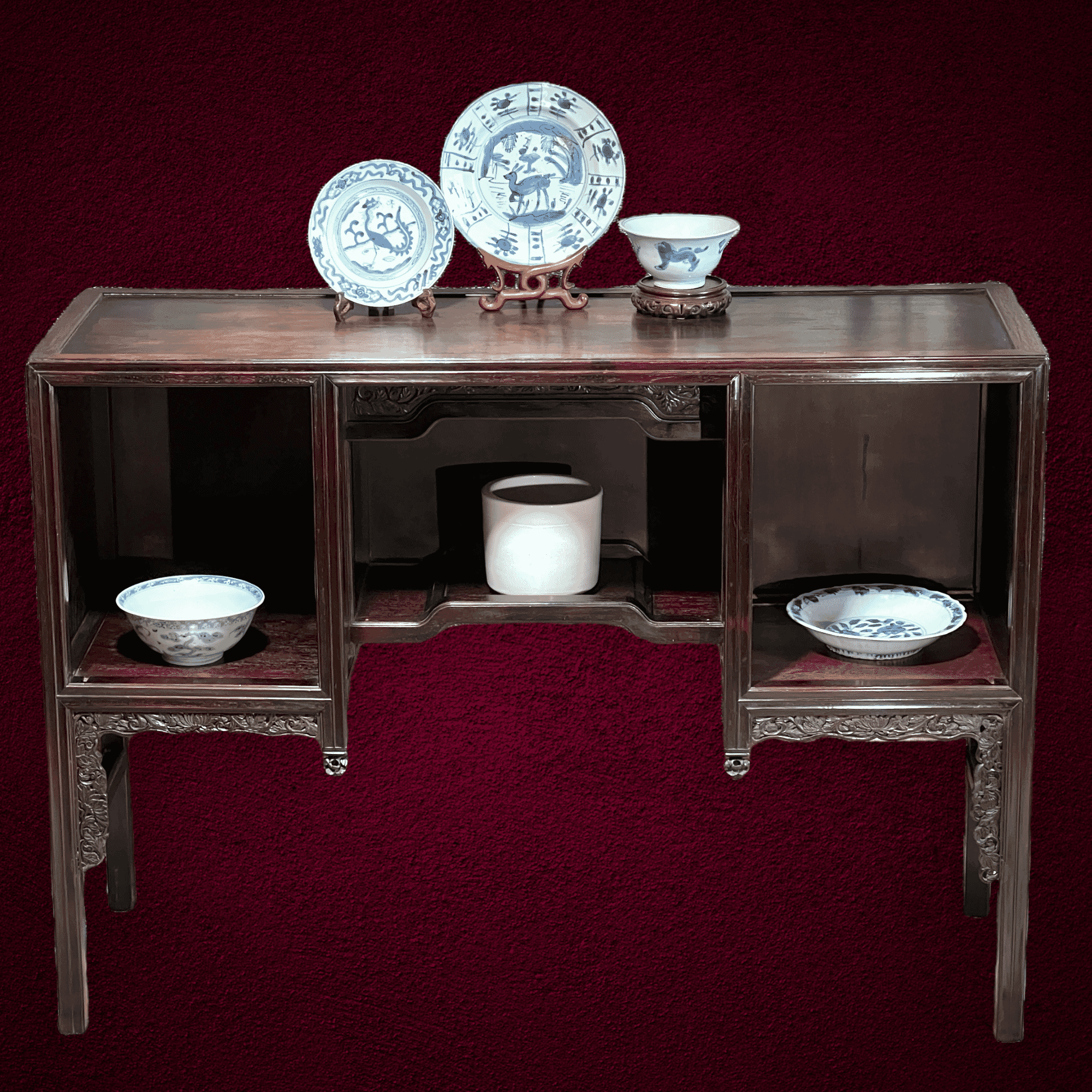 Welcome to our 2022 Special Gallery of Fresh Chinese items.
We've always stocked a good selection of Chinese items, and at present, we have a large number of items to share.
Of particular note below are the Ming Dynasty blue & white pieces. Part of a collection we are selling, the highlight is perhaps the Jiajing period dish, 500 years old and complete with a mark. This 4-character mark misses the important part – the name of the Emperor during the period it was made – but is also found on a very similar example in the British Museum. They have linked it to an example that has the complete mark, revealing it to be made in the time of Emperor Jiajing, who reigned 1522-66.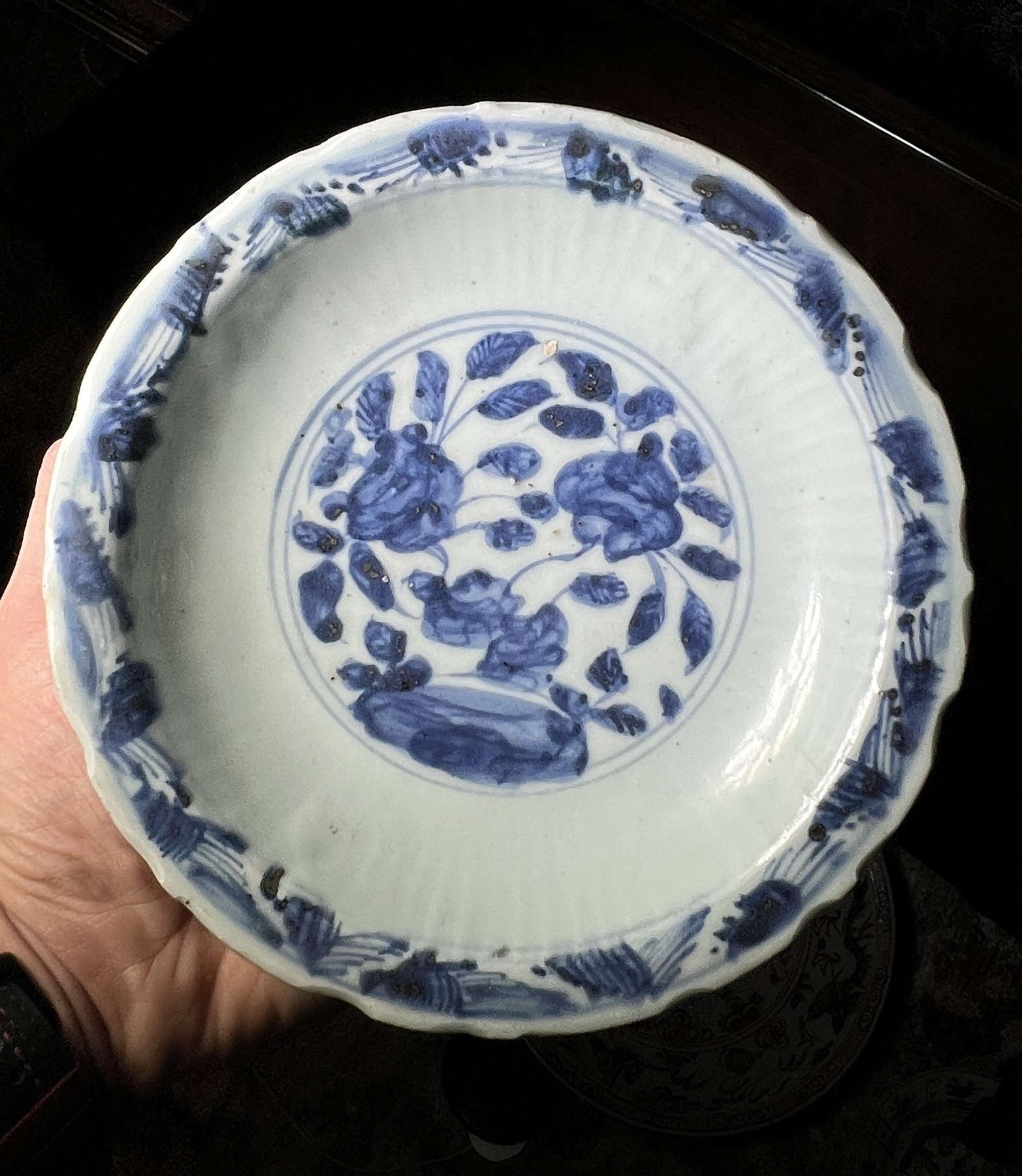 We have some quality Chinese Hardwood furniture to offer. A pair of cabinets make excellent display cases for any collector of Asian Antiques, and are available as a single or the pair. The long low table has handy compartments beneath, and is an excellent shallow size for small spaces, such as a hallway.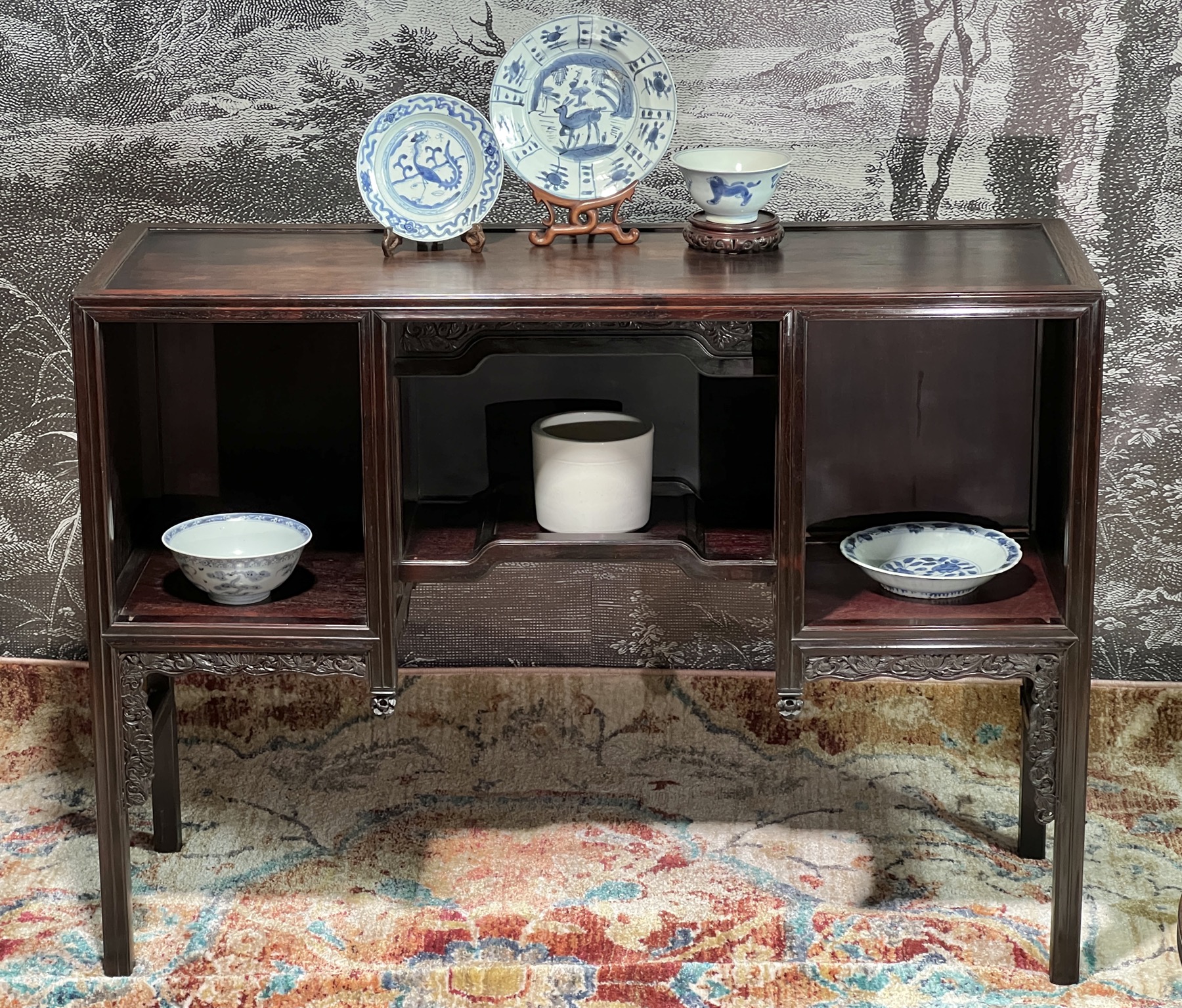 Below are some lovely examples of the Tang & Ming dynasty pottery models. These items were buried as offerings, to ensure the deceased had a life of luxury in the afterlife. They are accurate models of everyday items, and allow us to vividly imagine everyday life in their time: in this respect, they indeed meet their purpose by bringing the past to life!

---
Monotone Chinese ceramics are beautiful in their simplicity, relying on the colour and form rather than decoration.
---
Blue and White porcelains have been the most popular Chinese Ceramics in Europe since the Ming Dynasty, and the same aesthetic is still popular today. The following examples are all Ming, dating from 500-
---
Vast amounts of Chinese Porcelain was made purely as Export Wares in China, with England, Europe, and America as the main destination. The shapes reflect this, as they are usually European rather than traditional Chinese.
---
Chinese Art
Works on paper – or 'pith', the thinly-shaved core of a fast-growing tropical plant – are beautiful, rare survivors. The larger pieces are on linen, and were intended as 'scrolls', to be brought out and displayed when needed. The large example with the multi-figures is a family tree, an 'Ancestor Scroll' set in the interior of their house.
---
More Chinese Items
Looking for more Chinese Art & Antiques? We have a large number of quality Chinese pieces entering stock – see them all together in this gallery.
More being catalogued to add, drop back for more!