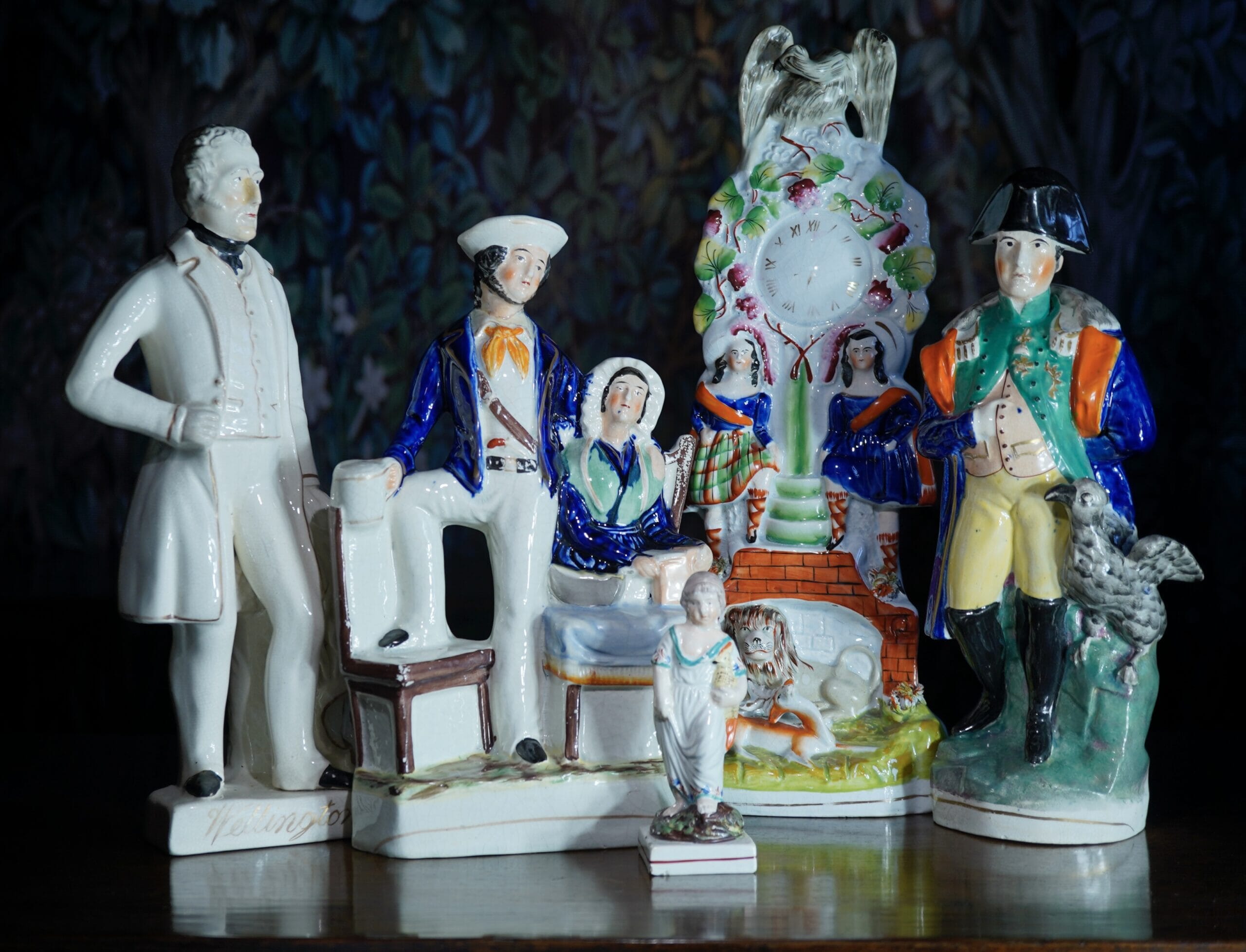 January 22nd, 2022.
Welcome to our 'Fresh Stock' update – these items are fresh to our stock , and fresh to this website.
Today it's time for some Fresh Staffordshire!
We enjoy our Staffordshire for the stories they tell. This was their purpose – to represent an individual, a famous character, or an event. The equivalent of Facebook & Instagram in the 19th century!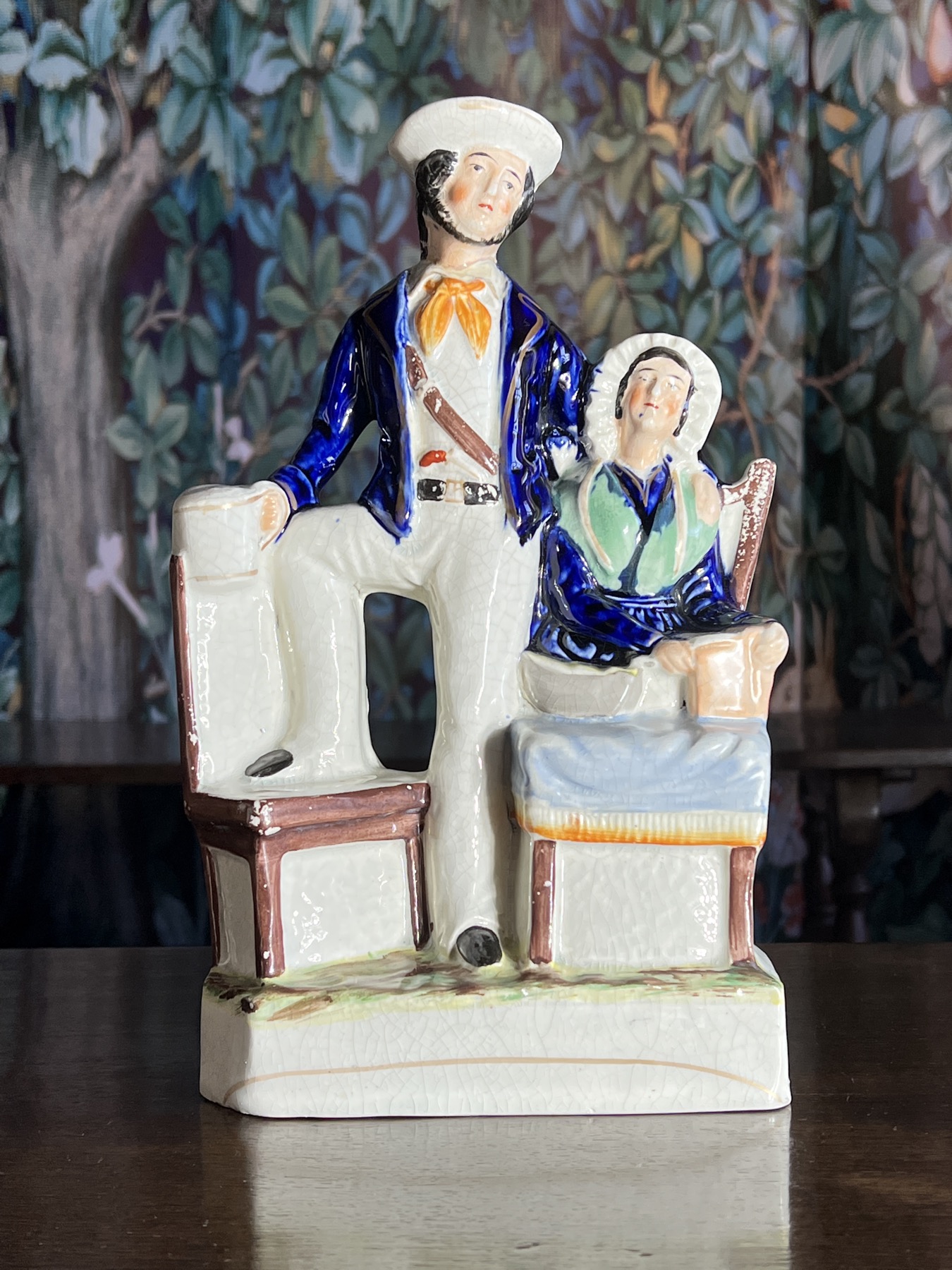 This is an interesting theatrical group – based on a pop song of the time: Jenny Jones. That's her, slicing up a bit of cheese & bread for her sailor, Edward Morgon, who has returned after 20 years sailing the world to his hometown, and his love.
The last verse says it all:
I parted a lad from the vale of my fathers,
And left Jenny Jones then a cockit young lass :
But now I'm return'd a storm-beaten old mariner,
JENNY—from JONES, into MORGAN shall pass,
And we'll live on our cheese and our ale in contentment,
And long through our dear native vallies will rove ;
For indeed in our hearts we both love that Llangollen,
And sweet Jenny Morgan, with truth will I love.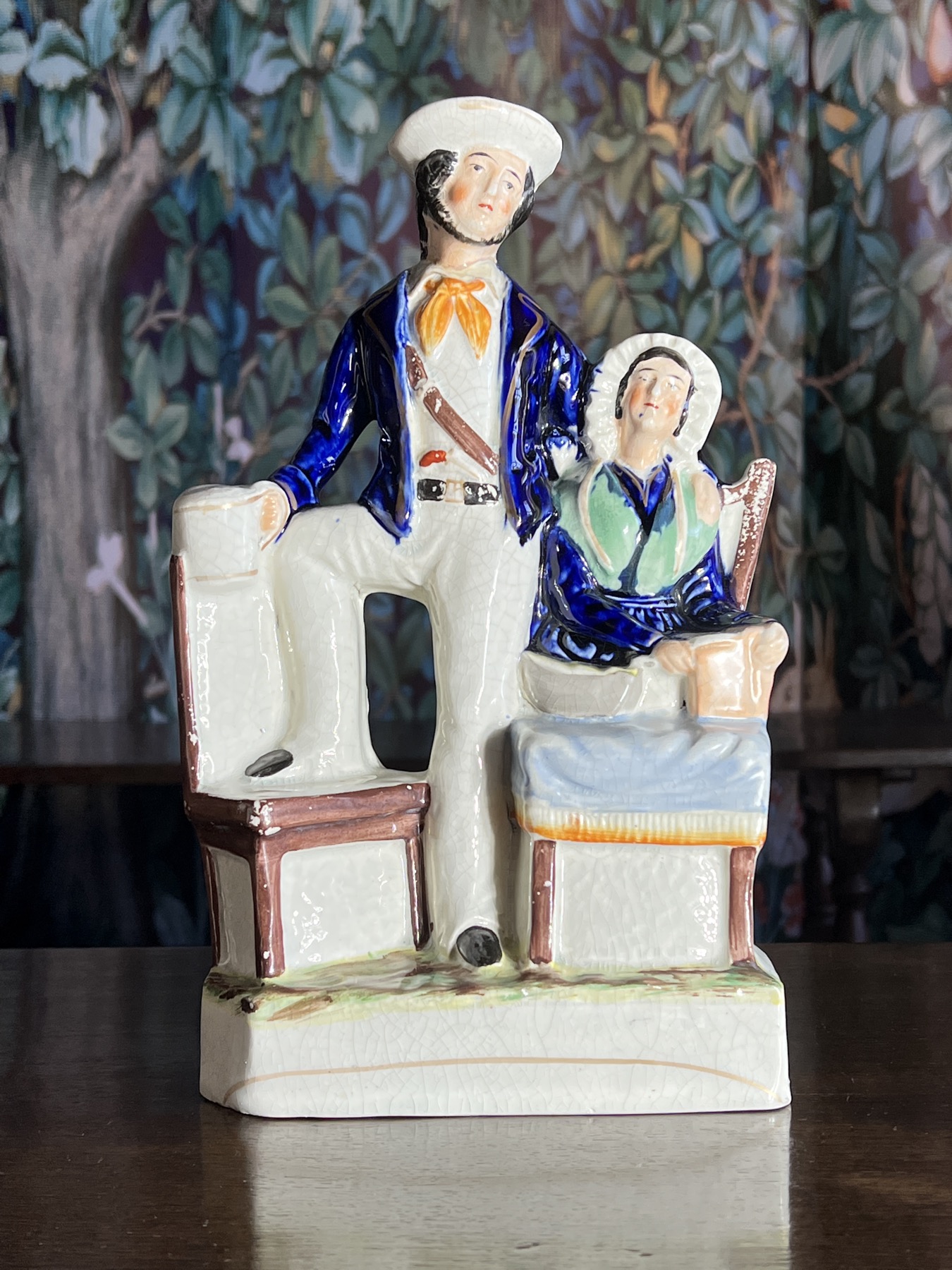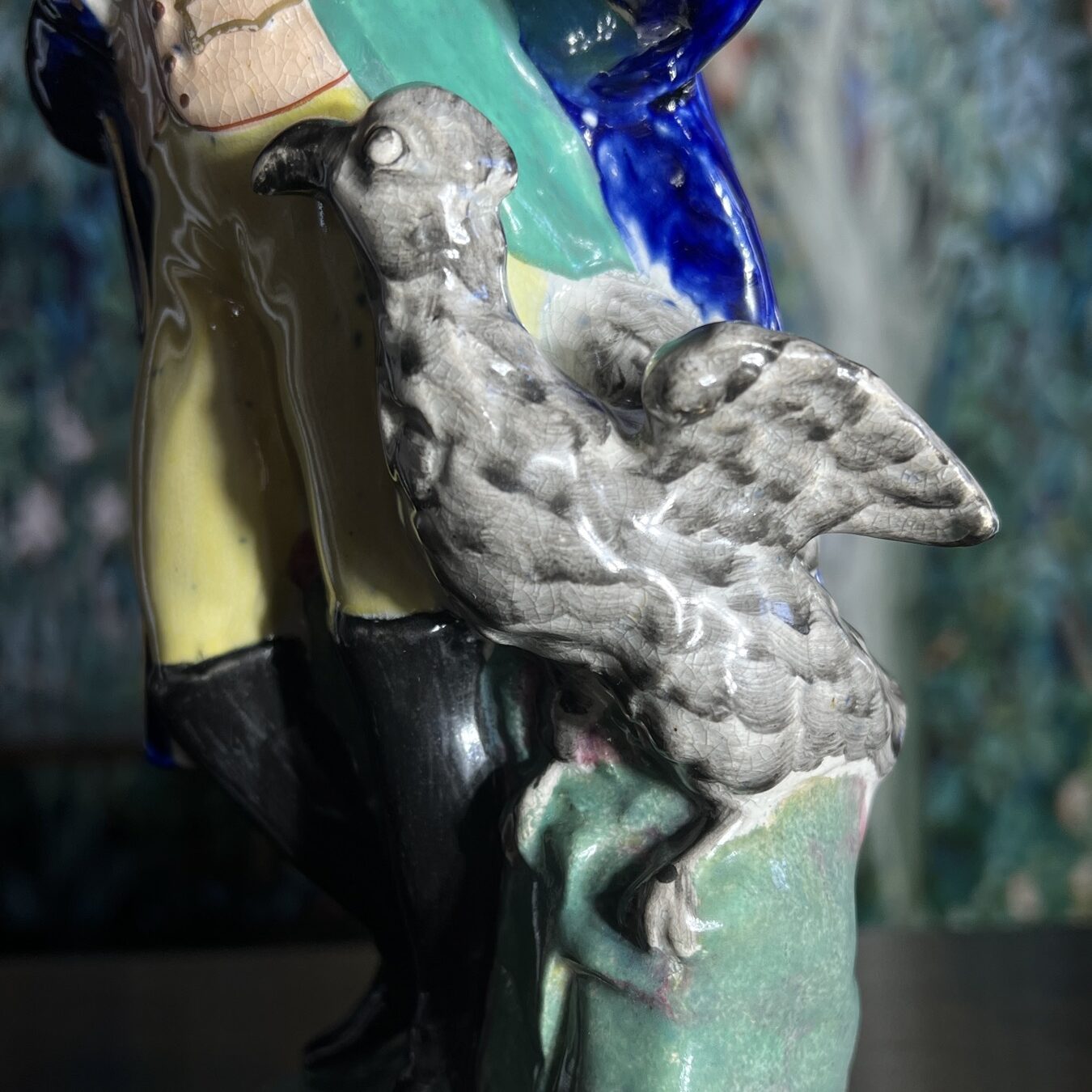 You'll recognize these two characters: Napoleon, instantly recognizable in his costume, with his arm characteristically tucked into his waistcoat. He was a surprisingly popular figure amongst the English, who would have had recent memories of the turmoil he caused across Europe. The appeal was as a 'Villain' figure, alongside the various Highwaymen, Murderers, and Politicians that were made in large quantities. This particular representation of Napoleon is a scarce one, as he is depicted with a friendly Eagle – representing 'Empire', as-in the Roman Empire (with its Eagle symbol) has been re-created by Napoleon….
With ambitions like that, the figure of the Duke of Wellington was necessary to keep him in check at the other end of the cottage mantel piece – although this figure shows him in his political capacity, some years after 'The War'.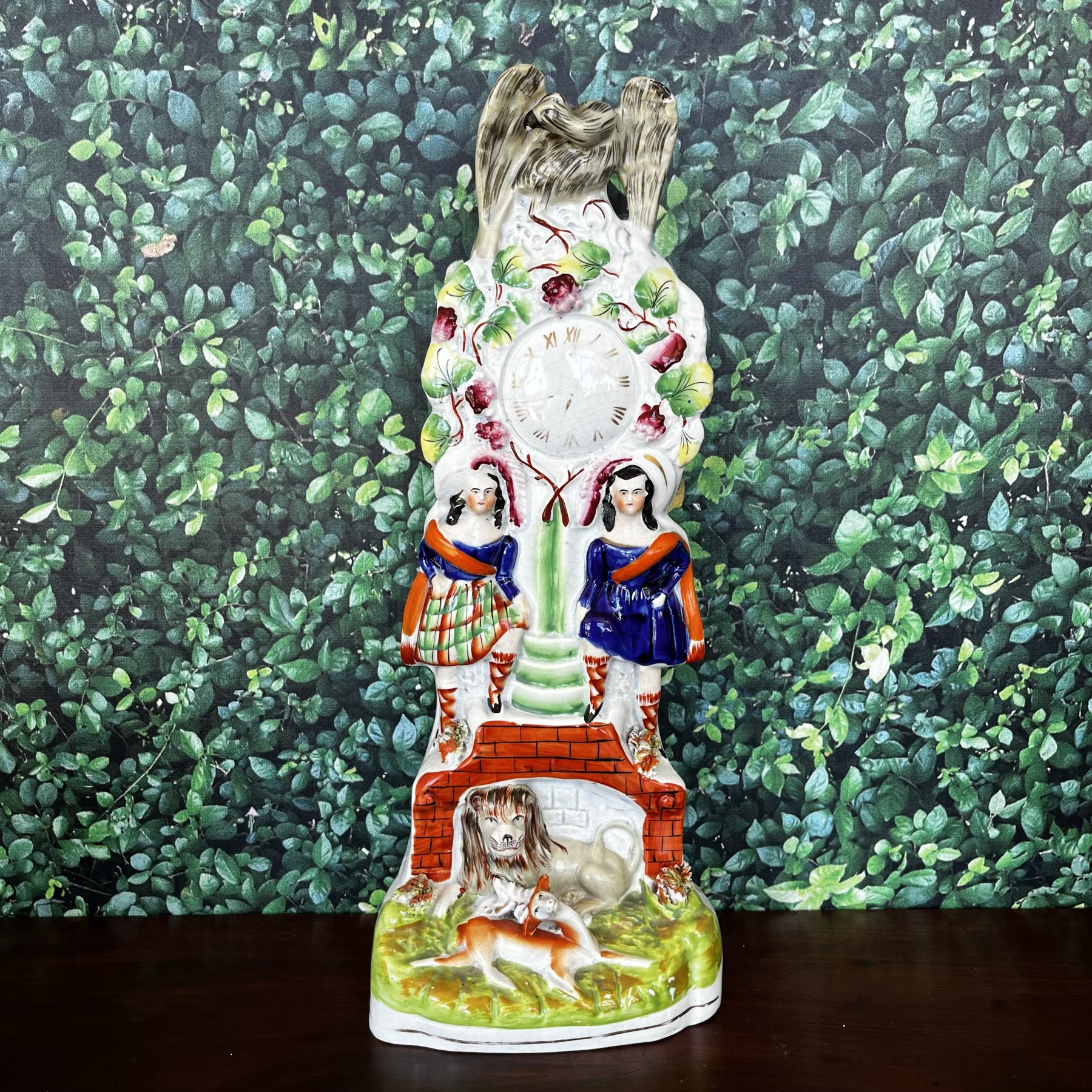 Lastly, this curiously tall figure is 'one with the lot' – there's dancing highlanders, a charming lion lurking beneath the red-brick bridge that forms the base, who has recently been 'cuddling' a deer ('he's just sleeping, kids!") – and an eagle perched on top for good measure! The purpose of the whole piece is to give the impression to anyone peering through a cottage window that the house had a clock – and was therefore well off – although looking closer, you'll notice it's painted on!
You'll find these listed in the 'Fresh Stock' below. There's also good number of other Staffordshire figures to browse below, along with a fair few interesting pottery pieces.
Enjoy.
Remember, we post world-wide at the most reasonable rates – ask for a quote.
---