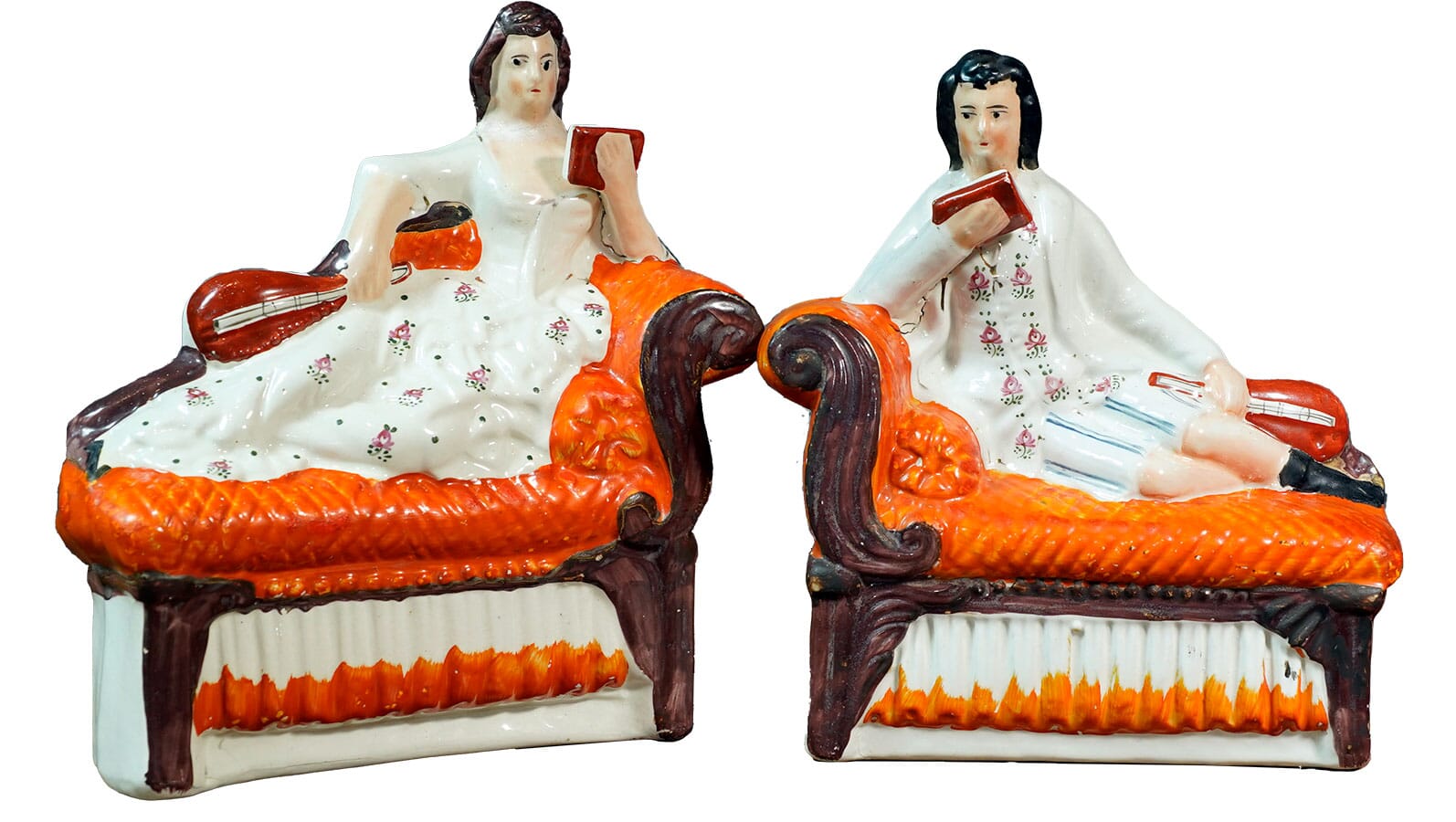 Welcome to our June 20th Fresh Stock.
Today, there's a fine selection to browse, mostly pottery but with a few pieces of porcelain, and some Asian Antiques.
Blue & White
There's a terrific group of printed English earthenware – at first, we thought it was a single service, the shapes and the patterns are so similar! One part is Ridgway's 'India Temple' pattern, circa 1820. The other is Minton earthenware, and printed in blue with their 'Chinese Marine' pattern.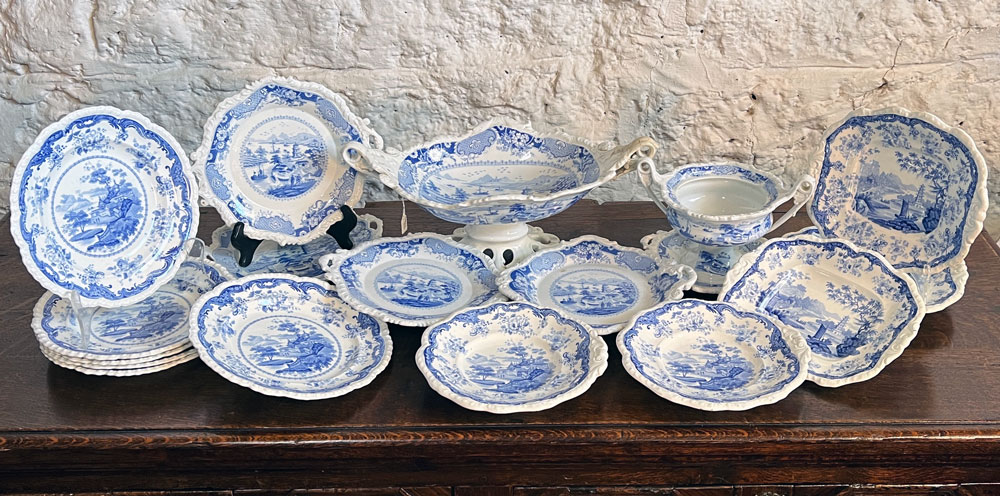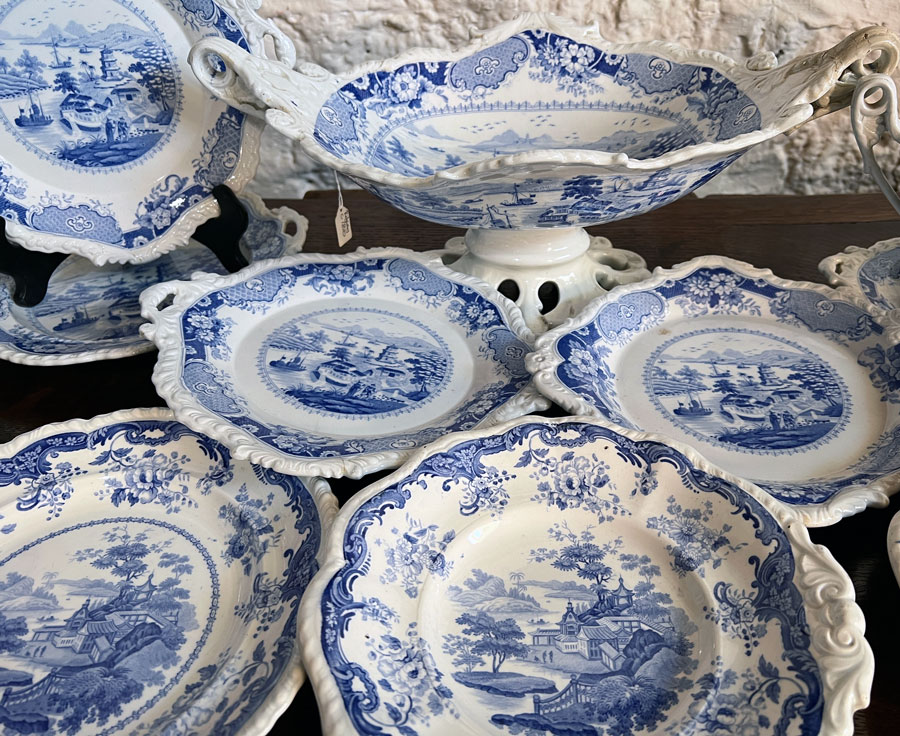 Earlier blue + white includes some interesting creamware plates, maker unknown, and some Liverpool 'Pearlware' plates. They make an interesting contrast: the Creamware lives up to its name, with the body having a distinct yellow tinge: the Pearlware, on the other hand, has had cobalt blue added to the lead glaze, which has the optical effect of making a pale colour look whiter. Where it pools along the footrim, there is a distinct blue tone, the required feature for classification as 'Pearlware'.
Staffordshire Figures
We have some fresh Staffordshire to share with you, just before Paul gives his presentation on the subject at Valentine's, Bendigo. Queen Victoria is very well represented – as a mother – and there's a number of earlier 19th century figures as well.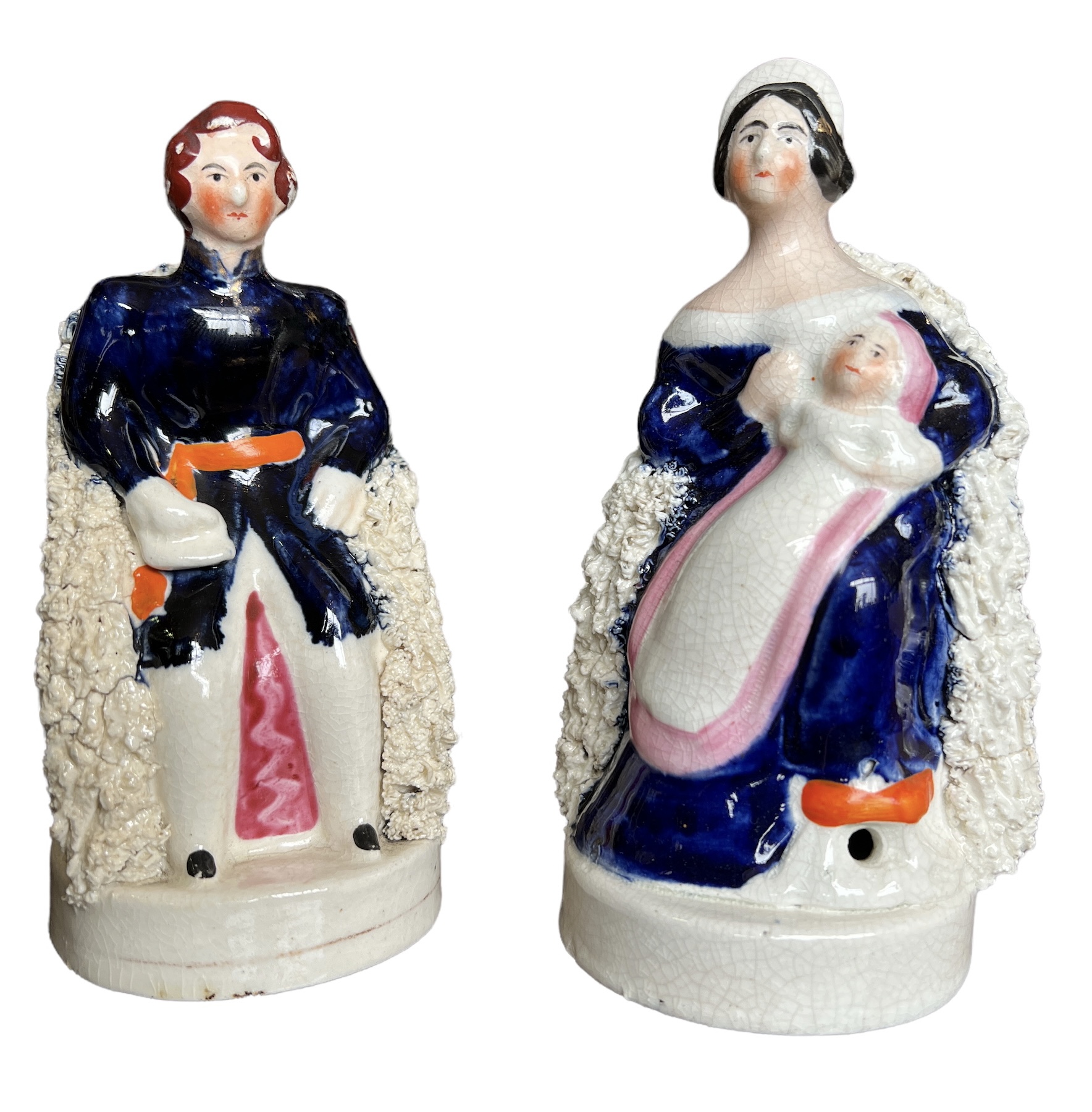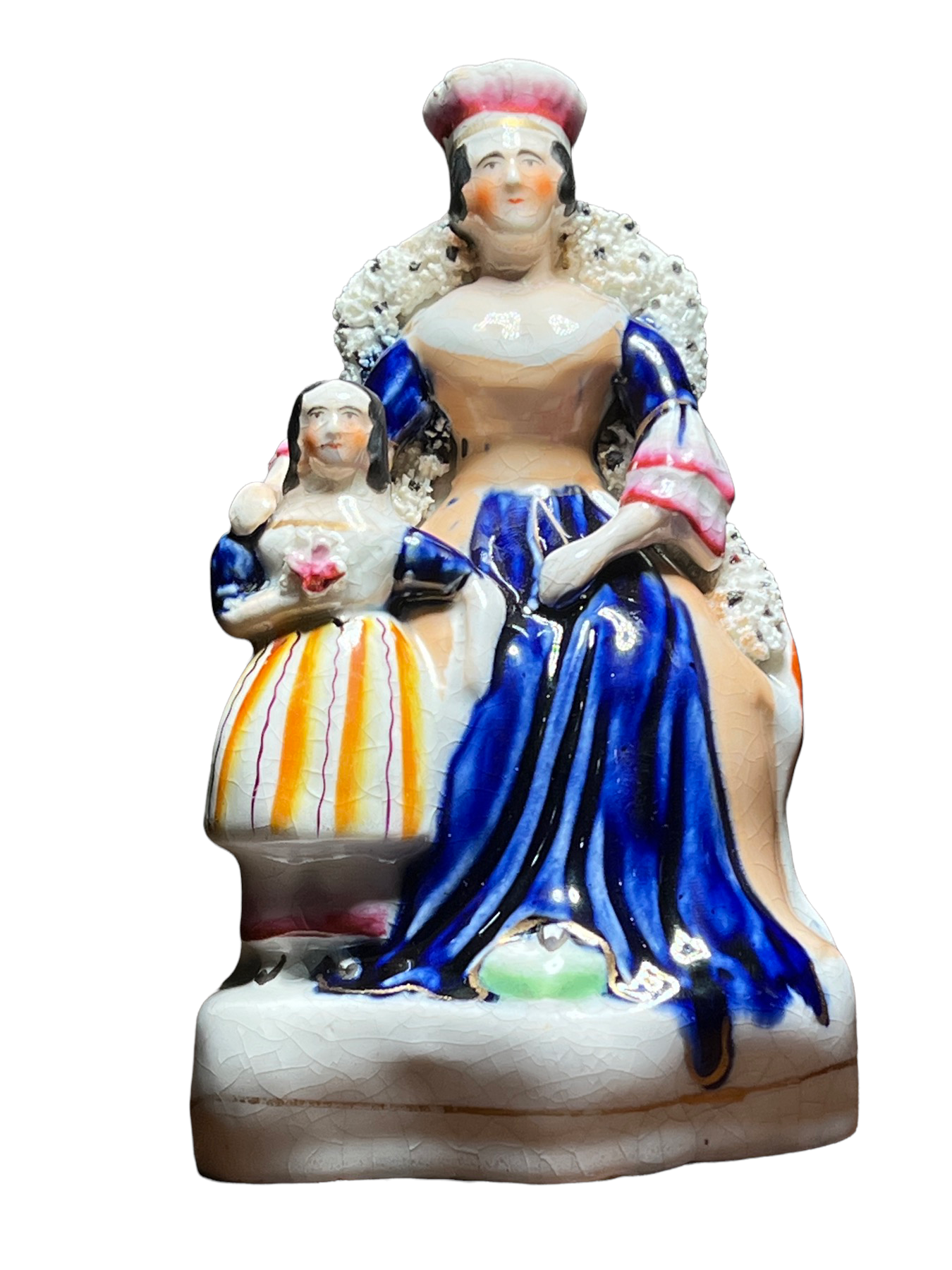 What's the story of the goats?
When Queen Victoria ascended the British throne in 1837, she received a fine pair of Tibetan goats as a present from the Shah of Persia. From these, a 'Royal Goatherd' was bred at Windsor. By the time the children were born, the goats were used to tow a miniature carriage just big enough for them to drive – and this caught the public's imagination. These figures of children riding goats were obviously a talking point about the young royals and their childhood at Windsor.
This pair featuring in today's Fresh Stock are fun – but different to the single example above in one important detail: they only have a single feather in their cap. The 'Princess Royal' above is identified by the three feathers in her hat, as in the 'Prince of Wales' symbol of three feathers.
Having single feathers may indicate thee are just what they appear to be – children riding goats! See this pair here >>
Early Staffordshire Figure of Charity with Children, c.1800

Early Staffordshire Figure of 'Fire' c.1795

Early Staffordshire Figure of Hope & Anchor c.1800

Early Staffordshire figure – child with parrot c.1800

Staffordshire Figure – Piping shepherd with sheep c.1820

Early Staffordhsire figure – cupid as a pastry seller – c.1810
There are some splendid fresh pieces of Chinese porcelain, mostly the 'Nonya' or Straights Chinese type – plus some other Asian items. There's a superb collection of Ming and Kanxi just being prepared, expect it in the next few 'Fresh Stock' posts.
Botanical Illustrations
There's a Fresh-to-stock group of superbly detailed watercolours, botanical studies for an unknown book. They would look wonderful framed & up on a wall as a group – ask for a price for the lot!