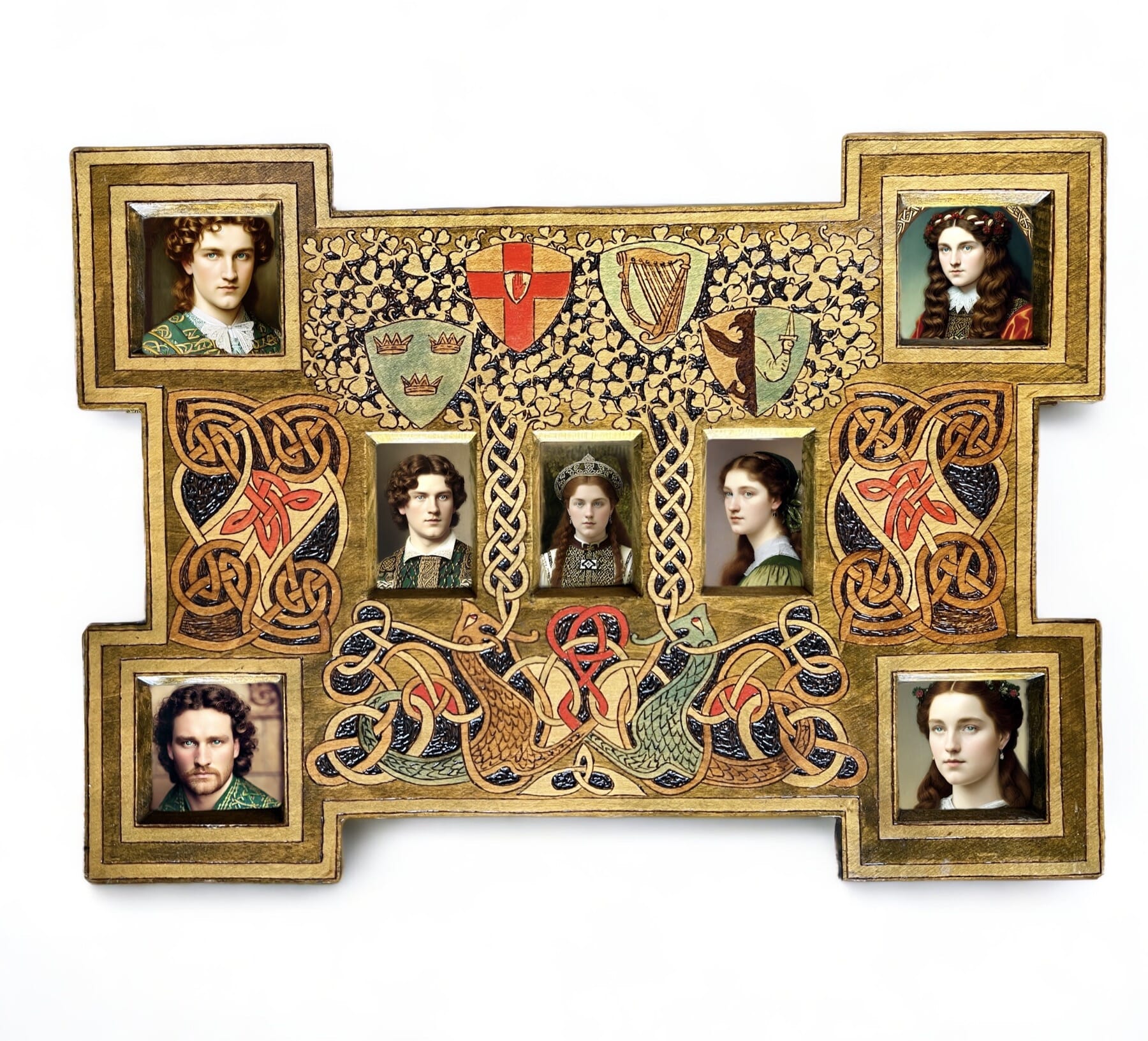 Welcome to the latest Fresh Stock release.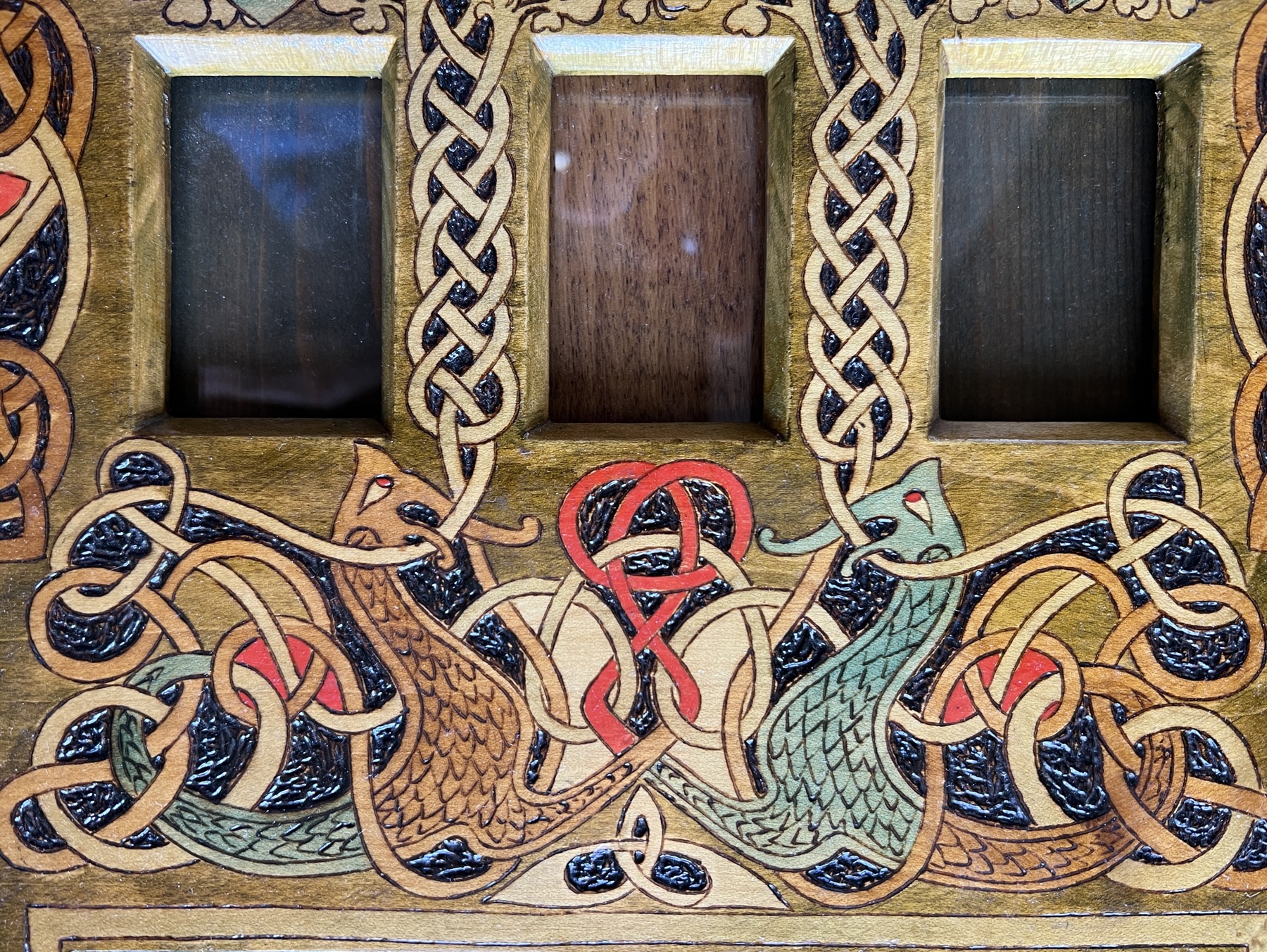 A remarkable piece in today's release is an example of 'pokerwork'. It was a simple process, where a tip of iron was heated in the flame of a kerosene lamp, and the red hot metal used to make charred impressions into raw wood. Woodstain colours could then be used to enhance the design. This late Victorian craze continued into the early 20th century in Australia, usually involving gum leaves and wattle with e occasional koala or kangaroo. This example is very different, with remarkable Celtic designs, a pair of dragons, and four heraldic shields entwined within the leaves of the two knot work 'trees' that rise up the centre. The leaves on the trees are shamrocks, and the shields represent the four realms of Ireland, Munster, Ulster, Leinster, and Connacht… this is clearly an Irish creation. A little internet sleuthing, and a fascinating little-known Arts & Crafts workshop that specialised in pokerwork, the Belfast School of Pokerwork. Examples are rarely seen, but the Irish nature of their products are unmistakable.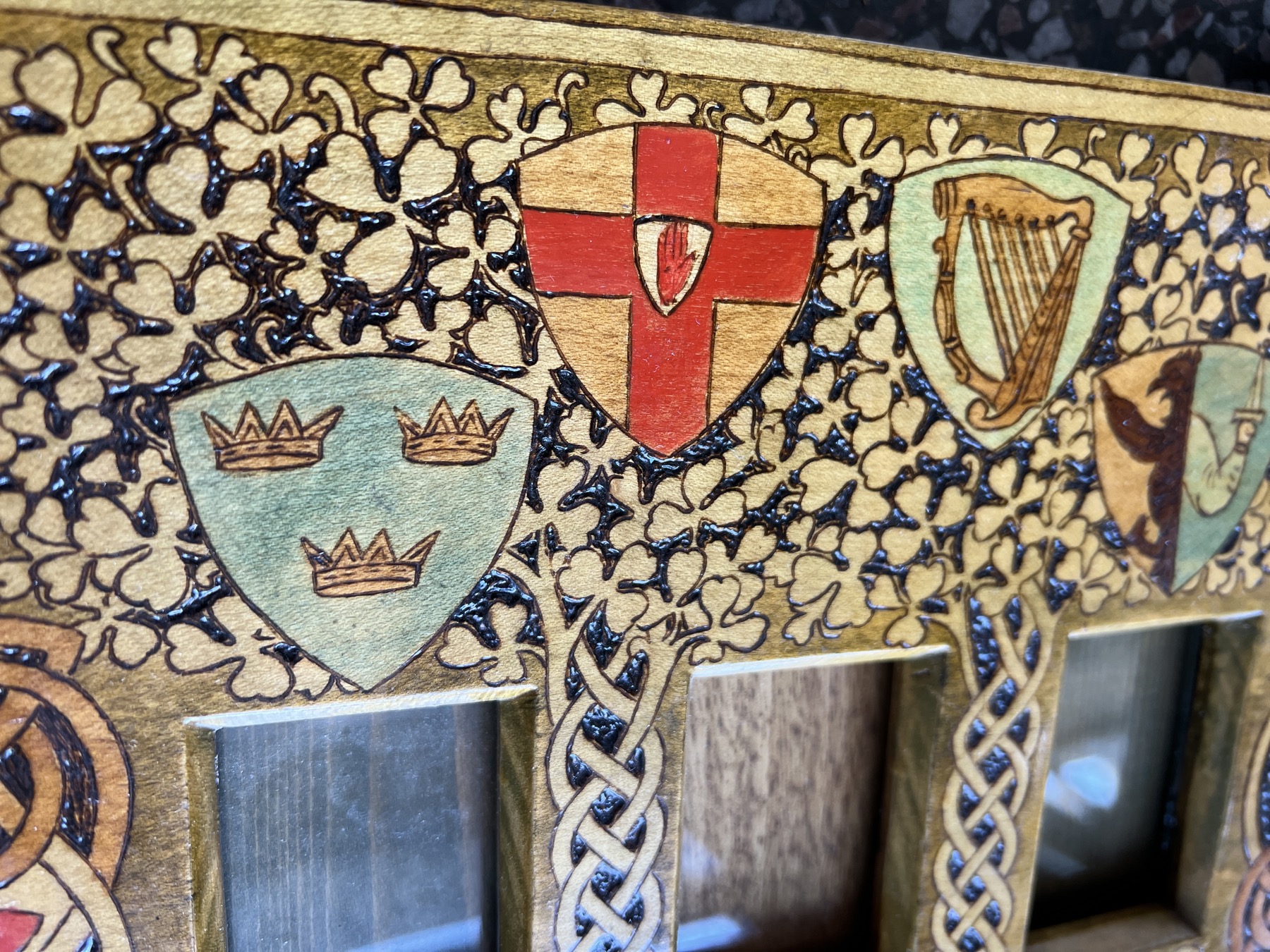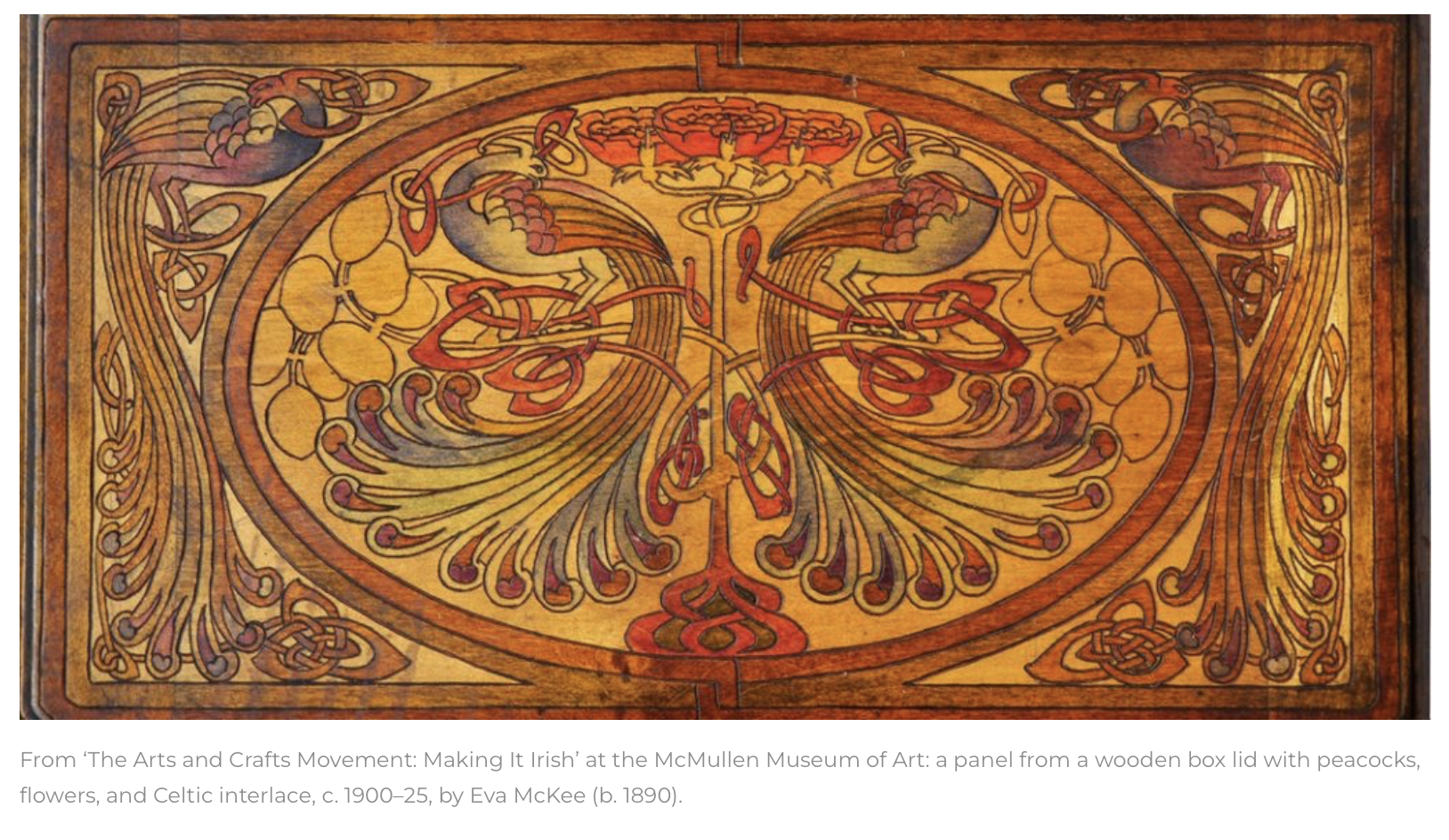 The Belfast School of Pokerwork was run by Mina Robinson, who along with Eta Lowry founded the Irish Decorative Arts Association of Belfast around 1894. The 'School of Pokerwork' was a part of this association, and at one stage there were 12 women working on the products they sold.
A mirror with this same Celtic knot work incorporating beasts was sold by Roseberys, London, in 2020 (3/11/20, lot 26) , bearing the label of William Rodman & Co. They were framers & mounters of pictures, their premises described as an 'Artist's Materials Warehouse' and 'Dealers in Works of Art'.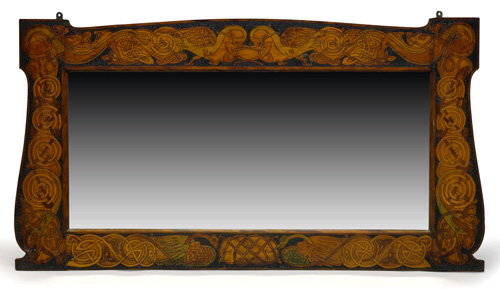 That work is very close to documented examples of Eva McKee's work, as is this piece. However, it seems Mina Robinson and Eta Lowry were also poker-workers, and their styles may be indistinguishable.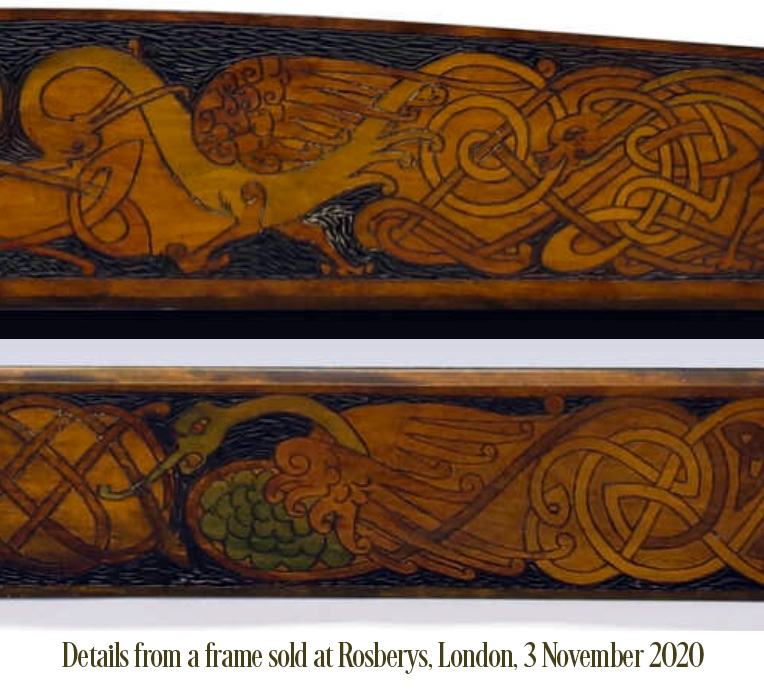 Many larger examples of Celtic pokerwork frames were made at the Belfast School of Pokerwork, which featured female artisans. It is recorded that in 1904 almost all of (famous Irish artist) Percy French's paintings were exhibited with pokerwork frames decorated by the Association, at its annual summer show in Portrush, Co. Antrim.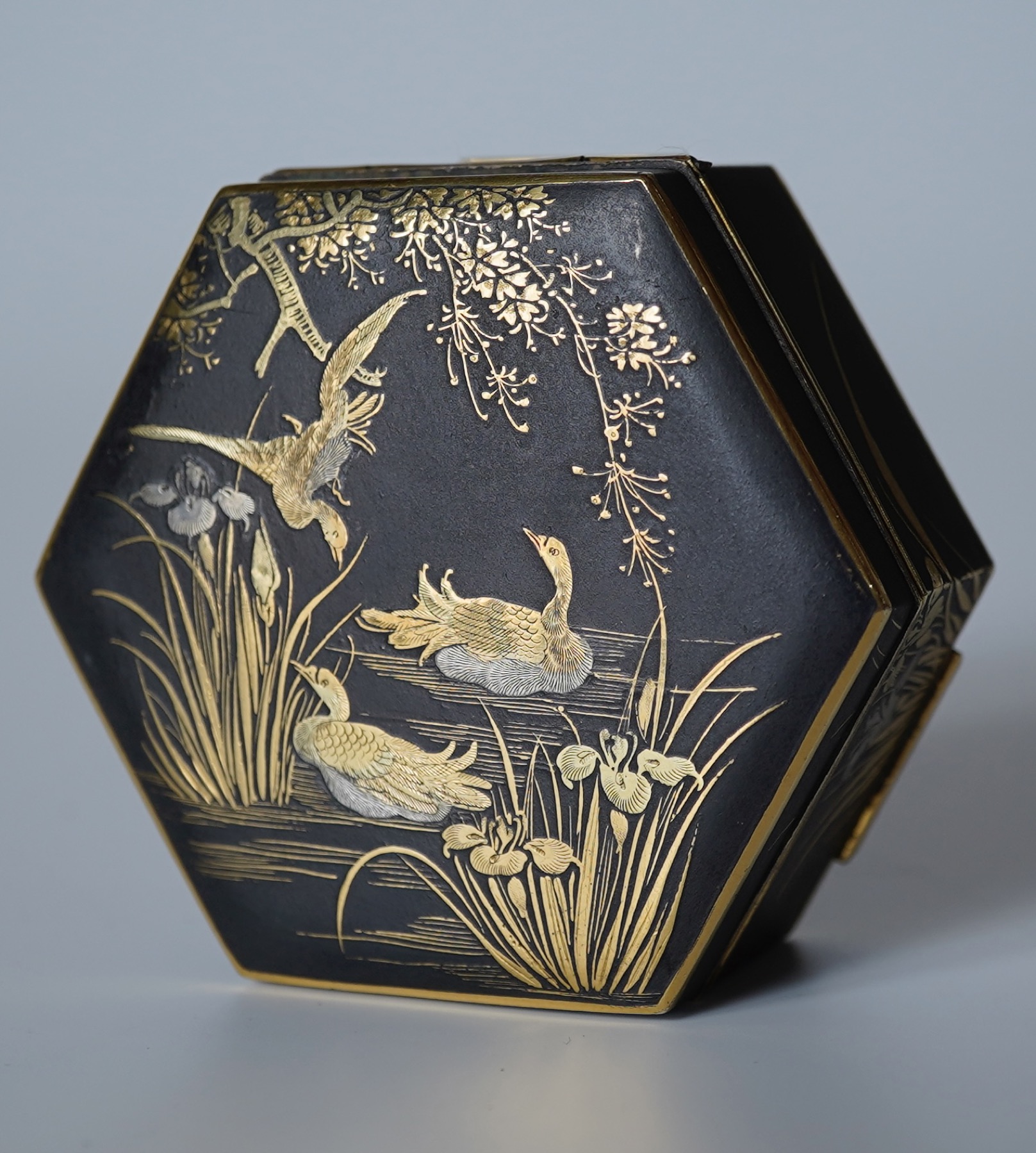 An exquisite 'Zogan' box is another superb item Fresh to Stock.
The main body is iron, the black a patinated layer made using tea amongst other things. The fine inlay work is 2-tones of gold and some silver.
It's marked inside with a double-peaked 'Mt Fuji', standing for Fujii Yoshitoyo's workshop in Kyoto – the double peaks relating to his name having double 'i's.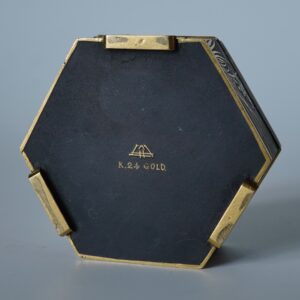 Here's the rest of our 'Fresh Stock' for this week.
ASIAN COLLECTION
AUSTRALIANA
…..plus lots more !
See the rest of our latest additions:
FREE POSTAGE!
-=#FREE SHIPPING NOVEMBER!#=-
*Shipping is on us! Simply click 'buy' and go through payment without shipping cost. …some conditions apply, flip for details.
*Conditions:
Some items excluded, ie. all furniture, large artworks & objects.
INTERNATIONAL shipping not included – BUT ask & we will offer a discounted rate
Please ask if unsure.
Christmas is Coming…..
43 Days until Christmas!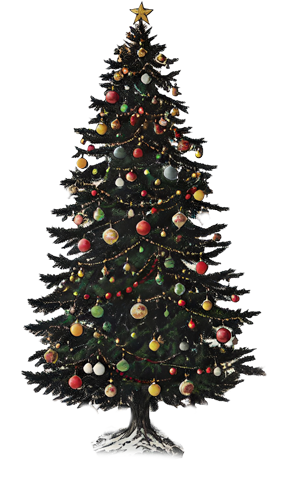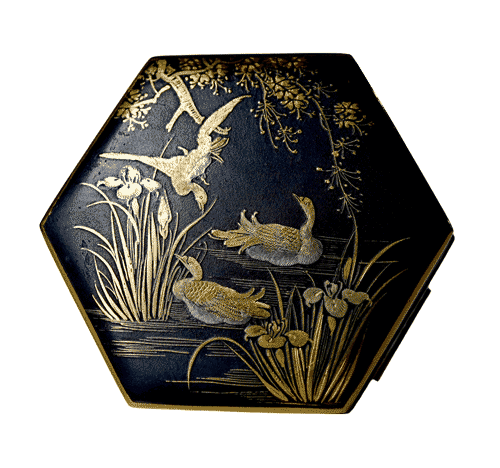 The year is nearly over, and that means it's time to think about Christmas.
At Moorabool, we have a vast selection of potential Christmas Presents for you to browse……
Why not get in early and let us post them to you?
Our cut-off dates for Australian Post items is:
WA -15th Dec
NT 14th Dec
VIC, NSW & QLD 18th Dec
International – last week of November – 1st week December.