June 25, 2022
A large quantity of fine Fresh items have just been released.
It's a 'French Empire' feel this time, with some magnificent examples of porcelain – and several bronzes – from the late 18th / early 19th century.
French Empire
This was the time when the classical world of the Greeks & Romans was re-imagined, and ceramics were the prime method of showing your sophistication and style…. a part-service with dramatic roundels of classical figures set against black are a prime example, with each plate having a different 'classical' gilt border pattern.
These are hand-painted, but some clever studios developed a technique for quickly creating 'masterpieces' – they used a printing technique to put a stippled black impression of the intended subject onto the porcelain, and then anyone who could weld a paintbrush was set to 'colour it in'. This saved money, as good artists were not common & could charge more than a mere 'painter'. The effect was rather good – can you tell from the two below which is hand-painted, and which has a print beneath?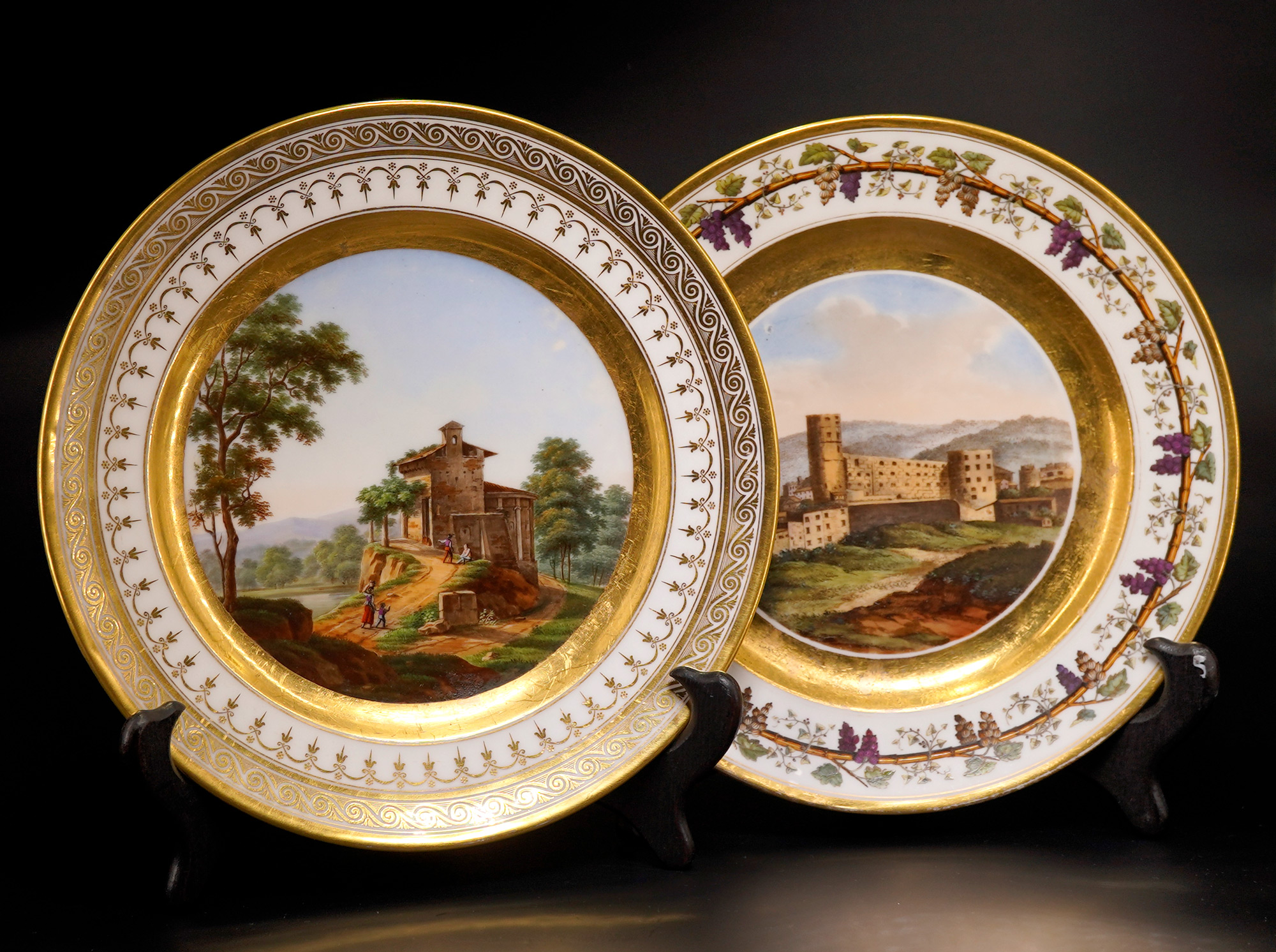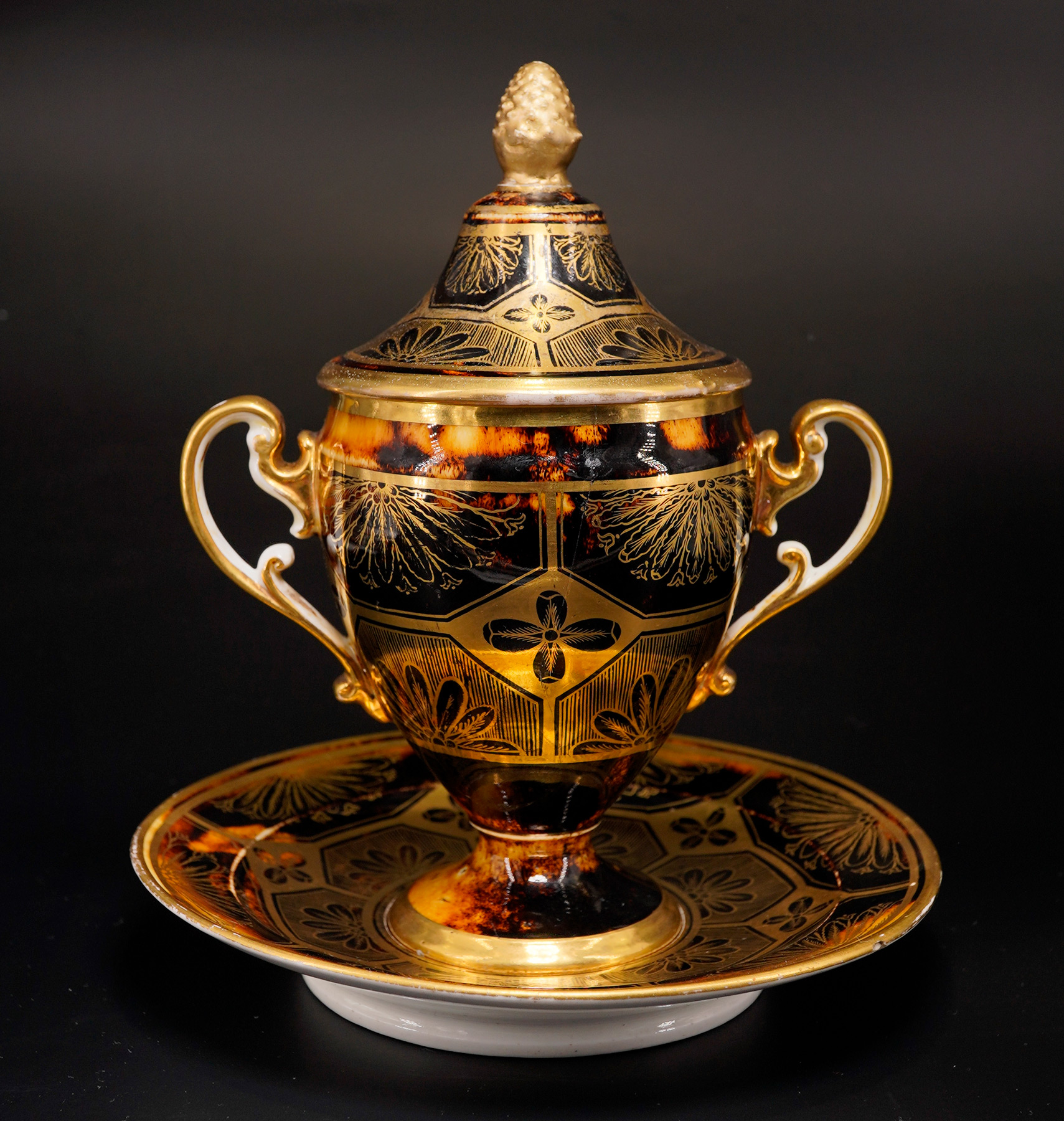 This Dihl et Guérhard covered cup & stand is a remarkable rarity, with the luxurious glaze imitating tortoiseshell. At this time, furniture and items such as inkwells and boxes would be covered in real tortoiseshell, and inlaid with bright brass: this is a ceramic version. Very few examples of this glaze can be found in the literature, with a plain piece in the Sévres Museum, and an odd saucer in the British Museum. Despite this piece being cracked & the knop restored, it is a desirable rarity.
The diamond- shaped dish is simply stunning, with 'bronze' items painted around a simulated polished stone. This is attributed to Darte, and matches a piece Moorabool had a few years ago – probably the same lavish service, in the finest late 18th century Empire taste.
The bronzes are simply sensational; the figure of Mars has an unrecorded foundry mark which links it to a foundry otherwise known for making church bells; his companion Athena is not marked, but clearly from the same source. The inkwell – boat form, with serpent supports- is the essence of Neoclassicism, like something Caesar would have used to ink his pen in. Which is exactly why it was created – for someone like Napoleon, who saw himself as a new Ceasar over his European Empire….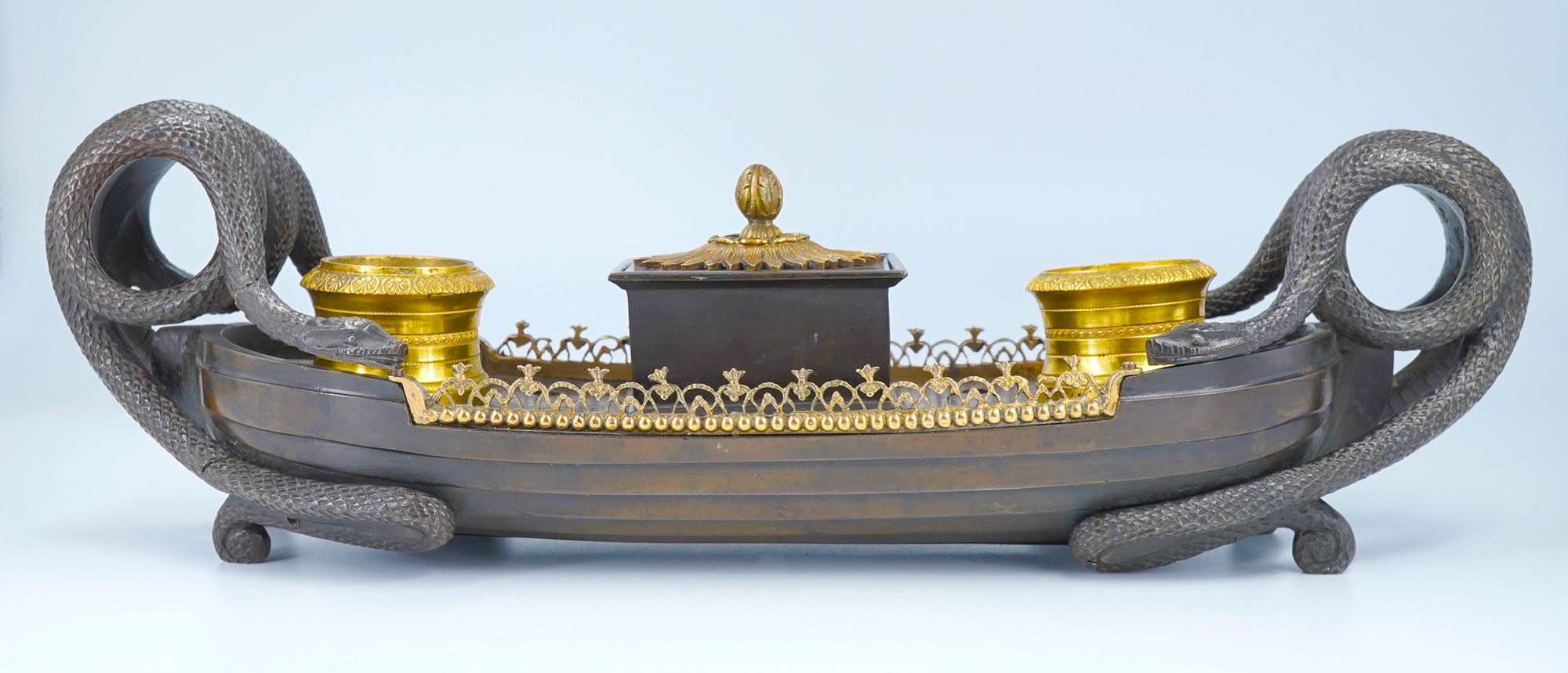 ---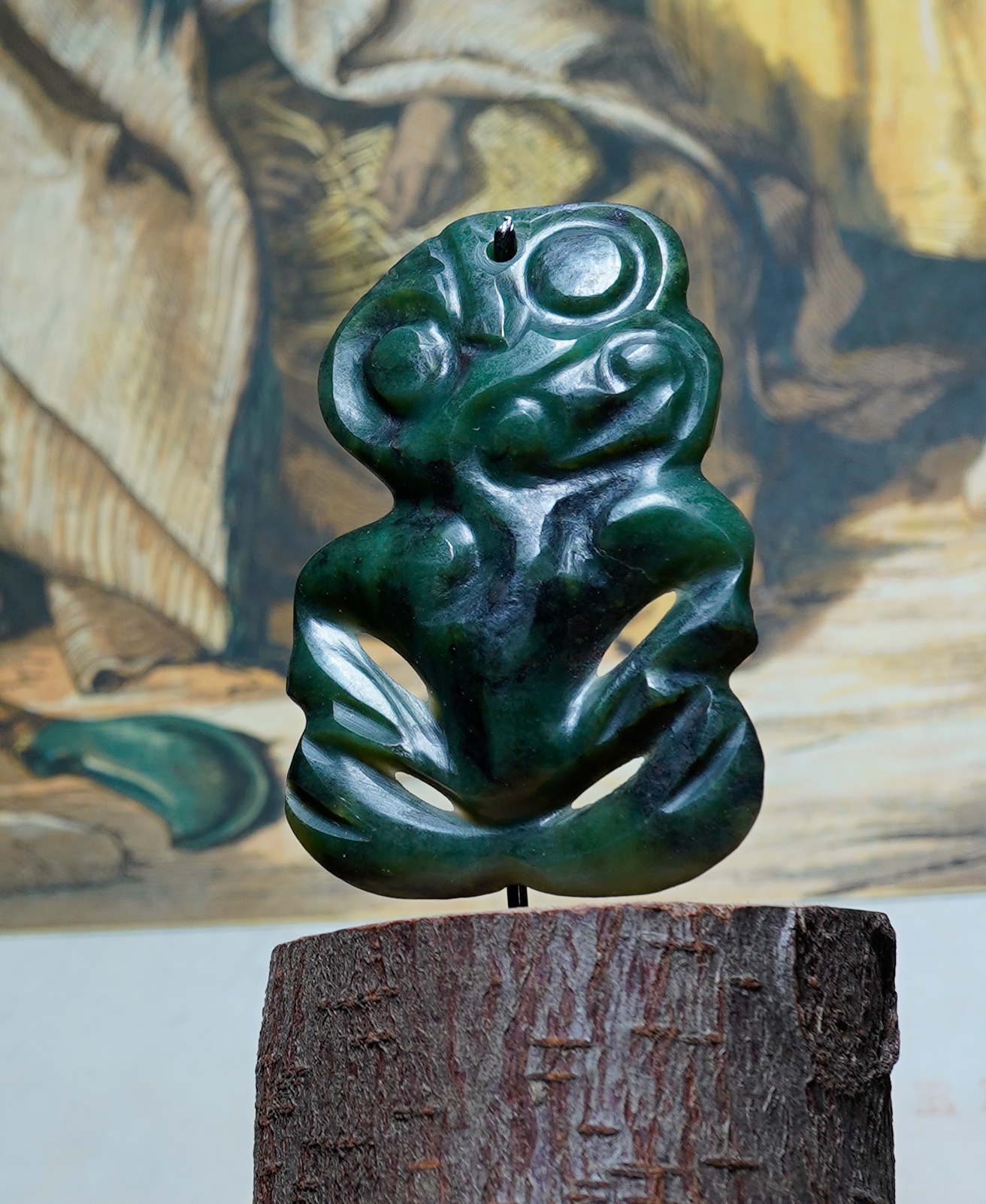 Now for something completely different!
There's also some terrific 'Colonial' pieces – in particular, New Zealand pieces from the 19th century.
A stunning rarity is a New Zealand greenstone 'Tiki' – an original Maori-made piece from the 19th century.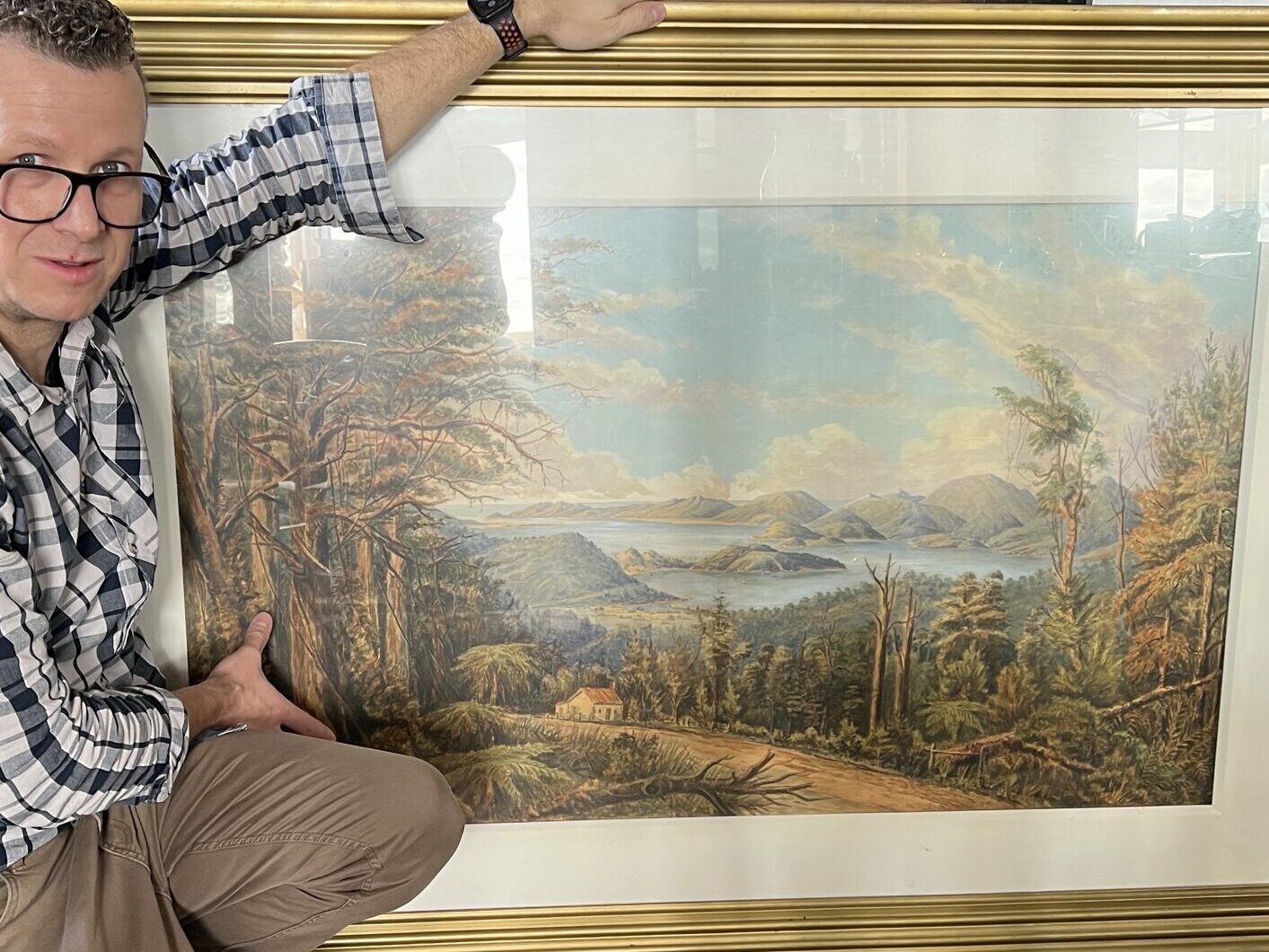 A giant watercolour of the Otago Peninsula by Ernest Arthur Chapman has a fascinating tale to tell. He is not well represented online, and we have researched his interesting story, outlined in another blog to be posted shortly. As a part of this research, we were able to find the exact viewpoint he painted this from – and the small house in the foreground is actually still partially in existence!
In the background is the hills of Port Chalmers, the shipping port for Dunedin. Just before is the settlement of Sawyer's Bay, and the details shown allow us to date it to a very precise date – 1865-75. It's a massive, detailed visual document of New Zealand's history.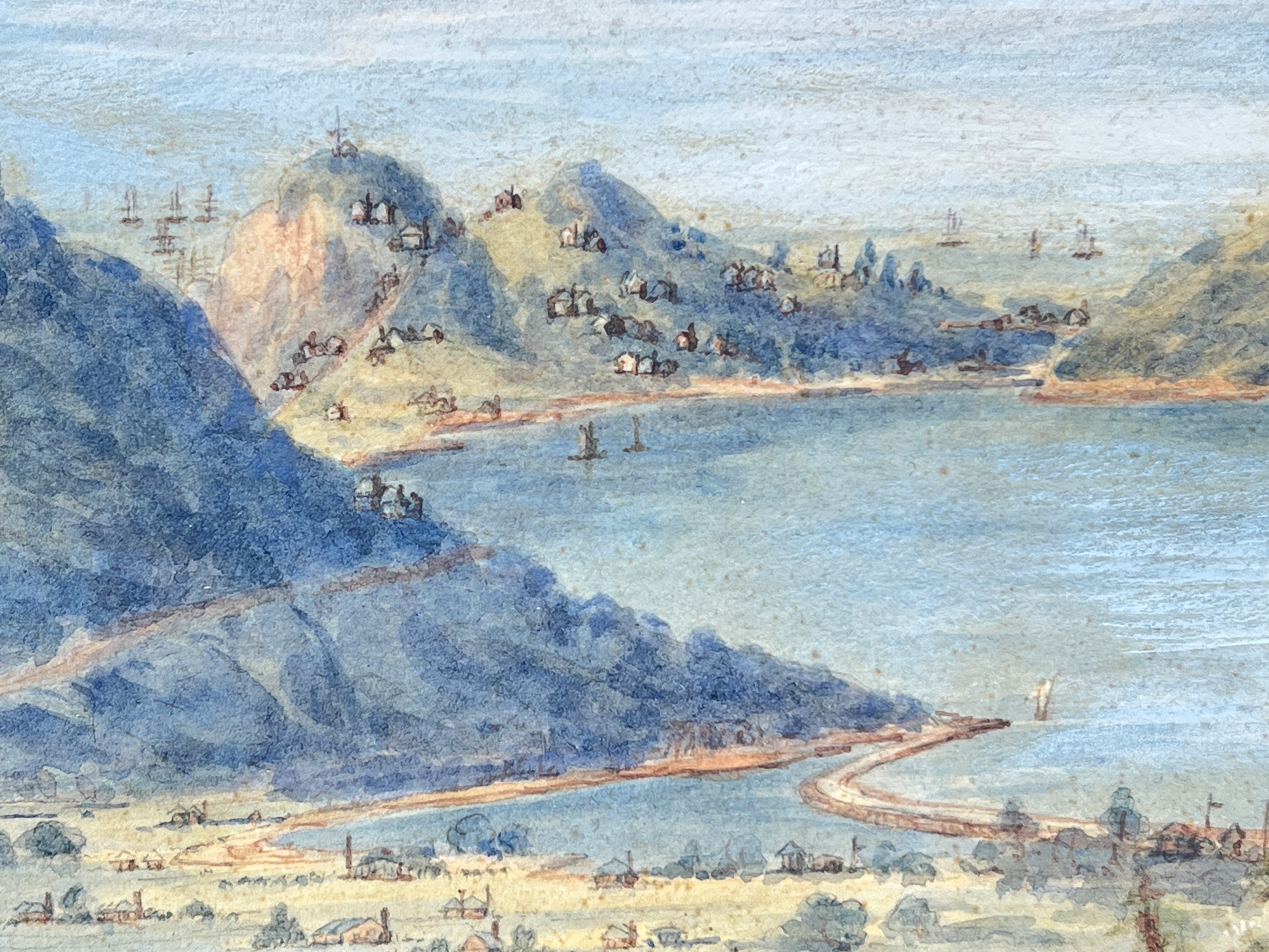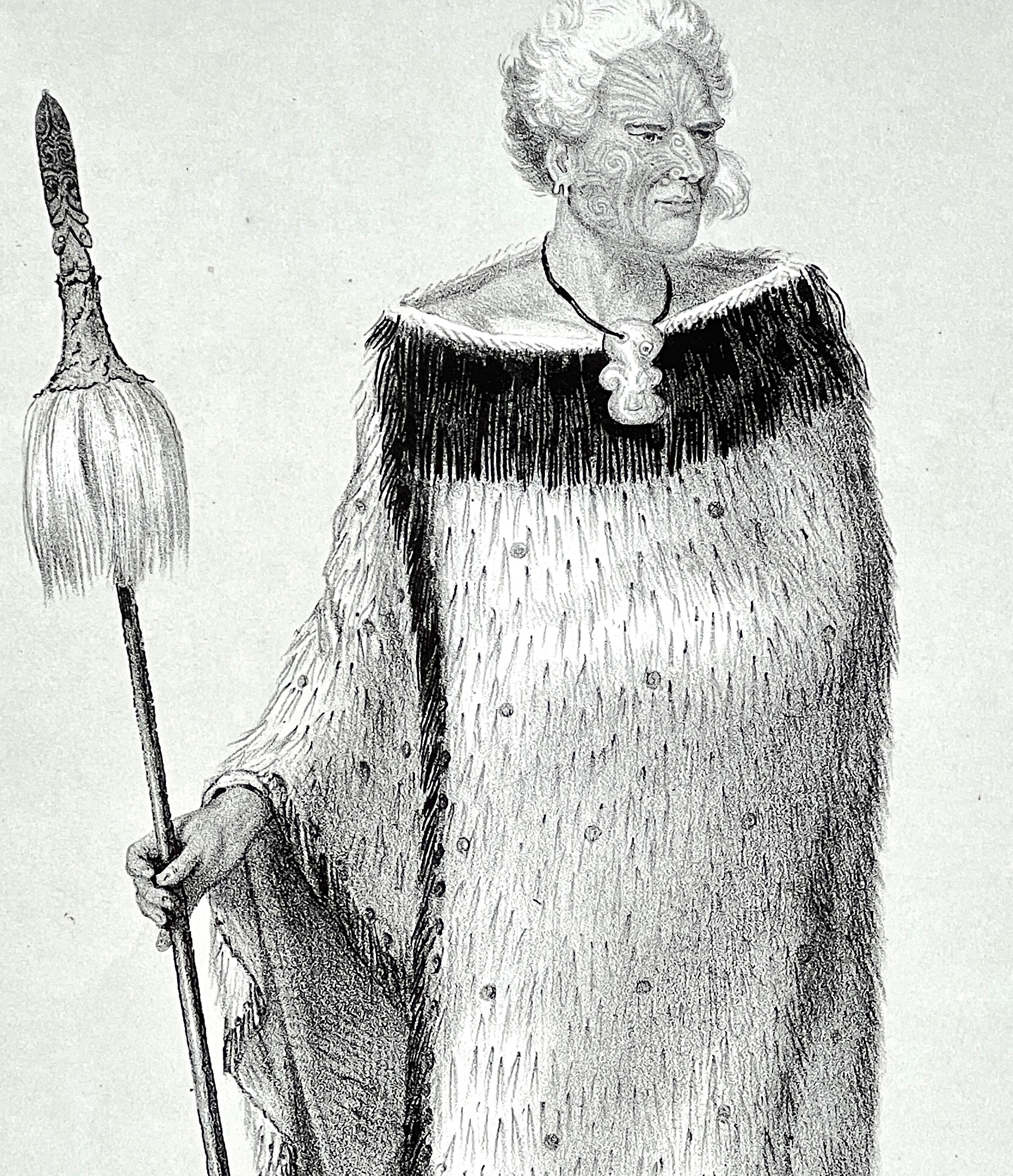 Several large lithographs explore the European fascination with the Maori culture. The artist at work here was the respected New Zealand artist Charles Decimus Barraud. He was the teacher – and father-in-law – of the artist E.A.Chapman behind the giant watercolour shown above.
A number of original New Zealand watercolour landscapes come from an Australian sketchbook – the 'Budd Sisters' – recording the landscapes encountered by them during a trip to the South Island in the 1860's. Although amateur, they do compare well to the locations described when we go onto 'google earth' and explore the location described in ink on the back of each.
---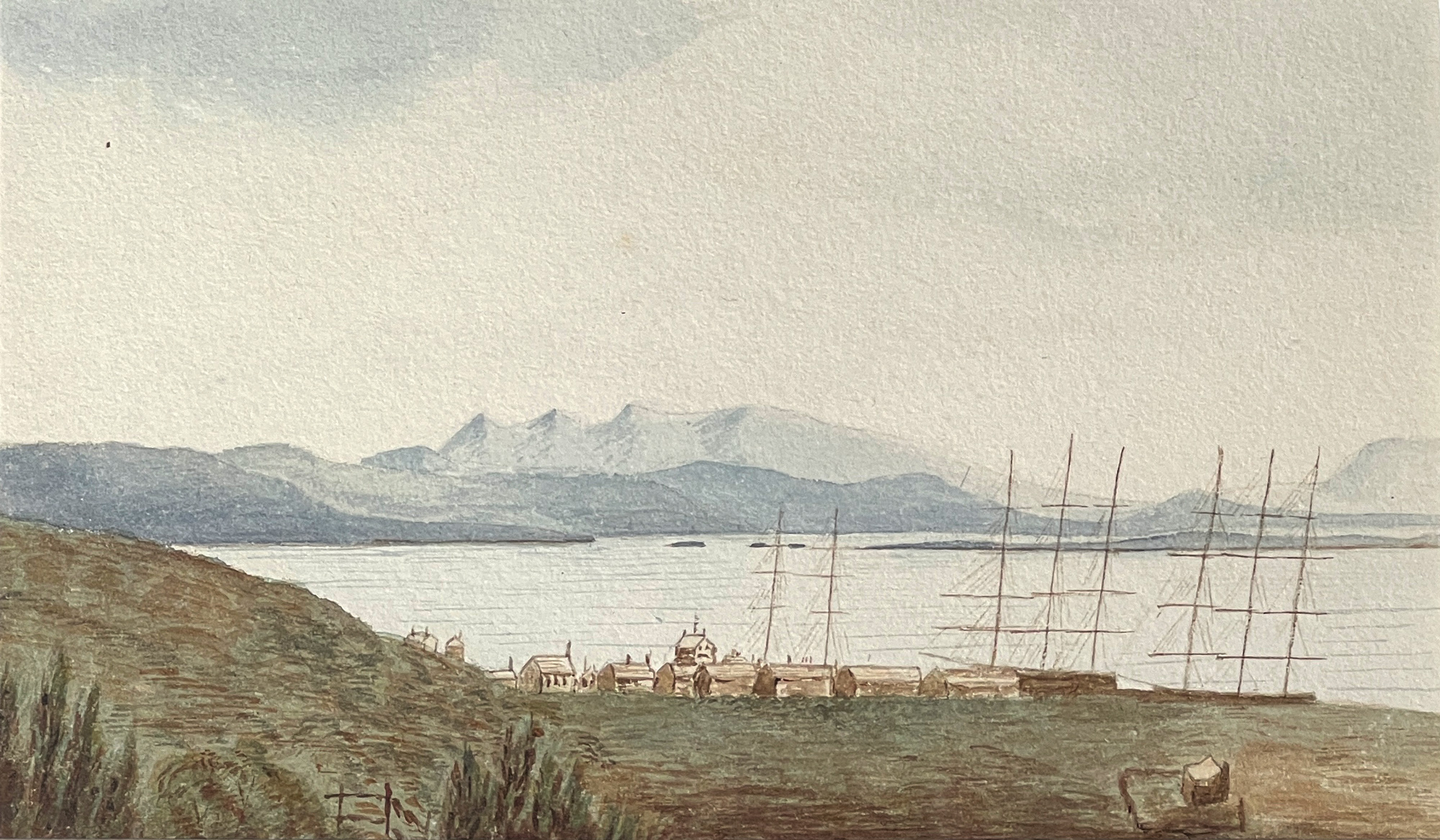 Arts & Crafts
The Arts & Crafts are represented by a scattering of interesting items, including some 'Tudric' pewter – made for Liberties of London, some pieces to the design of Archibald Knox. This teapot with applied enamel 'gems' is unmistakably a Knox design, and a magnificent example of the style he pioneered. There are several other examples of his work in this stock release, such as a rare clock, and a pin cushion.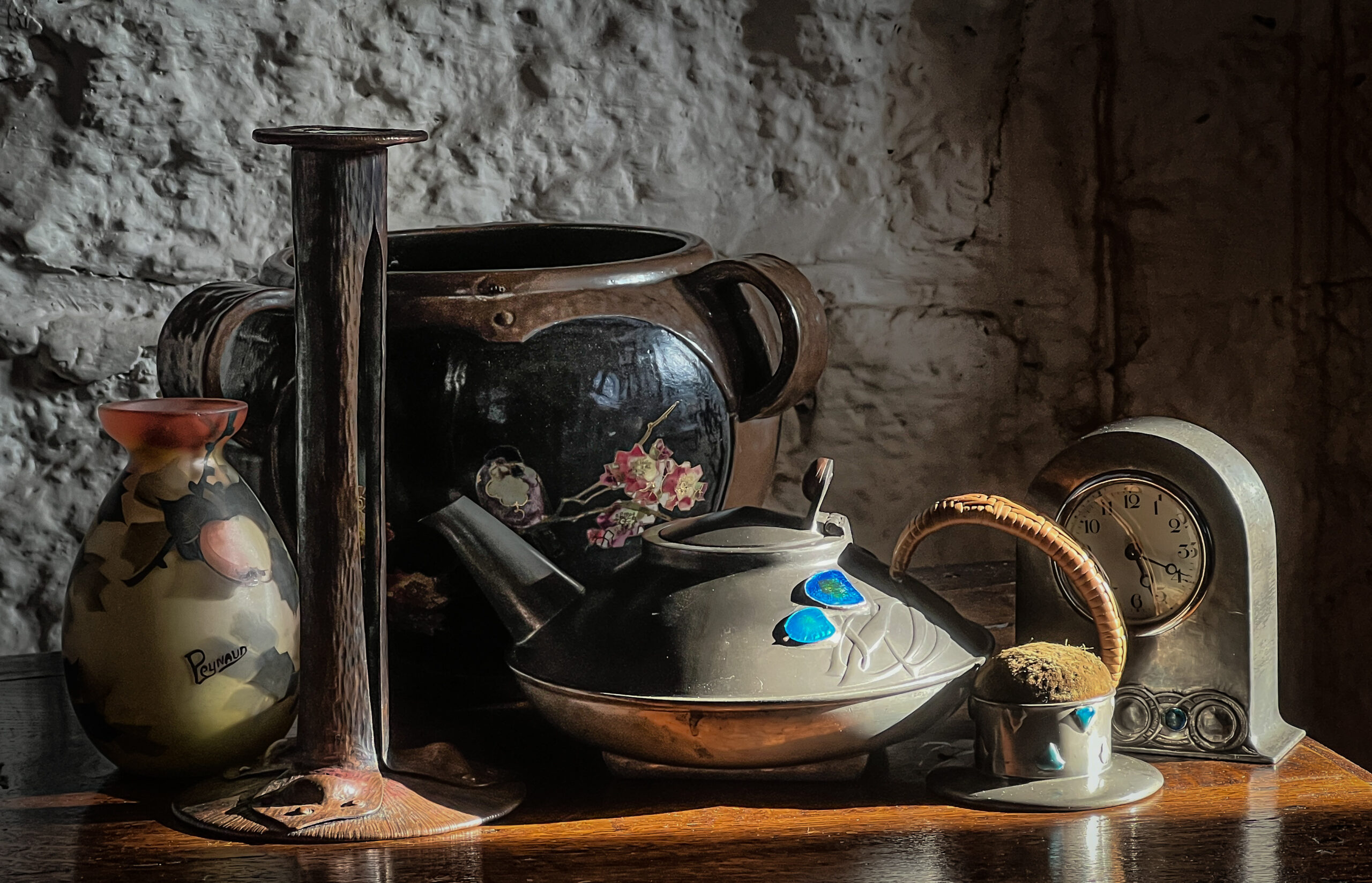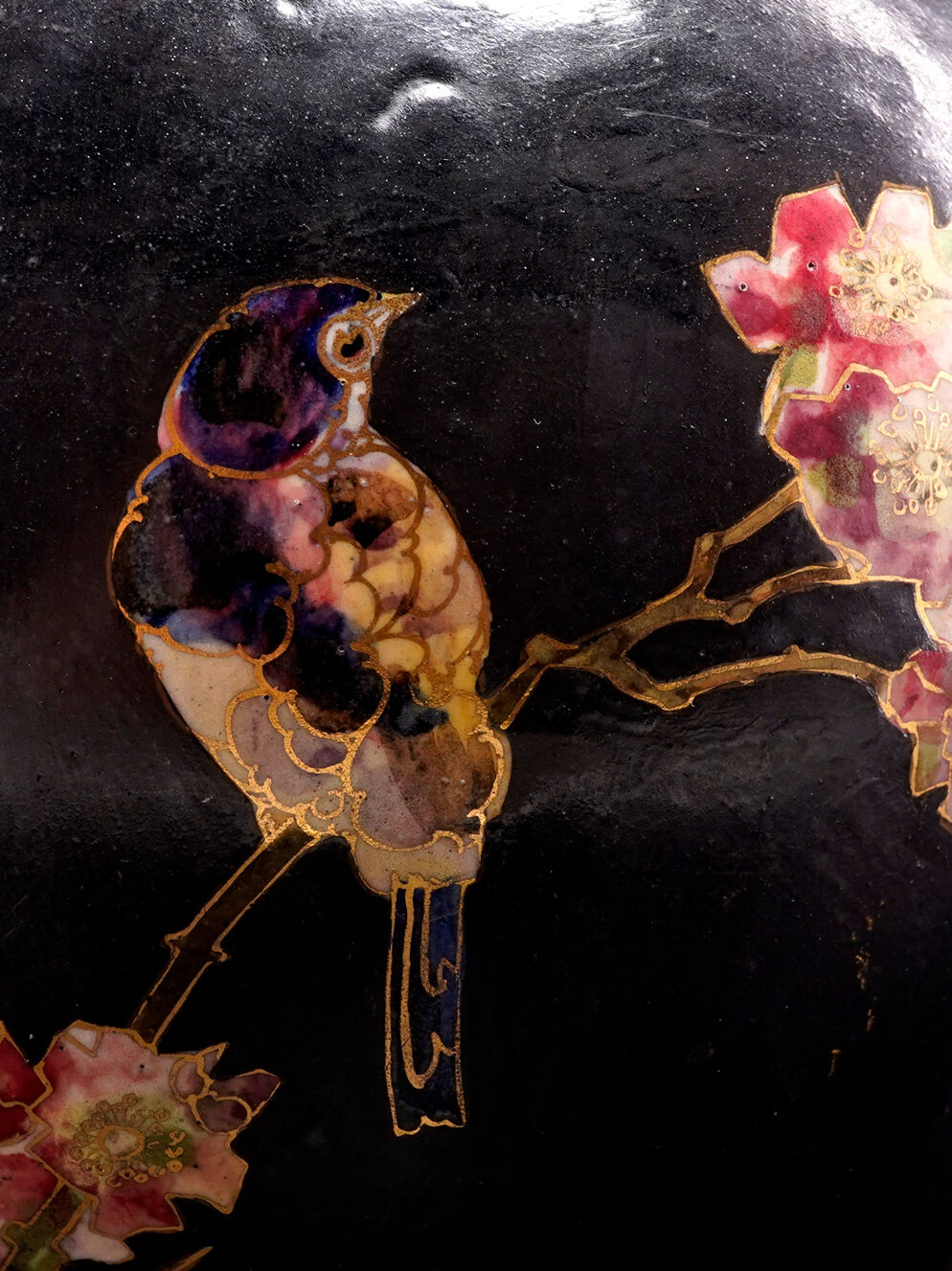 A Bretby pottery piece has the appearance of a hand-beaten copper planter inset with Japanese lacquer plaques – but is in fact all just glazes and enamels! In fact, the panels with birds on flowering branches are imitating cloisonne, as there is a gilt line around each colour – making it even more 'Aesthetic' in nature!
There's quite a number of other pieces to see also – take a look at the 'Latest Additions' – we are now adding items almost daily, and sending out our email to let you know: if you're not on our email list, sign up here >>
Enjoy!
---
A selection of our FRESHEST STOCK